Subscribe to our mailing list
SBD website reg user
e-news signup
Sign up for our free newsletter
Subscriber Log In -->

issue on sale now
Case Studies
News & Blog
Subscriber Log In

Whether you are looking to build a new home on a fresh plot or to convert, modernise or replace and existing building, there is bound to be a case study here to inspire you.
Use the filters below to explore the homes that self builders have created ... and pick up tips and advice from their experiences.
Our sample Case Study is FREE to all readers. To read other Case Studies you need to be a subscriber to SelfBuild & Design magazine and to be logged in to this website. You do not need to be logged in to search our Case Studies.
A subscription to SelfBuild & Design costs just £12* for the next 12 issues of the magazine delivered direct to your door and access to subscriber areas of this website.
* Annual Direct Debit - First 12 issues for £12 then £36 every year (new DD subscribers only)
Subscribe »
Case Study information is loading...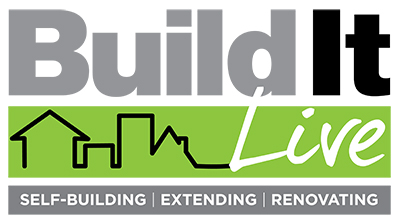 About | Contact | Privacy Policy | Terms & Conditions
Build It incorporating SelfBuild & Design Magazine is published by Castle Media Limited. Copyright 2023 © Castle Media Limited unless otherwise stated. Castle Media Limited or any subsidiary or partner can not be held responsible for the content of external web sites.


Self, Custom Build and community-led housing case studies
To give you some inspiration we've compiled a range of creative self and custom builds from the UK and around the world. Each example leads you, step-by-step, through a self or custom build project – from the early stages of planning and financing to the lessons learned. To find out more about how to build and the various routes you can follow visit our Get Support section .

SELF-BUILD Case Studies
Our self-build case studies are great illustrations of how we take our standard house designs and alter them to be client specific. You will see the family resemblance running through all our Caber House projects, although the finished articles are quite unique! We understand the process can be quite stressful for our clients, which is why we are open, friendly and honest in our approach and do everything we can to ensure your project is a great experience for you.
Self-build Case Studies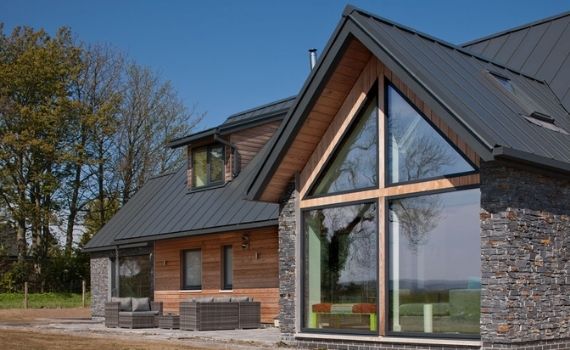 Case Study - Fyvie
A stunning site on the edge of open countryside in Fyvie, this Type B showcases the inherent flexibility of the Caber House Designs.
The living room area has been swapped with the kitchen / dining position to allow a gable end pantry and utility room extension.
From the dining area, a sun-room extension has been added to the south elevation, and a further gable extension provides a ground floor master-suite.
On the First Floor, the end bedroom has been repurposed as a full width home-cinema room, with the remaining 2 bedrooms sharing a Jack-and-Jill shower room.
A client-installed metal standing seam roof and mono-pitch dormers give this house an instant modern look, with render, timber and natural stone completing the external finishes.
The metal roof compliments the alu-clad triple glazed windows, and this A-rated, energy efficient house is powered by a heat pump and 4kW photovoltaic array, serving underfloor heating.
A modern corner stove sits adjacent to a large triple glazed window in the living room and heat recovery ventilation provides fresh air and controls heat loss.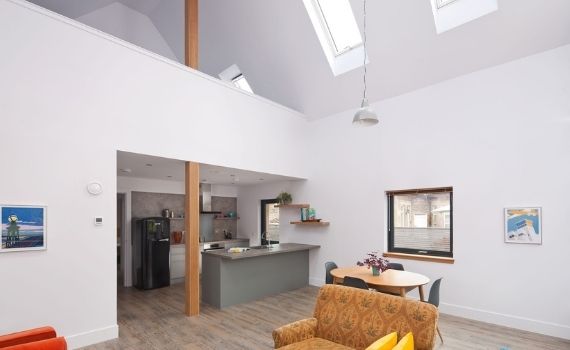 Case Study - Elgin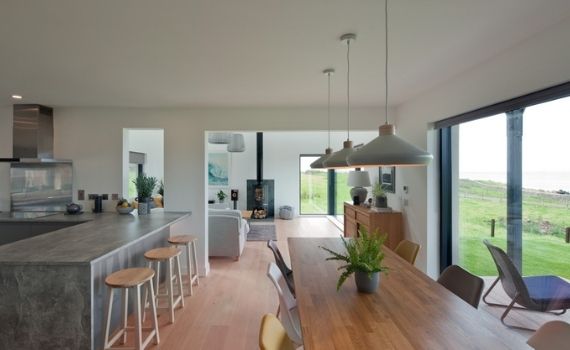 Case Study - Machrihanish
With multiple design revisions, including the creation of a first floor gallery, bespoke stair, extended kitchen, veranda, balcony, double height living room, and stunning corner window to capture the panoramic views across Machrihanish Bay, this Caber House proves the versatility of the standard house designs.
Every aspect of the building, from each stage of construction and build, through to the use and future potential has been carefully considered to make an efficient, warm, dry, light filled and beautifully practical building that will fit in to the environment, whilst minimising the impact on the wider environment.
With the views across the bay to the North, an additional large glazed opening was included to the rear wall of the Living Room to capture solar gain from the South, with the entrance canopy extended to form a veranda to provide shading in summer to prevent overheating. The large North windows were retained to ensure uninterrupted views, with the energy model adapted to ensure low running costs despite the North-facing openings.
The kit was erected to wind and watertight in just 12 days, with local contractors then following on to complete the build.
With very few newbuild houses in Machrihanish, this project has created a lot of interest locally and the client is delighted with the house and, in particular, the corner window.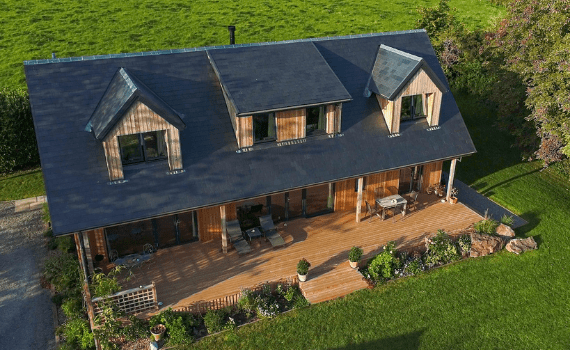 Case Study - Wells
This 5 bedroom house is sited in Wells, Somerset and it is our first fully timber clad Caber House in England. In our drive to reduce our cement use in construction it is also our first suspended ground floor Caber House.
It is based on a Type B Caber House. Open plan spaces on the ground floor and minimal internal partitions provide spacious, light living environment.
Throughout this build we took full advantage of the south orientation of the site. The large glazed openings positioned towards the garden and use of the veranda are fantastic for allowing the winter sun to heat the home while having solar shading for the high summer sun.
The house has an air lock cat flap to accommodate the owner's pet while keeping the house airtight.

Our office is located at: 43 Argyll Street, Dunoon PA23 7HG - and our Workshop at: Unit 12 Castings Court, Falkirk FK2 9HQ

For telephone enquires you can reach us on: +44 01369 510050

To discuss your dream project email: [email protected]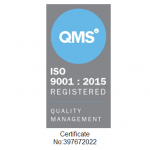 Join for updates on social media:
Case Studies
Read about our previous builds, and get some inspiration for your own self-build project with our collection of case studies.
Discover the Molyneux's stunning rural timber frame self build with internal curved walls and 5 external archways.
Read the story of the Greens, who were inspired in to self-building by Potton's Ruskin show home at the NSBRC.
Discover the Church self-build, a stunning replacement property with beautiful views across the Norfolk Broads.
Discover this beautiful 5-bedroom, 3-floor brick and render timber-frame home in Bedfordshire
Could you imagine rebuilding your family home, built by your great-grandfather in c1840? Peter and Sarah Fishpool had to make that difficult decision, of whether to renovate or rebuild.
With a desire to build and design their own home, the Jacksons first met us at the National Self Build and Renovation Centre in Swindon.
The Gibsons found their dream plot in a picturesque Hampshire village after about five years of searching. It came with existing planning permission and its 1.3 acres ...
Self building had been a longstanding dream of Hannah and Charlie Warboys. They bought a house in Cambridgeshire in 2011 and were considering renovating
When Andy and Judith Phillip purchased vacant land next to their existing Norfolk property, they were intending to use it as extra garden space.
Rob Kybird found self build appealing for many reasons; the freedom of design choice, value for money, and better overall build quality...
Andy and Kate have built a beautiful barn-style home in Warwickshire. Kate trains and breeds dogs for a living, so the couple decided to self build in order to accommodate the specific needs this profession requires.
David Jay had previously been in hat manufacturing and property development. He'd also been involved in building a number of commercial properties, as well as three large house extensions, so he was no stranger to the construction process.
Explore our Ideas books
Our extensive collection of self-build literature and brochures will help you through your self-build journey. Our brochures are not meant for you to 'select from', they're meant to be used as a tool to inspire your imagination. By all means, if you fall in love with an existing design we can build it, however most of our customers' homes are bespoke and designed to meet the specific needs of the customer, the plot and build budget.
Helping Self Builders Like You
Potton have helped thousands of self builders, like you, build their dream home. Our case studies represent just a small selection of the houses that we have helped design or build. By reading our customers' stories, you will discover examples of the journey that you will embark on when building a Potton house.
Self Build Expert Appointments
Our Self Build Consultants are here to guide you through the self-build process, whether it's discussing the viability of your plot of land, or helping you choose the best build system to create your dream home. Make an appointment with our team to start your self-build journey.
This website uses cookies to ensure you get the best experience on our website. Our Policy
Passive House Case Study
Privacy Overview
Strictly Necessary Cookies
Privacy Statement & Cookie Policy
This website uses cookies so that we can provide you with the best user experience possible. Cookie information is stored in your browser and performs functions such as recognising you when you return to our website and helping our team to understand which sections of the website you find most interesting and useful.
Strictly Necessary Cookie should be enabled at all times so that we can save your preferences for cookie settings.
If you disable this cookie, we will not be able to save your preferences. This means that every time you visit this website you will need to enable or disable cookies again.
More information about our  Privacy Statement & Cookie Policy
0345 223 4888
Project Inspiration
Case studies.
Take inspiration from some of BuildStore's favourite customer case studies. We've helped 27,000 people build their dream homes over the last 20 years, so if you're planning a self or custom build, renovation, conversion or perhaps some major home improvements, whether it's to live in, sell or let – we can help.
We could now fill a medium-sized town with our customer's projects – that's a lot of dreams come true!
Header © CODA Studios
Damon & Felicity Ball
Damon and his wife Felicity took 12 months to build their modern three-bedroom family home in Oxfordshire, on a strict budget of £1,000 per square metre.
Richard & Zoe Berry
Richard and Zoe decided to convert an old church, bringing in light and opening up spaces to transform the property into a stunning family home.
Tina Cranfield & David Robson
Having struggled to find a house that worked for them, Tina and her partner David discovered a custom build development overlooking the countryside in Lincolnshire.
Simon & Natalie Groom
Simon and Natalie found a plot within a self build community, allowing them to create a stylish timber frame home designed to take advantage of the surrounding forest views.
Chris Birakos & Kirstie Pottier
Chris Birakos and Kirstie Pottier had recently completed a refurbishment of a flat and were actively seeking other projects.
Michael & Tracy Hobbs
With hard work and determination, the Hobbs family transformed a run-down barn into a family home with plenty of space for playing and lots of room for entertaining.
Bob & Laura MacDonald
A neglected barn was replaced with a traditional new build, after a stressful process for these first time self builders having to re-build the structure rather than converting it as planned.
Antony & Vicki McClafferty
Antony and Vicki found a plot of land in a location that suited them perfectly, appointing an Architectural Technologist to help them achieve their dream home.
Steven Mewse & Vicki Richards
The couple took 3 years to complete their build, project managing the work whilst working full time, but have created a beautifully designed home with lots of character.
Geoff & Jackie Whiteley
Downsizing for retirement, these first time self builders replaced their existing property with two contemporary homes, describing the process as "a great experience at our time of life".