Spatial-Orientation
APPS TO IMPROVE SPATIAL-ORIENTATION SKILLS: 
Our brain grows when we create mental maps, it shrinks when we rely on GPS! Read this article:
Spatial Orientation and the Brain: The Effects of Map Reading and Navigation (March 2013) 
Body Compass for iPhone by Vassilios Pantazopoulos. Allows users to sense direction by training the brain. The mobile device emits a sound or vibration each time the owner is pointing north.
Memory Trainer Plus by Urbian for Android. Exercises: spatial orientation, sequencing, visualization, working memory.
P.O.V. Spatial Skills Reason Development by BinaryLabs for Apple. Improves spatial reasoning and tracks progress.
MatrixMatch2 by MyFirstApp.com for Apple. MatrixMatch helps develop visual perception skills such as visual discrimination. It also helps develop attention and concentration, spatial orientation and principles of classification and categorization. Furthermore, it helps develop executive functions such as planning and perseverance. 
Lumosity Brain Training Games by Lumosity.com . Exercises to improve spatial orientation, sense of direction, visualization, map reading, memory, speed, problem solving attention. Tracks progress. Based in neuroscience. 
Slice & Splice by Roman Timurson for Apple. Exercises in spatial orientation to solve visual puzzles by slicing up geometric pieces on the bottom of the screen to assemble them into a specific shape at the top of the screen. 
LetsTans by Grabarchuk Puzzles for Apple. Flip and rotate the 7 colorful tangram shapes to form the puzzle outlined. 
Jigsaw Box by Sparkle Apps for Apple. Beautiful jigsaw puzzles or create your own from photos. Flip and rotate pieces.
HopStop by HopStop.com for Android and Apple. Public transit navigation for the directionally challenged for cities in USA, Canada and Europe. Directions, taxi, bike, subway, walk, stations, schedules, maps, save locations, estimates time, cost and calories burned, share. 
Tunnel Trouble by BusyThings for Apple. Teaches the very young to choose a tunnel path.
DEVELOPING SPATIAL AWARENESS
What is spatial awareness?
The definition of visual-spatial relations is the ability to visually perceive two or more objects in relation to each other and to yourself. Spatial reasoning is how we understand how things (including ourselves) move and interact in relation to the physical space around them. It also involves understanding the relationships of objects as they change position.
Spatial reasoning is not a single ability, skill, or process. It incorporates numerous concepts, processes, as well as tools to represent and communicate ideas about space and spatial relationships. These skills include perspective taking, visualizing, locating, orienting, dimension shifting, path-finding, sliding, rotating, reflecting, diagramming, modelling, symmetrizing, composing, decomposing, scaling, map-making, and designing.
Why are spatial skills important?
Spatial skills are essential for life. They are necessary for example to efficiently pack the trunk of a car, cut equal sized slices of pieces, use a mall map, correctly build something using a diagram, riding a bike, and for jobs such as air traffic controller and engineer.
Spatial skills play a critical role in the development of mathematics and reading. Research suggests that spatial thinking skills and geometric reasoning play a critical role in the development of problem-solving skills, mathematical learning, and reading comprehension.
Geometric and spatial reasoning form the foundation for understanding higher-order mathematics thinking skills. Geometric and spatial thinking support the development of numerical abilities such as understanding quantity, numeral identification, counting, place value, and arithmetic concepts and skills.
Spatial awareness is thinking about objects in different spatially oriented ways. Examples of spatial awareness include:
being able to do mental rotations in your head
visualizing objects from different perspectives
coordinating how different space is used in relation to other space
representing one object to mean another object or place (e.g. mapping)
understanding how items are arranged in space and in relation to one another
organizing the space within a cupboard
What everyday tasks do your students participate in that require spatial understanding?
Eye-hand coordination is being able to coordinate vision with body movement.
What everyday tasks do your students participate in that require eye-hand coordination?
Figure-ground perception is being able to distinguish foreground from background.
What everyday tasks do your students participate in that require figure-ground perception?
Position in space is being able to relate an object in space to oneself or other objects.
What everyday tasks do your students participate in that require position in space?
Perception of spatial relationships is being able to see two or more objects in relation to oneself or each other.
What everyday tasks do your students participate in that require perception of spatial relationships?
Visual discrimination is being able to identify the similarities and differences between or among objects.
What everyday tasks do your students participate in that require visual discrimination?
Visual memory is being able to recall objects no longer in view and relate them to other objects.
What everyday tasks do your students participate in that require visual memory?
How to Play Kim's Game http://www.wikihow.com/Play-Kims-Game
What the teachers said…
1 idea I want to explore further:
spatial awareness
visual memory
hands on problem solving
putting a wider variety of types of activities so that they hit more of these areas
visual discrimination activities
visual perception
add more movement activities to teach spatial awareness
I want to inquire more about Kim's game
2 ideas or resources that I will try with my students:
more active games
spacial awareness activities
visual discrimination and memory games
finding the missing object
physical activities
more visual memory and figure-ground activities
visual memory games (showing students items and then covering them and then ask for recall
using bottle recycling as a way to improve spatial awareness
Kim's game
pictures with hidden pictures inside the picture (e.g. elephant)
more games for visual perception
incorporate more memory-based activities
more I Spy games
more physical activities that build or facilitate spatial awareness
more memory and spatial awareness games
more find and search video games for the SmartBoard
more duplication of patterns for stacking cups
3 ideas that resonated with me:
spatial awareness, visual perception, visual memory
targeted teaching needed in position in space
awareness of the different parts to spatial awareness
add more movement activities to support spatial awareness
there is a lot more to spatial awareness than I remember
I need to assess my students and see where their strengths and weakness are and I need to have more open communication with me EA's about this area
visual discrimination, visual memory and perception of spatial relationships
a number of my classroom activities include these areas. I now have a better understanding of what to look for and focus on. There are a variety of activities to try.
spatial skills are important and have many components
need to be more cognizant when planning activities and ensure that I build these sorts of things in
I need to focus more on specific brain exercises
learning more about the spatial awareness that my students need, visual memory, visual perception
using video games
using the Wii to play Super Mario for eye-hand coordination with some students
build a greater awareness of the space that we occupy
I need to assess for strengths and weaknesses
find games and activities that are fun that develop spatial awareness
drawing cartoons step-by-step
Resources Proudly Developed By:
Terms & conditions
Privacy policy
© 2023 Sorting Hat Technologies Pvt Ltd
SSC JE Exam Pattern
SSC CGL Exam Syllabus
SSC CGL Exam Pattern 2023
SSC Steno C and D

Tips and Tricks to Solve Spatial Orientation Reasoning Questions and Answers
You need to think about a few things before taking the exam involving spatial orientation reasoning. To know more about spatial orientation reasoning questions and answers, keep reading.
Table of Content
When taking an exam involving spatial reasoning, applicants are asked to make inferences about shapes based on a limited amount of information. To answer correctly about spatial orientation reasoning questions and answers, you will need to visualise the movement, identify patterns, and apply reasoning to locate the perfect image.
These exams, referred to as spatial reasoning or spatial awareness examinations, are often employed in the selection process for technical and engineering positions.
Common topics in problems requiring spatial thinking include:
Shapes that can be rotated
Reflections
Counting by blocks
Views from a cube
Creating 3D Forms By Combining Two-Dimensional Shapes
Steps to Ace Spatial Orientation Reasoning Questions
To Begin, Locate the Publisher's Name and Address
When it comes to spatial awareness, not all exams are the same. You may get a head start on your preparation if you know who is publishing your exam since different publishers provide assessments in different sectors.
Contact the recruiter if you don't find the information you need in your application packet.
Identify and Address Your Shortcomings
Particular questions are more challenging to respond to in a spatial awareness exam. Some students may have difficulty seeing 3D forms, or they may have difficulty completing all of the questions within the time limit. This is where you need to put the most effort.
Make Sure You're Giving Yourself the Most Incredible Opportunity Possible
You will likely be taking your spatial reasoning exam from the comfort of your own home. Make sure you have a good night's sleep and eat a healthy breakfast to prepare for the day. Drink plenty of water.
There should be no distractions while taking the exam, no matter where you choose to take it. A stable internet connection is a must-have.
Put Your Knowledge into Action
Taking spatial exams does not need prior knowledge, but practice makes you a better test taker. Depending on the publisher's format and time constraints, you may obtain practice exams if you have identified them (see Step 1).
Read the Directions Carefully
It's always a good idea, even if you believe you've mastered the material after taking practice exams, to go over all the test details. The examiner may record your responses differently, or they may provide more information.
Depending on the exam, there may be a pre-test question. To prepare oneself in the correct mindset for the exam, always spend a few minutes answering this question.
Organise your Time
Don't be hasty. To figure out how much time you have for each question, divide the allotted time by the number of questions.
If you take the time to thoroughly study and comprehend the question, your practice will help you see patterns, search for rules, and find the solution.
Identify What the Question is Trying to Get You to Do
Consider the query first before looking at the replies. This implies looking at the supplied forms or pictures and then wondering what the solutions may be.
Ensure that Any Incorrect Responses Have Been Ruled Out
As a multiple-choice response, there are likely to be apparent incorrect options that may be eliminated instantly.
You may quickly compare the answers by first manipulating the picture to match what you're searching for.
Work on Your Spatial Reasoning Abilities
Try sketching in three dimensions, putting together jigsaw puzzles, spinning shapes in front of a mirror, or putting together model kits from scratch with the help of instructions. Using any of these methods can help you improve your spatial awareness.
Double-Check Your Work
Hopefully, you'll be able to squeeze in some more time in the end. To ensure that you've answered all of the questions, you may utilise this to re-read the questions that stumped you the first time around and spend a little extra time on them.
What is the Purpose of a Spatial Reasoning Test?
For positions in the industries described above, spatial thinking tests are a typical means of determining a candidate's suitability for the post. These may be helpful to the recruitment organisation in determining a candidate's mental ability to arrange, rearrange, create, manipulate, and spin various items of various shapes without physically touching them.
These assessments may assist the recruiters in getting a sense of how you might approach a typical workday problem-solving situation. Due to these spatial reasoning exams, recruiters can better understand how the prospective designers would calculate and measure the dimensions of different artwork needs.
To Begin, Consider the Elements of Design
A systematic and deliberate approach is preferable to guessing at abstract thinking issues while taking standardised tests. You should thus examine the building components offered in the question with great attention. Take a look at the following characteristics as an illustration:
The number of sides that a piece of furniture has
Intricately drawn parts of the thing.
The items' hues
To Find Patterns and Rules, the Second Step is to Look for Them
This spatial reasoning example stage necessitates a close look at the patterns used to create these things. It's essential to watch out for this reduction trend if you see anything being decreased. Contrary to popular belief, it's essential to figure out how a number or object was multiplied and if that rule applies to subsequent iterations. Look for anything with a consistent but uniform shift in hue to see if that's where the rules come from. Alternatively, there may be a shift in the number of sides. An in-depth examination of the complete collection is necessary here.
Disqualification is the Third Step
This is when you will begin to apply your reasoning and arguments to your actions. As you go through the process outlined above, eliminate any possibilities that don't add up. As a result, you will be able to reduce the number of possible answers and narrow down your search.
Practising is the most critical stage since these examinations often feature technical questions that may demand you to spend time and go through the offered answers with suitable logic and reasons. To score well on the real spatial reasoning exam, you must practice answering the questions.
These examinations are done online. However, they may also be administered on paper, depending on the employer's inclination. If you can, ask your recruiter how the exam will be administered.
Frequently asked questions
Get answers to the most common queries related to the SSC Examination Preparation.
Can spatial thinking be taught?
What is the role of spatial orientation in a person's ability to make rational decisions, is spatial thinking a difficult skill to master, where can i get information about spatial reasoning.
Ans. In recent CIRES-led research, it was discovered that anyone's spatial thinking might be improved with practice. When it comes to several fields of science, spatial thinking abilities are an absolute must.
Ans. For Spatial Orientation questions, spatial orientation is the mental capacity to modify and recognize the object's location or direction.
Ans. It might be incredibly challenging to take a test that requires you to picture patterns and forms and how they could move or be changed. Improved performance may be achieved with practice in this area.
Ans. Tests of spatial thinking include asking questions about images of things that are either two- or three-dimensional. To get the solution, you'll have to analyze these pictures in your mind. Typical examples of this kind of inquiry involve mirror images, perspective, two-dimensional forms, and cubes.
Crack SSC with Unacademy
Get subscription and access unlimited live and recorded courses from India's best educators
Structured syllabus
Daily live classes
Tests & practice
Notifications
Get all the important information related to the SSC Examination including the process of application, important calendar dates, eligibility criteria, exam centers etc.
SSC CAPF Notifications
Ssc cgl 2022 – notification (out), exam date, selection process, ssc chsl notifications, ssc je notifications, ssc jht notifications, ssc mts (nt) notifications, ssc steno c and d notifications, staff selection commission, related articles, yamuna river and its origin.
In this article, we'll learn about the origin of the Yamuna River, its significance and pollution in the river and ways to prevent it.
Works and Achievements of JRD Tata
We will be looking at the life of Jehangir Ratanji Dadabhoy Tata, an aviator, industrialist, entrepreneur and chairman of India's Tata group of industries.
Wildfoods Festival
Wildfoods Festival celebrates food culture & nature pioneered by the team at Wild Food Adventures. Let's know more about it in this article!
What is Blood Relation Chart
Almost all competitive examinations include problems on the blood relations chart as a component of the logical reasoning or cognitive ability component.
15,501+ courses for SSC Exams (Non Technical)
Trending Topics
SSC Exam Calendar
SSC Study Materials
Role of Agriculture in the Indian Economy
Unification of Italy
Nature of Indian Economy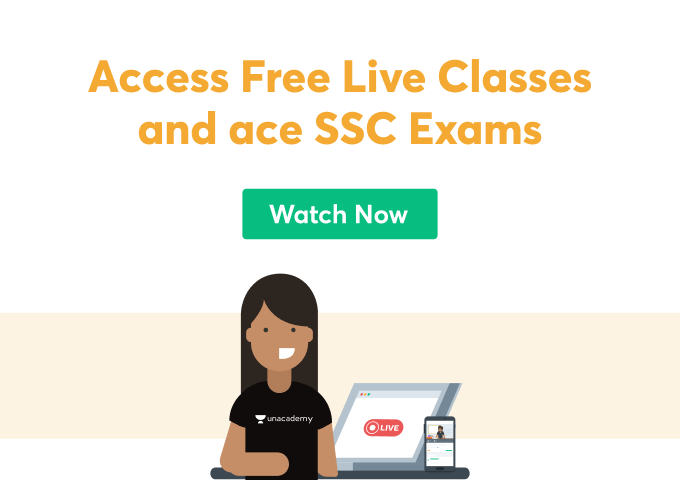 Related links
Parliament of India-Vidhan Sabha and Vidhan Parishad
Semantic Series
The Indian Subcontinent: Position, Extent and Physical Features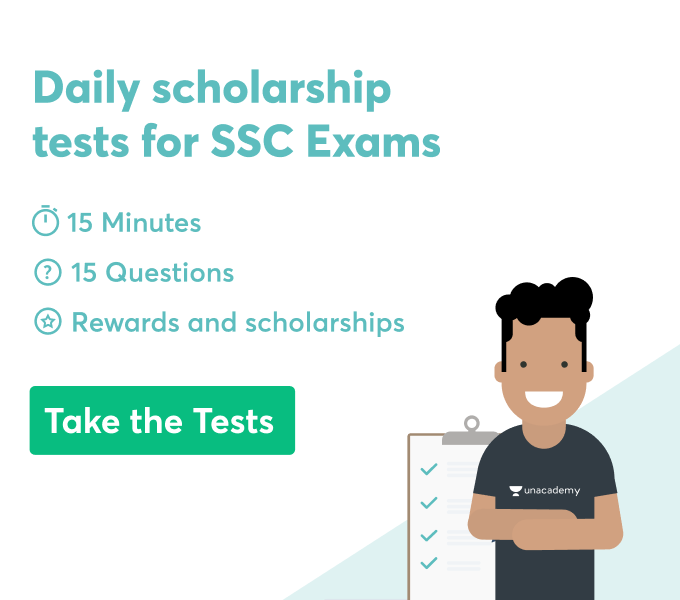 A Free Example Spatial Reasoning Test
What to expect on a spatial ability test in 2023, practice spatial awareness test 1, how to prepare for spatial ability tests: tips and techniques for 2023, how to develop your spatial reasoning ability in 2023, practice spatial awareness test 2, frequently asked questions, final thoughts, spatial awareness test (2023 guide).
Updated June 12, 2023
All products and services featured are independently selected by WikiJob. When you register or purchase through links on this page, we may earn a commission.
Spatial awareness is required in production, technical and design jobs where plans and drawings are used; for example, engineering, architecture, surveying and design. It is also important in some branches of science where the ability to envisage the interactions of three-dimensional components is essential.
If you are applying for a job in the military, police or emergency services, you may be asked spatial reasoning questions. This will involve a map or street plan and you will need to show that you can understand directions and that you can use the map to plan, follow or describe routes.
Spatial ability tests bear a superficial resemblance to abstract reasoning tests , as both contain a series of pictorial figures rather than words or numbers. However, spatial ability does not involve analysis and reasoning: it is purely a test of mental manipulation.
Remember, you are not looking for the logical relationship between figures – what you are trying to do is form mental images, and visualize movement or change between them.
To help you get an idea of what a spatial ability test involves, here is a mini test to get you started:
Credit: Psychometric Success
Ability tests can take place at any stage in the recruitment process but are usually used to screen candidates before the first interview. Some organisations prefer to use them later on, say before a second interview or shortlisting, or at several times throughout the whole selection process.
These tests will normally be taken on a computer, either at your home, a test centre or assessment day . Questions will be multiple-choice and you will normally have a limited amount of time to answer, so you'll be expected to work quickly.
Spatial ability questions often involve:
The visual assembly or disassembly of objects
Objects that have been rotated or viewed from different angles
Objects that have different markings on their surfaces
Generally speaking, if the questions involve the manipulation of two-dimensional objects then they are probably fairly straightforward, but you will be challenged to answer them all in the time you are given.
Questions involving the manipulation of three-dimensional objects are significantly more difficult. This is one skill that can be significantly improved with practice.
Your test score will usually be compared to a norm group. Each employer will have a certain standard that they will expect you to reach,so it pays to do the very best you can in the tests. This guide will help you prepare.
Prepare for Any Job Assessment Test with JobTestPrep
Spatial Ability Question Types
1. shape matching – two dimensional.
In this example, you are asked to look at two groups of simple, flat objects and find pairs that are exactly the same size and shape.
Each group has 25 small drawings of these two-dimensional objects. The objects in the first group are labelled with numbers and are in numerical order. The objects in the second group are labelled with letters in alphabetical order.
Each drawing in the first group is exactly the same as a drawing in the second group. The objects in the second group have been moved and some have been rotated . You are not looking for reflections for these questions.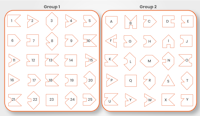 Which shape in Group 2 corresponds to a shape in Group 1?
This is very much a speed test, as you will be given far more of these questions than you can comfortably answer in the given time.
These questions use a large number of shapes that are presented close together. Some people find this very distracting and find it easier to work through the shapes in the second group systematically, rather than trying to look at the whole group at once.
In some questions of this type, there may not be a one-to-one match and some of the shapes in the first group may not appear in the second. The way that the question is worded will make this clear.
You should be especially careful to look out for reflections in the second group as these will be incorrect. These are often put in by the test designers to trap the unsuspecting.
For example:

The shapes in Group A are rotations of each other. The shapes in Group B are also rotations of each other. However, none of the shapes in Group A are rotations of those in Group B.
2. Visual Comparison – Two Dimensional
In these types of question, you will be presented with several objects, only two of which are identical. Once again, these are speed questions and you will need to work quickly and attempt to answer as many as possible in the given time.
Example Question

Which two pictures are identical?
The best strategy for these types of questions is to begin with the shape on the left and work through the shapes to the right of it, systematically looking for an exact match. If there isn't one then move on to the second shape and repeat the process.
It can be quite difficult to discipline yourself to adopt this systematic approach, as you may think that it is quicker just to look at all of the shapes until the answer 'jumps out' at you. The problem with this is that if the answer doesn't 'jump out' fairly quickly then panic sets in and you usually resort to the systematic approach anyway.
When you are confronted with a question like this that asks you to compare several different shapes, the other answer options can be distracting. It is much easier and less mentally tiring to cover the other shapes and concentrate only on the two shapes that you are comparing.
3. Group Rotation – Two Dimensional
This is slightly more complex than the rotations in the two-dimensional shape matching question.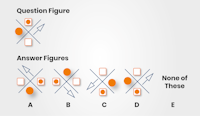 Which of the answer figures is a rotation of the question figure?
Once again, you need to be careful that you don't identify reflections. The best strategy is to choose the most asymmetrical shape in the group – in this case, the arrow. Then determine how the shape would look going clockwise, anticlockwise and opposite.
In the example above, the white square is clockwise from the arrow. This means that A, B and D cannot be rotations of the question figure. This leaves only C as a possibility, which can quickly be checked element by element.
4. Combining Two–Dimensional Shapes
These questions show you a series of two-dimensional shapes. One of the shapes has been cut up into pieces. The questions present you with the pieces and you are asked to work out which of the shapes has been cut-up.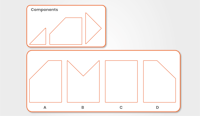 Which of the complete shapes can be made from the components shown?
The best strategy for answering these questions is to look at the complete shapes and see if there are any distinct features that would make it impossible to construct such a shape from the components. Sometimes there are one or two shapes that can be immediately discounted based on size alone.
One thing to remember is that if the complete shapes don't have any bits sticking out (they usually don't) then the components must fit together so that sides of the same length are together. This reduces the number of combinations considerably.
5. Cube Views in Three Dimensions
These questions show you several (usually three) views of a three-dimensional cube with unique symbols or markings on each face and then asks you a question about it. For example, which symbol is on the opposite face?

Three views of the same cube are shown above. Which symbol is opposite the X?
If you need to prepare for a number of different employment tests and want to outsmart the competition, choose a Premium Membership from JobTestPrep . You will get access to three PrepPacks of your choice, from a database that covers all the major test providers and employers and tailored profession packs.
Some people seem to have a natural talent for imagining objects in three dimensions and find these questions straightforward. However, if you're not one of them and you find thinking in three dimensions difficult, there are other ways to get to the answer.
In the question above, for example, you can simply use a process of elimination. If you can see a symbol next to the 'X' on the cube, then it cannot be opposite.
The second and third cubes eliminate A, B and C. This leaves only D and 'other' as possibilities. D has edges shared with A and B, which would be consistent with the third cube illustrated. Therefore, D is correct.
Although it is not usually specified in the instructions, it is almost always true that in these questions each symbol is used only once. This means that even in cases where elimination is not possible, it is sometimes quite easy to see the solution without mentally manipulating the cube too much.
In the example above, you can simply compare the first and third illustrations. The third illustration shows a 90-degree anticlockwise rotation (looking at the cube from above) of the first illustration. Therefore, D must be opposite the 'X'.
6. Cubes in Two and Three Dimensions
These questions show a flat (two-dimensional) pattern that can be folded to make a cube. The answer options will usually be four three-dimensional cubes.
The pattern and the cubes have symbols or markings on each face. You need to look at the pattern and decide which of the cubes, if any, could be made from it.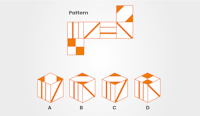 Which of the cubes shown could be made from the pattern?
The key to these questions is to remember that only three faces of the cube can be shown in the illustration, this means that you need only consider the relationship between the three visible elements on each cube and see if the same relationship exists in the pattern.
The best strategy for this type of question is to call one face of the cube the 'front' and then name the other faces of the cube in relation to it.

Obviously, this is an arbitrary decision as you could look at a cube from any side. However, thinking of the problem this way makes it much easier to see the relationship between the faces of the cube.
You can then:
Look at the front of the cube
Find that face on the pattern
Use the pattern to identify the 'top' and eliminate any options that do not match
Use the pattern to identify the other face that touches the 'front' (in this example LHS) and eliminate any options that do not match
The problem may also be posed the other way around. Here you would have a single three-dimensional cube and several two-dimensional patterns, only one of which, when folded, will make the cube.
7. Other Solids in Two and Three Dimensions
These questions are similar to the cube questions above but rather than cubes, they use other solid shapes which may be irregular.
In some respects, these questions are easier than the cube questions as there are more relationships to work with. In other words, each face of the solid shape has a shape of its own rather than just being square.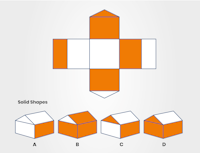 Which of the solid shapes shown could be made from the pattern?
Once again, you can reduce these problems to the relationship between the visible elements on the three-dimensional picture.
This makes things easier because even though the solid shape may have more faces than a cube, it is unusual for more than four faces to be shown.
This means that you need to consider the relationship between the four visible faces, paying particular attention to shading or other patterns on them.
8. Two-Dimensional Maps
Map questions will assess your ability to follow basic instructions and visualise a route. Normally, you will be given a two-dimensional plan or map and a series of directions via two or three questions that all relate to the same map.
You just need to use the instructions to navigate the map. As long as you have a basic sense of direction, this will seem relatively straightforward, but you will need to do so quickly and accurately.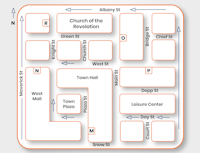 Officer Wilkinson is in Depp St and can see the Town Hall to her right. What direction is she facing?
A. North B. South C. East D. West
She turns and walks to the junction with Main St. She turns left and proceeds two blocks before turning right, then taking the next right, and walking half a block. Which location is nearest to her current position?
A. M B. N C. R D. P
The secret to getting the answers correct is imagining yourself walking down the street, making sure you are facing the correct way when deciding whether to turn left or right. You should also revise compass directions and make sure you are confident with each one, as well as the intermediate points such as north-west and south-east.
9. Block Counting in Three Dimensions
In these questions, you will be given a three-dimensional drawing of a shape formed from a group of blocks, some of which may be hidden.
You will be asked to identify how many blocks have been used to make up the shape. You will need to visualise the blocks you cannot see.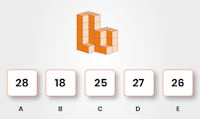 How many blocks make up the shape below?
10. Two-Dimensional Mirror Reflections
These questions will assess how you view two-dimensional objects from a different perspective. You will be presented with an image and will be asked to identify its mirror image.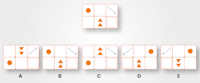 Which answer shows a reflection of the image below?
These five spatial reasoning tips are well worth remembering before you take the spatial ability test for real:
If you are allowed, bring and use a stopwatch . Calculate the maximum amount of time to be allocated to each question and stick to it.
Research the different test providers so you know what to expect in your test.
Work swiftly but carefully .
Read the questions thoroughly and underline key words to keep you focused.
Keep practising until you can answer all types of spatial ability question with ease.
Step 1 . Take Practice Tests
As with many skills, practice will help you develop your spatial reasoning ability. To enhance your ability, you can take practice tests , like the ones within this article, which will help familiarise you with the types of questions involved.
Tests which also explain how to arrive at the answers are particularly good, such as the ones available from JobTestPrep here .
Step 2 . Develop Your Skills
You can also develop your skills with practical day-to-day activities, such as looking at diagrams, plans and blueprints and imagining how they might fit together. Perhaps you could have a go at making or assembling something yourself using a set of plans.
Step 3 . Draw Out Your Shapes
Drawing things in 3D can also be helpful, as you will start to understand how different shapes look from different perspectives. Similarly, you can draw a shape, have a go at creating its reflection and then check whether you are right using a mirror.
What is a spatial awareness test?
A spatial awareness test is an aptitude assessment that is used by many employers as part of the hiring process. It is often compared to an abstract reasoning test because it involves the use of images instead of numbers and words.
However, spatial awareness tests assess mental manipulation, rather than analysis and reasoning skills.
Spatial awareness tests are common in the recruitment process for roles in the emergency services and military. Candidates applying for jobs in design, production, and technical professions may be required to sit a spatial awareness.
Since most tests are online, you will need to manipulate images in your mind, rather than by using a piece of paper.
How do you pass a spatial awareness test?
To pass a spatial awareness test , you will need to correctly solve problems relating to objects. This includes the visual assembly or disassembly of objects, objects that have been rotated or are being examined from different angles, and objects with different surface markings.
Problems relating to 2D objects tend to be easier to solve than problems relating to 3D objects.
For the best chance of passing, read the instructions carefully, improve your time management, and practice your spatial reasoning abilities. Not all spatial awareness tests are the same, so you will need to research the publisher to find out what to expect from the test.
What skills are measured or assessed in answering spatial reasoning tests?
Spatial reasoning tests measure and assess spatial reasoning ability and fluid intelligence. A candidate's performance gives the employer an idea of their ability to work with 2D and 3D objects. It also shows whether they can find patterns between shapes, and mentally manipulate objects.
What causes poor spatial awareness?
Spatial awareness comes naturally to some people. Others benefit from spending time developing their spatial awareness skills. Poor spatial awareness can be caused by developmental disorders.
These include Asperger's Syndrome, attention deficit disorder (ADD), attention deficit hyperactivity disorder (ADHD), cerebral palsy, dyspraxia or autism.
How long is the spatial awareness test?
Spatial awareness tests are available from a variety of publishers. Each spatial awareness test is different, and this includes the assessment duration. The Psychometric Success Spatial Ability Practice Test (1) comprises 45 questions.
In this test, candidates have 20 minutes to answer as many questions as possible. Speak to your prospective employer to find out how long the spatial awareness test they use is.
How to prepare for spatial reasoning tests?
To prepare for spatial reasoning tests , you should complete a range of practice assessments. This will help to improve your time management. It will also help you to familiarise yourself with the type of problems you will need to solve.
Find out which test provider is being used by your prospective employer so that you can find out what to expect from that specific test. Practice reading the questions thoroughly, underlining important words to ensure you stay focussed.
Practice answering questions from all areas of the test. Spend more time on the questions that you find most difficult. Keep practicing until you can answer all types of spatial reasoning questions with confidence. Use your imagination to think about how everyday objects might fit together.
You could also try drawing objects in 3D. Think about how shapes appear from different perspectives. Try drawing a shape, illustrating its reflection, and using a mirror to check if you are correct.
What is a good spatial IQ score?
Spatial IQ scores are usually compared within a norm group. This means that your performance will be assessed against other people taking the same test. Most employers set a benchmark to decide which test-takers will progress to the next part of the hiring process.
What are the different types of spatial reasoning tests?
Spatial reasoning tests are designed to evaluate an individual's ability to mentally manipulate and understand spatial relationships.
These tests are often used to assess aptitude in fields such as mathematics, engineering, architecture, and the sciences.
Here are some common types of spatial reasoning tests:
Pattern Completion
Paper Folding
Spatial Visualization
Figure Classification
Mental Cutting and Assembly
Spatial Analogies
Hidden Figures
Perspective Taking
Spatial ability is an important skill in many industries and one which employers value highly.
Some people find it easy to visualise both two and three-dimensional images and diagrams, but even if it doesn't come naturally, thorough practice of all the different question types and a process of elimination will greatly improve your chances of success.
You might also be interested in these other Wikijob articles: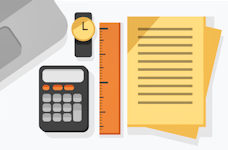 Or explore the Aptitude Tests / Test Types sections.