Jump to navigation Skip to content
Search form
P&W on Facebook
P&W on Twitter
P&W on Instagram
Find details about every creative writing competition—including poetry contests, short story competitions, essay contests, awards for novels, grants for translators, and more—that we've published in the Grants & Awards section of Poets & Writers Magazine during the past year. We carefully review the practices and policies of each contest before including it in the Writing Contests database, the most trusted resource for legitimate writing contests available anywhere.
Find a home for your poems, stories, essays, and reviews by researching the publications vetted by our editorial staff. In the Literary Magazines database you'll find editorial policies, submission guidelines, contact information—everything you need to know before submitting your work to the publications that share your vision for your work.
Whether you're pursuing the publication of your first book or your fifth, use the Small Presses database to research potential publishers, including submission guidelines, tips from the editors, contact information, and more.
Research more than one hundred agents who represent poets, fiction writers, and creative nonfiction writers, plus details about the kinds of books they're interested in representing, their clients, and the best way to contact them.
Trying to get your work published can feel like wandering in a maze. If you are running into one dead end after another, not sure which way to turn, Poets & Writers can demystify the process and help you reach your destination—publication.
Every week a new publishing professional shares advice, anecdotes, insights, and new ways of thinking about writing and the business of books.
Stay informed with reports from the world of writing contests, including news of extended deadlines, recent winners of notable awards, new contest announcements, interviews with winners, and more.
Since our founding in 1970, Poets & Writers has served as an information clearinghouse of all matters related to writing. While the range of inquiries has been broad, common themes have emerged over time. Our Top Topics for Writers addresses the most popular and pressing issues, including literary agents, copyright, MFA programs, and self-publishing.
Our series of subject-based handbooks (PDF format; $4.99 each) provide information and advice from authors, literary agents, editors, and publishers. Now available: The Poets & Writers Guide to Publicity and Promotion, The Poets & Writers Guide to the Book Deal, The Poets & Writers Guide to Literary Agents, The Poets & Writers Guide to MFA Programs, and The Poets & Writers Guide to Writing Contests.
Find a home for your work by consulting our searchable databases of writing contests, literary magazines, small presses, literary agents, and more.
Poets & Writers lists readings, workshops, and other literary events held in cities across the country. Whether you are an author on book tour or the curator of a reading series, the Literary Events Calendar can help you find your audience.
Get the Word Out is a new publicity incubator for debut fiction writers and poets.
Research newspapers, magazines, websites, and other publications that consistently publish book reviews using the Review Outlets database, which includes information about publishing schedules, submission guidelines, fees, and more.
Well over ten thousand poets and writers maintain listings in this essential resource for writers interested in connecting with their peers, as well as editors, agents, and reading series coordinators looking for authors. Apply today to join the growing community of writers who stay in touch and informed using the Poets & Writers Directory.
Download our free app to find readings and author events near you; explore indie bookstores, libraries, and other places of interest to writers; and connect with the literary community in your city or town.
Let the world know about your work by posting your events on our literary events calendar, apply to be included in our directory of writers, and more.
Find a writers group to join or create your own with Poets & Writers Groups. Everything you need to connect, communicate, and collaborate with other poets and writers—all in one place.
Find information about more than two hundred full- and low-residency programs in creative writing in our MFA Programs database, which includes details about deadlines, funding, class size, core faculty, and more. Also included is information about more than fifty MA and PhD programs.
Whether you are looking to meet up with fellow writers, agents, and editors, or trying to find the perfect environment to fuel your writing practice, the Conferences & Residencies is the essential resource for information about well over three hundred writing conferences, writers residencies, and literary festivals around the world.
Find information about venues that host readings and author events, including bookstores, bars, cafes, libraries, literary arts centers, and more. The Reading Venues database includes details about how to schedule your own reading, admission fees, audience size, parking and transit information, and more.
Discover historical sites, independent bookstores, literary archives, writing centers, and writers spaces in cities across the country using the Literary Places database—the best starting point for any literary journey, whether it's for research or inspiration.
Search for jobs in education, publishing, the arts, and more within our free, frequently updated job listings for writers and poets.
Poets & Writers Live is an initiative developed in response to interviews and discussions with writers from all over the country. When we asked what Poets & Writers could do to support their writing practice, time and again writers expressed a desire for a more tangible connection to other writers. So, we came up with a living, breathing version of what Poets & Writers already offers: Poets & Writers Live.
Establish new connections and enjoy the company of your peers using our searchable databases of MFA programs and writers retreats, apply to be included in our directory of writers, and more.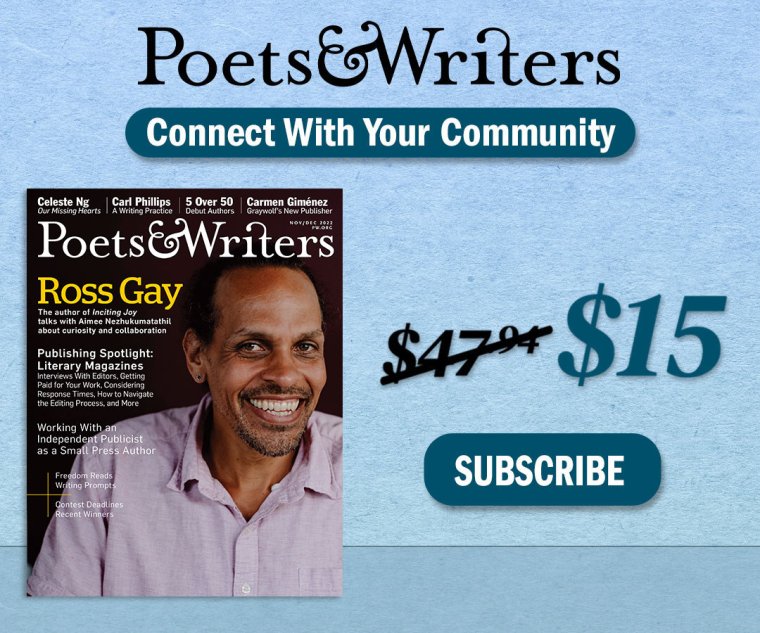 Bring the literary world to your door—at half the newsstand price. Available in print and digital editions, Poets & Writers Magazine is a must-have for writers who are serious about their craft.
View the contents and read select essays, articles, interviews, and profiles from the current issue of the award-winning Poets & Writers Magazine .
Read three decades of essays, articles, interviews, profiles, and other select content from Poets & Writers Magazine .
View the covers and contents of every issue of Poets & Writers Magazine , from the current edition all the way back to the first black-and-white issue in 1987.
In our weekly series of craft essays, some of the best and brightest minds in contemporary literature explore their craft in compact form, articulating their thoughts about creative obsessions and curiosities in a working notebook of lessons about the art of writing.
The Time Is Now offers weekly writing prompts in poetry, fiction, and creative nonfiction to help you stay committed to your writing practice throughout the year. Sign up to get The Time Is Now, as well as a weekly book recommendation for guidance and inspiration, delivered to your inbox.
Every week a new author shares books, art, music, writing prompts, films—anything and everything—that has inspired and shaped the creative process.
Watch videos, listen to audio clips, and view slideshows related to articles and features published in Poets & Writers Magazine .
Ads in Poets & Writers Magazine and on pw.org are the best ways to reach a readership of serious poets and literary prose writers. Our audience trusts our editorial content and looks to it, and to relevant advertising, for information and guidance.
Start, renew, or give a subscription to Poets & Writers Magazine ; change your address; check your account; pay your bill; report a missed issue; contact us.
Peruse paid listings of writing contests, conferences, workshops, editing services, calls for submissions, and more.
Poets & Writers is pleased to provide free subscriptions to Poets & Writers Magazine to award-winning young writers and to high school creative writing teachers for use in their classrooms.
Read select articles from the award-winning magazine and consult the most comprehensive listing of literary grants and awards, deadlines, and prizewinners available in print.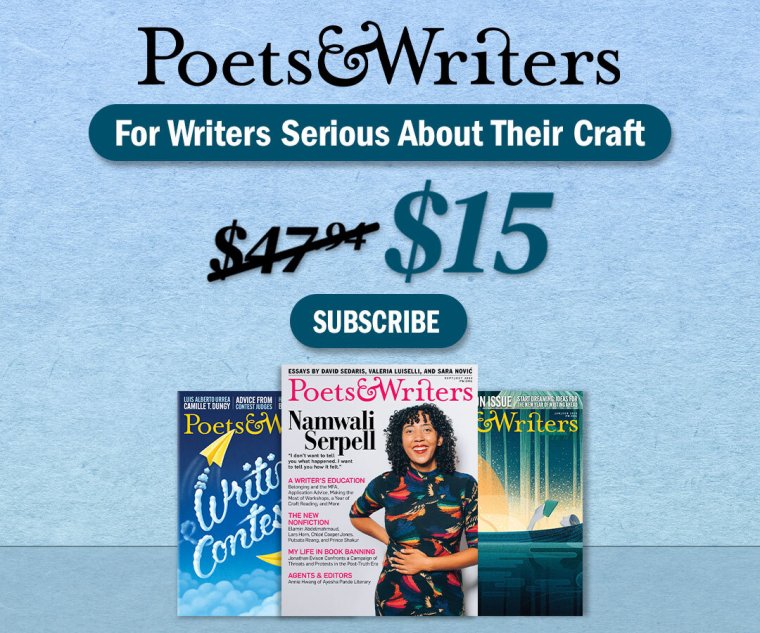 Each year the Readings & Workshops program provides support to hundreds of writers participating in literary readings and conducting writing workshops. Learn more about this program, our special events, projects, and supporters, and how to contact us.
Find information about how Poets & Writers provides support to hundreds of writers participating in literary readings and conducting writing workshops.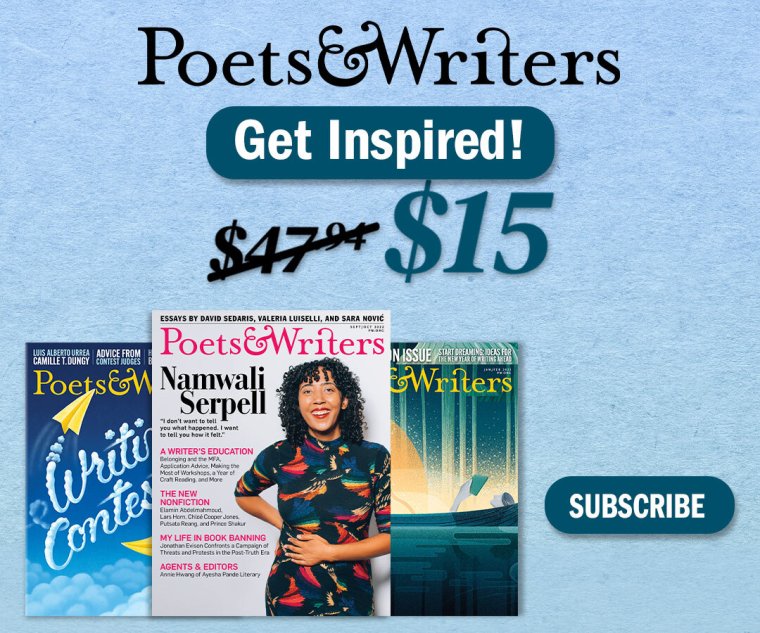 University of Virginia
Printable Version
Log in to Send
Log in to Save
MFA Program
Poetry: Rita Dove, Debra Nystrom, Kiki Petrosino, Lisa Russ Spaar, Brian Teare Fiction: Rahib Alameddine, Jane Alison, Jeb Livingood, Micheline Marcom
The program offers full funding. All admitted students receive up to $30,000 in fellowships or wages each academic year in the standard three-year program. There is an option to graduate after two years. First-year students have no teaching obligations in their fall term but teach one creative writing course in the spring. Second-year students teach one section of intro poetry or fiction writing each term. Third-year students teach two courses per term, primarily composition.
The program hosts the Kapnick Distinguished Writer-in-Residence Program and the Rea Writer Series, which includes visits and one-on-one conferences with notable writers. The program also awards the $15,000 Henfield Prize, given for the best work of fiction written by a student in the program.
Students are not required to take the GREs for admission.
Adam Giannelli, Chad Harbach, Eleanor Henderson, Greg Jackson, Erika Meitner, Thomas Pierce, Hannah Pittard, Safiya Sinclair, Austin Smith
Honoursmodule: Creative Writing
When engaged in scholarly research, we may forget that the act of writing can also be  imaginative, therapeutic, illusory, entertaining and inconclusive. We often separate our creative – and playful - selves from the productivity model of success.
In this course, however, we will foreground creative writing as both a discipline and an art form in order to 'decompartmentalise' our thinking. Students will engage with both the theory and practice of writing creatively, through 1) formal instruction 2) generating their own original pieces, and 3) participation in group 'workshop' analysis.
Students will read assigned texts on creative thought and process, craft and revision; they will subsequently write their own stories, poems and essays that engage in a rewarding conversation with other literature, past or present. In a workshop setting, students will share their work and produce cogent written and/or oral arguments to defend and explain their opinion on others' writing.
As a group, students will find a shared language to communicate feedback that is observation-based, productive and supportive.
Individually, they will learn about the revision process through working on a multi-genre portfolio. They will also draft and edit a final project (fiction, non-fiction or poetry).
Students will have an opportunity to direct in-class activity by devising a writing exercise for their peers; finally, they will read their own literary works in a public forum.
We now expect that all lectures can take place on-campus . In case the situation changes, you will be notified. You can find the timetable on Datanose .
Registration
Registration is open for second-year or third-year Bachelor's students participating in an Honours programme. Between 30 November 10 am and 3 December 11 pm , you can register by completing the online registration form that will appear on Honoursmodules IIS . Placement is random and students will hear within two weeks for which course(s) they are registered.
Please note: There is no guarantee for placement if you register after December 3, so make sure you register on time. For questions about registration, please contact us at [email protected] .
More information
Cookie consent.
The UvA uses cookies to ensure the basic functionality of the site and for statistical and optimisation purposes. Cookies are also placed to display third-party content and for marketing purposes. Click 'Accept all cookies' to consent to the placement of all cookies, or choose 'Decline' to only accept functional and analytical cookies. Also read the UvA Privacy statement .
Alumni Books
Forthcoming and Recent Books
This page list books by our MFA and BA alumni that either are forthcoming or were published in the last 700 days. Use the search boxes below to find older publications or to look up one of our alumni by name. We list alumni with five or more known books (in print or forthcoming) on our Five-Book Alumni page . Our current total count of known books by program alumni is 463.
Forthcoming Books
Recent books, total (known) alumni books published by calendar year, alumni search form.
Use the "Suggest" button above to send in a new book/award listing.
More CW Info
For more information on our Creative Writing Program, select one of the buttons at right.
The First Book
We profile five emerging writers, all alumni of UVA's creative writing program who are celebrating the recent publication of their first book.
UVA's graduate program in creative writing has always been on the map. It's consistently ranked among the nation's best, distinguished by its faculty—Pulitzers, Poet Laureates, National Book Award winners—its intimacy and selectivity—about seven fiction writers and five poets are chosen each year from a pool of more than 500 applicants—and the literary success of its graduates. In its July 2007 issue, The Atlantic magazine noted that graduate writing programs have become something of a phenomenon in American higher education, having mushroomed from about 50 programs several decades ago to about 300 today. The magazine included UVA among the top 10 programs in the country.
We profile five emerging writers , all alumni of UVA's creative writing program who are celebrating the recent publication of their first book, the feat of a long and disciplined journey that will be repeated, we hope, many times.
Taylor Antrim (Grad '04)
Age : 33 Residence: Brooklyn, NY
Favorite book : Impossible for me to nail down only one. I'll give three: Too Far To Go by John Updike, Money by Martin Amis, Sam the Cat by Matthew Klam.
Who is your first reader? These days I give pages to my agent and a small group of friends from UVA who also wound up in New York after the program ended. I save my wife, Liz, my best reader, until the end, when I have a more complete draft.
Length of time it took to write your book: Almost two years.
Plot: It's about Model UN, North Korean terrorism, an elite boarding school in Massachusetts, a politically renegade headmaster and two young men, the headmaster's teenage son and a first-year history teacher, both coming of age under difficult circumstances.
How many times was your manuscript rejected before you found a publisher? I was lucky. My editor at Houghton Mifflin expressed interest within a few days and made an offer shortly after that.
Best aspect of UVA's MFA program : The friends I made, who have since become a community of fellow writers; and the faculty, who are amazing writers and some of the most generous people I have met.
Best way to deal with rejection: Remember that all your literary heroes were rejected, soundly, at one time or another in their careers.
Advice for aspiring writers: Treat it like a job: write every weekday and take the weekends off. A streaky, on-and-off, write-when-the-muse-strikes work ethic will never get a book written.
Excerpt from The Headmaster Ritual
We were supposed to meet this morning?" asked Dyer, standing in the shaded portico of Headmaster Wolfe's residence, the humid Massachusetts air on him like a quilt.
"Agreed," said Edward Wolfe with his hand on the door's brass knob. He moved out of the way. "Come in."
Dyer dipped his head and passed inside. The air had a still, musty smell, as if the windows hadn't been opened all summer. The hardwood floor in the wide foyer was bare except for a coarse straw mat and an Oriental rug rolled up like a sausage along the wall. Muddy running shoes sat on a radiator; a loose stack of mail covered a table by the door. An ornately framed portrait—old, Dyer thought, the paint webbed with cracks—of a black-suited couple in twin wooden chairs was propped against the wall. In its place hung a framed sheet of yellow paper with a typed list of names. Curious, Dyer took a closer look. Halfway down the page, he stopped: "Edward Wolfe; Boston, MA; Harvard; SDS."
Dyer felt Wolfe at his side and realized the headmaster had him by a good half inch. His jaw was block-shaped beneath coarse gray stubble, his lips, fish-white and thin. Body heat came off him in waves, mingled with a clean, soapy smell. Dyer told himself to look at Wolfe directly, to find his eyes in their deep-set sockets.
Even though Roberta O'Brien, dean of faculty, had offered him the job, even though he'd signed tax forms, even though there'd been a welcome letter for him in his Bailey House faculty apartment, this morning could still be some sort of final interview, a chance for Wolfe to judge for himself, to make up his own mind. In late July during his interview with O'Brien, she'd said that Britton's headmaster had left a tenured post in Harvard's History Department to run the school. "He was looking for a more institutional role. To bring a progressive approach to the classroom," she'd said. "So he wants young, less traditionally trained teachers, candidates with higher academic degrees, not graduates of education programs." Dyer, with no prior teaching experience, with his Oxford M.Phil. in History, was "just the sort of candidate he's looking for," she'd said.
A reassuring memory—but Headmaster Wolfe had never met Dyer. And there had to have been more qualified candidates vying for the position. Lots of them. A teaching post at Britton was something of a coup, and they could probably get a replacement for Dyer, even with classes only a week away. Dyer straightened his back, rising on the balls of his feet.
"Nineteen sixty-eight," said Wolfe, nodding at the framed page of names on the wall. "An enemies list from Hoover's COINTELPRO files. An old friend of mine at the Justice Department copied the original for me."
"You were SDS?" asked Dyer.
"Don't kick our founders," said Wolfe, nodding toward the narrow-faced puritans at Dyer's knee.
Dyer stumbled back a step.
"Warner and Constance Britton. Suppose I'll have to find another place for them eventually," said Wolfe. "Maybe the john." The headmaster's clothes were casual, a little ragged: an old Harvard sweatshirt stained yellow at the neck, felt letters puckering from loose thread. Jeans belted with a length of rope. The getup calmed Dyer a little. On his walk this morning, the Britton School had appeared dauntingly correct; now, its headmaster didn't. Dyer tried to smile. Wolfe tipped his head toward a living room. "Shall we?"
Dyer followed him down a short hallway, along a threadbare Oriental rug, its red faded to rust, through an open doorway into the living room. The room was formal and grand, with crown molding, a plaster school crest in the ceiling, and a carved stone hearth. The windows went up above Dyer's head, the antique glass in their leaded panes distorting the view, letting in a weak, gridded light. It was a little cooler here, thanks to an air-conditioning unit gurgling in one window. Wolfe made for a shabby, squat armchair that seemed out of place in the room, settling down with a contented sigh, rocking his head back. He sank lower in the chair until he lay nearly flat, his legs straight out, one crossed over the other. He gestured toward the navy corduroy sofa in the middle of the room, the cushions worn to a shiny indigo, another piece, like the armchair, that could have been dragged in from a yard sale.
Laura Dave (Grad '03)
Age: 30 Residence: New York City
Favorite book : Pride And Prejudice by Jane Austen and The Feast of Love by Charles Baxter
Who is your first reader? Two friends of mine, Dana and Ben. They are incredibly generous readers, but are also as tough as nails. When I get their approval, I know I've earned it.
Length of time it took to write your book: About 13 months.
Plot: It's about a grown brother and sister who, over the course of his wedding weekend, make some surprising choices about their lives. How many times was your manuscript rejected before you found a publisher? I got lucky, and the first editor we sent it to accepted it for publication.
Did a particular event or experience inspire your book? Several experiences inspired the questions I raise in London, but it really became its own thing once I started writing it.
Best aspect of UVA's MFA program: The faculty and the students. It is also a great gift that the focus of the program is on becoming a better writer. I felt protected from the business aspect of writing, which has made a huge difference.
Best way to deal with rejection : On this, I am very much a work in progress.
Advice for aspiring writers: It is truly a test of endurance, especially with novel writing. So much of the battle is figuring out ways to keep showing up. Prove to yourself that you take your writing seriously. Go to an MFA program, apply to a writers' conference, get up at 4 a.m. two mornings a week to write while your family sleeps. No excuses. The more seriously you take your work, the better chance you have of continuing.
Excerpt from London Is the Best City in America
Narragansett, Rhode Island.
She told herself that if he touched her one time, she wouldn't leave. She told herself that if in his sleep tonight, he reached for her, or put his hand on her leg, his hand on her knee, his face near her face, his leg against her leg, his mouth against her back, his palm on her stomach, his arm on her hip, his hip beside her leg, his head beneath her shoulders, his cheek along her neck—she would stick it out. All these options, he had! And Emmy would stick it out forever. Stay put, stay faithful, stay here.
Where was here? Not home. They weren't home. It was the Friday before Independence Day and a hundred degrees outside and they were in a highway motel in southern Rhode Island, on their way to his parents' in Maine for the long weekend. They hadn't planned on stopping, but they had left the city late because her meeting with their wedding planner had run late and then he had been annoyed. And then she had been annoyed because—did she really need to remind him?—she hadn't wanted a wedding planner in the first place, had wanted just the two of them on a cliff somewhere, maybe New Mexico, high above sea level, adobe houses seeping into dry land.
Emmy turned over onto her back. The sheets were stiff here. The fire alarm was right above her head. The television remote was next to her. The ordering went: her, television remote, him. He was on his back too. She could turn on the television and it wouldn't wake him. She could get up and get dressed and go get a Coke at the vending machine and it wouldn't wake him. She could sit with her Coke by the indoor pool for an hour or two hours and her absence wouldn't wake him.
If he happened to wake up by himself and see that she was gone, he would be worried, but not so worried that he'd come look for her. He would take a shower first. He would listen to the radio and get a traffic update. He would call his family to give them an estimated time of arrival. He would wait.
At six a.m., Nick turned onto his side, his back toward her. His hands were somewhere beneath the sheets. Emmy crawled out of bed and went into the bathroom. She brushed her teeth and washed her face and pulled her hair into a bun. She had long brown hair that she washed in horse shampoo to keep it soft. She put on the peach sundress she had been wearing the day before. She had very pale skin, which didn't look so good beneath peach. It looked better beneath blues and ivories and reds.
Her suitcase was already packed so she took it. She left him the car keys and the car. She closed the door behind herself. She stopped at the front desk to pay for the room. She wanted to leave him a note, but she didn't know what to say. So she got another room key from the day-manager and let herself back into the room and took off her peach dress and got back into bed with him.
Now they were face to face.
A little before nine, his eyes fluttered open. Still, green eyes. He looked at her. She reached out and touched his cheek, first with the outsides of her fingers, then with the insides.
"Did you know it's supposed to rain later?" she asked.
Nick shook his head no. He yawned.
"It is," she said. "Big time. Big storm. It should cool things down a bit."
He nodded, his eyes starting to close again. This, of course, was only his preliminary wake-up. There would be another two, maybe three, until one took.
She wouldn't be around for those. She took off her engagement ring and put it on the pillow and got back out of bed and put back on her peach sundress and picked up her suitcase again and walked out the hotel room door again, and this time she did it forever.
Sharmila Voorakkara (Grad '03)
Age : 39 Residence: Athens, Ohio
Favorite book: Waterland by Graham Swift
Who is your first reader? Mark Halliday, a poet and colleague
Length of time it took to write your book: Five years
Plot: My book is really about a whole series of characters facing different crises and/or weirdnesses in their lives.
How many times was your manuscript rejected before you found a publisher? Fifteen
Did a particular event or experience inspire your book? Not one in particular; I am inspired by random events, things that I see on the street, sometimes things from my past.
Best aspect of UVA's MFA program: God, there are so many. I loved the poetry faculty, I loved meeting other poets, I loved the number of readings by poets that I had the opportunity to attend.
Best way to deal with rejection: Rip up the rejection letter, move on.
Advice for aspiring writers: Rejection is a part of the game. Write the truth as you see it, not the way you think a particular editor or audience would like to see it.
excerpt from Fire Wheel
You want some real bad karma, go into the towing business. —Waitress, overheard
I'm not sentimental. I know enough to work a man while he's hungry. Promise him a donut, but save it for later.
I'm not the fast hook that falls from nowhere, but believe me, when that fist arrives, it's loaded with quarter rolls! Life is that wind-up without notice—and
wham! No, I'm not given to regret as the chain unwinds like a woman's perpetual length of hair, then reels in Buick, Chevy, Olds. In my rearview: a crying wife, screaming kids,
the weedy husband in boxer shorts running out to demand—pigeon cheat with baseball bat, a shade too late. Law says once the hook's in, it's
mine. I'm kept in the dark, which is best. Good soldier, I have my orders, and some things I'd rather not confess.
It's not sentiment that makes my little woman pound the braid of my back, shouting relax, relax—but the ache in my jaw when I think of my kid, pinning live
butterflies to a board, burning down the neighbor's shed. His teachers tell me he's tried things with the classroom hamster: is there anything wrong at home? Hell,
the small fires that start a family. I wasn't always this man with bad posture, done in by antacids and a bed-wetting
boy. God knows, I still believe the quarter-loaded uppercut counts for something in the character of a man! Junior, I'd knock you
from here as far as straightening— but wait— my boy's got something hidden in his hands. . . .
He looks nothing like me. Damned if I know what's mine. But blood is blood, at least by law, and the word of the law is this: if you must slit the throat of thine enemy, do it while he's sleeping,
oblivious in his boxer shorts. Tonight, the apartment block is lit by the rapid fire of my tow light, light of aneurism and flashback,
that sets this weedy husband in stumbling flight. Does my heart ache to see you raise your bat and swing at the air of my remove?
Do I wince at the sound of your wife's sobbing, at the sight of the twelve kids I wake and strand? You might recede in the rearview, but believe me,
you will all collect. Revenge is not exact. It isn't sentiment that moves me forward. No. I'm watching my back.
Aoibheann Sweeney (Grad '00)
Age: 38 Residence: Brooklyn, N.Y.
Favorite book: Mrs. Dalloway, if I have to pick one
Who is your first reader? Myself. I go through tons of terrible drafts before I show a soul.
Length of time it took to write your book: I finished a first draft 10 years ago. A few years went by while I went to the MFA program and wrote other things, another two went by while I found an agent and then found a job, and another three went by after I got the contract. But I worried about it the whole time as if I were doing nothing else.
Plot: A girl who grows up on an island in Maine goes to New York City and discovers her father's past and her own future in New York City.
How many times was your manuscript rejected before you found a publisher? It was sold in an auction in the first round out to publishers, but a few agents rejected it before I found the right one.
Did a particular event or experience inspire your book? Shakespeare's The Tempest inspired me to write about the character of Miranda.
Best aspect of UVA's MFA program: Deborah Eisenberg's literature class
Best way to deal with rejection: Send it out again (never worry about multiple submissions until they ask).
Advice for aspiring writers: Find a place for yourself with a door you can close, try to write every day and don't expect royalties!
excerpt from Among Other Things, I've Taken Up Smoking
Among other things, I've taken up smoking. Ana says I should stop with the good girl/bad girl stuff, and obviously she's right, but sometimes when I have a cigarette in my hand and the streets are dangerously empty and I've had a few drinks after my shift and I am noticing the lights that are on in different apartments, lighting stairways and whole buildings, blinking red on the skyline, I think about the nights on the island when I was content to stand alone outside the house, listening to the fog horns in that soft blackness, and tasting the air, sweet with salt.
My mother and father moved to Maine when I was almost three, so that my father could work on a translation of Ovid's Metamorphoses. I grew up on Crab Island, about a mile or so across the water from a small town called Yvesport, which, more often than not, was hidden from us by a thick Down East fog. A few months after we arrived my mother disappeared into the fog and didn't come back. She cooked us oatmeal in the morning and then went into town. When she didn't return that night my father made more oatmeal and put me to bed; in the morning he radioed Mr. Blackwell, who checked to see if our boat was at the dock. That afternoon the Coast Guard found the boat washed up on the mainland without a scratch. It took them three days to find the drowned body. They asked us lots of questions. Mr. Blackwell told me later that she would have frozen to death before she drowned—in the winter it takes about six minutes for your heart to stop beating. She wasn't used to boats, he said—she must have lost her balance, trying to see her way.
My father didn't talk about her, but Mr. Blackwell came over every day after she was gone to make us lunch and supper. I was convinced that all around the island there were women inside the trees. When the wind was up they whispered and showed the underside of their leaves, and I pretended not to hear them. I remember sitting in the yard for hours during the summer, just listening to my breath, feeling my limbs go numb—watching for twilight when the bats would crisscross between the blackening trees behind the house. Sometimes I could almost feel my skin thickening into bark, my toes rooting into the ground, my arms raising stiffly to the sky. My father would forget I was there, and I would watch him wander over to the window, stand for a long time looking out. I liked to imagine he was looking for me—calling my name. I pictured him stopping in front of the new sapling in the yard, studying me in a way he had never looked at a tree before, trying to see my skinny form underneath the bark. My elbows would be knots in the thin branches of my arms, and finally he would recognize my knobby knees, my flat-chested trunk.
Ravi Howard (Grad '01)
Age: 32 Residence: Mobile, Ala.
Favorite book: Billy by Albert French
Who is your first reader? My wife, Laura, gives me notes.
Length of time it took to write your book: I worked on the manuscript for about four years, from 2002 through 2006. I wrote a short story on the same subject while at UVA, and I used a lot of that same material in the novel.
Plot: It's the story of two teenaged brothers in Mobile, Ala., in the aftermath of a lynching in 1981.
How many times was your manuscript rejected before you found a publisher? I was fortunate enough to have a contract in place before I completed the novel. I sent pages to my editor probably once a year over those four years. The experience of accepting feedback and criticism in workshop was helpful in making that process easier.
Did a particular event or experience inspire your book? The lynching really happened. A 19-year-old named Michael Donald was killed by Klansmen. They hanged his body from a tree just a few blocks from my house.
Best aspect of UVA's MFA program: The size of the program was just right. We had enough writers to give a nice range of styles, but we didn't have the big numbers that might make a program impersonal.
Best way to deal with rejection: Buy a paper shredder for the rejection letters. I think we all have to be nomadic in our approaches to publishing. If your work doesn't find a home with a journal, publisher, agent or prize, then it's time to move on to the next one.
Advice for aspiring writers: Fiction writers can look for additional lessons outside of their genre—plays, poetry, essays, film and photography—anything that has a narrative.
excerpt from Like Trees, Walking
Prologue July 14, 2003
Those of us already gathered along the beach check the wind. With matches cupped in our hands, we watch the smoke rise into the breeze that comes off the water. The conditions have to be right. The wind has to be blowing east. Rising tide and an overcast sky. Nights like these, when conditions are right along the Eastern Shore of Mobile Bay, the salt water from the gulf mixes with the fresh water from the rivers. The fish and blue crabs stop swimming then. Why it happens, I'm not exactly certain—something about the oxygen, the water temperature, and the currents no longer running true. The fish and the blue crabs are stunned, traumatized. At the place where the waters meet, they just float on the surface like they're dead.
When the tide rises in the early-morning hours, the silver sides of the flounder shine as they wash up on the shore. The crabs collect in the soft sand just below the surface of the water. We wait for them here. Some gather them with scoop nets and stakes while others pick them up in their bare hands and carry them home in washtubs and baskets. Nights like these are called Jubilee.
At night, Mobile is brightened by the shipyard beacons and the battleship lights, but on this side of the bay it's dark just like it should be. It took a few minutes for my eyes to get acclimated, but now I can see details in the darkness, the outlines that separate the water, the tree line, and the moonless sky. The only lights that connect the east and west shores are those scattered along the causeway and the ones on the bridge.
When my brother Paul and I were young, riding in the back of our father's truck, we lay on our backs and counted them, 240 each way. Once we turned off Highway 98 and left the bright spread of the bridge lights, only a few dim lamp posts lit the waterside woods. There was more to hear than there was to see. The Edgewater Beach road was covered with oyster shells bleached by the salt water and sun, and the only sound I heard above the engine drone was the crush of our tires grinding the road shells into dust.
I make my way to the spot I like to claim, a rocky stretch at the south end where it's never too crowded. As I walk farther down, it's difficult to see who's speaking as folks say hello when they pass. Some I recognize, others just know me through my family. Most people in Mobile either know us or know of us. Strangers would come up to me all the time saying that they remembered a kind word my father or my grandfather offered when burying their loved one. They had seen our family photo on the church fans parishioners waved on hot days, trying to cool down the humidity or the Holy Ghost. Among the black funeral homes in Mobile, ours is one of the oldest and considered among the best. In the picture, my grandfather, my parents, my brother, Paul, and I stand on the front steps of the funeral home. In black script beneath our feet—"Deacon Memorial: Seven Generations of Service." In some of the old churches we work in, I still see those fans, creased and faded, with the same picture that still hangs on the wall in the mortuary office. It was the last picture we all took together. I was seventeen then.
Thursday, November 02 from 7:00pm to 8:00pm
Join us for this special, ongoing reading series featuring students in the uva mfa creative writing program..
Join us on Thursday evenings at 7 pm for this special weekly reading series featuring one poet and one prose writer from the UVA MFA Creative Writing Program. These events are free and open to the public.
Fall 2023 Readings
9/7 Kate Cart & Caroline Erickson 9/14 Coby-Dillon English & Kamau Walker (Canceled) 9/21 Garrett Kim & Desiree Santana 9/28 Kathryn Holmstrom & Gabriel Costello 10/5 Tanner Hansen & Mack Gregg 10/12 Danny Eisenberg & Cy March 10/19 Bella Lewis & Wheeler Light 10/26 Sophia Zaklikowski & Lucas Martínez 11/2 Seonah Kim & Madeline Miele 11/9 Ope Rasak-Oyadiran & Holly Zhou 11/16 Aryeh Lieber & Ethan Evans 11/30 Nial Buford & Alexa Luborsky 12/7 Ian Davis & Tafara Gava