Human Resources Resume Summary Examples and Samples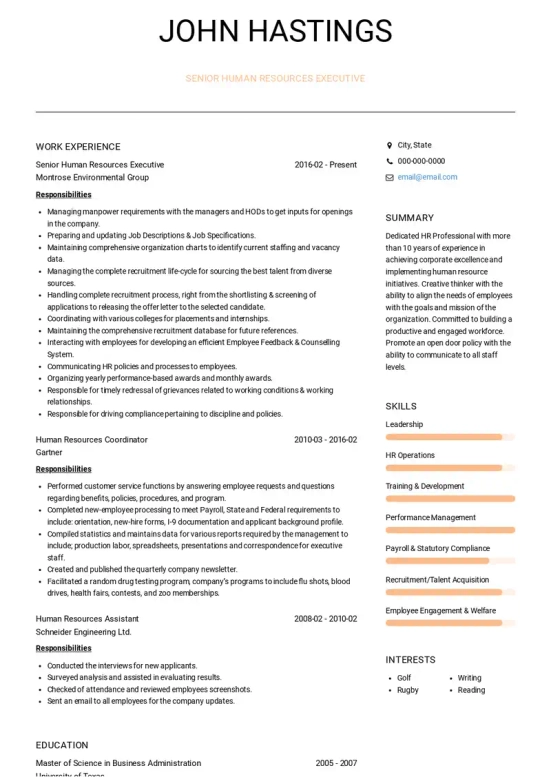 Human Resources Resume Summary Example #1
A competent, organized and outgoing individual with a strong work ethic and exceptional communication skills. International and local working experience, a keen desire to learn new tasks and grow, looking to contribute to an international or a local brand in the area of Human Resources.
Related : Our guide on how to write a resume summary .
Human Resources Resume Summary Example #2
I am an outgoing, creative, goal-oriented, and resourceful person with a growing academic hunger. I take interest in human resources planning, conflict resolution, and societal dynamics to further my skills as an HR.
Human Resources Resume Summary Example #3
HR Professional with 9 years of experience in End-to-End recruitment, skilled in tech sourcing, resume screening, interviewing, negotiating and closing the best talent. Hired over 200 candidates for various technology and business positions in just a year.
Human Resources Resume Summary Example #4
Experienced payroll specialist in Texas for 3 years in a retail company with 500+ employees and HR generalist for a year. Treasury & Branch Accountant professional in Austin for 5 years in a food and beverage company.
Human Resources Resume Summary Example #5
Senior HR Manager with extensive experience and a proven success of 10 years in driving strategic HR operational initiatives with a key focus on Talent Acquisition, Employee Retention, Succession Planning, Organizational Development, Capability Development, Legal Compliance, Grievance Management, and Cost & Resource Optimization in Software Product Based Companies
Human Resources Resume Summary Example #6
Notable success in realizing top & bottom-line results, streamlining operations and heightening employee productivity by mastering HR situations for integrating human resource functions with overall Business Goals & Industry Standards by liaising with global counterpart for competency building & mobility
Human Resources Resume Summary Example #7
Directed the strategic framework for Talent Acquisition & Employee Relation Activities, Recruitment & Selection, Legal & Liaison Work, Statutory Compliances based operations; deep understanding of industry related issues, employee satisfaction and staff development.
Human Resources Resume Summary Example #8
An ambassador of change, innovating profitable solutions for various aspects of human resource management; proficient in transforming HR processes and enabling innovations to improve organizational performance & productivity; successfully implemented HRIS across various processes encompassing Recruitment and Employee Lifecycle Management.
Human Resources Resume Summary Example #9
Showcased strategic leadership skills by managing & administering a team of HR Professionals and conceptualizing recruitment techniques, cost-effective training & development, and compensation strategies; Lead organizational development that addressed issues such as succession planning, workforce development, key employee retention, organization design and change management.
Human Resources Resume Summary Example #10
Expertise in driving Key Talent Management and Retention strategies including talent review, talent identification, competency assessment, bridge the competency gap through creation of individual development plans to support the business and achieve ambitious growth plans; Proficient in conducting employee engagement activities.
Human Resources Resume Summary Example #12
A result oriented individual committed towards the growth of people & organization. Expert in developing, recommending and implementing human resources strategies and policies in support of business objectives. Proficient in talent management, employee relations, recruitment, manpower planning & placement and performance management.
Human Resources Resume Summary Example #13
Enthusiastic and dedicated professional with outstanding experience in guiding institutional-or organization-wide program initiatives. Expertise in matters relative to equity, diversity, inclusion and justice. Possess exceptional ability to lead cross-functional teams in order to identify new program capabilities, assess resources, and collaborate with personnel ensuring projects are delivered on time and within scope of budget.
Human Resources Resume Summary Example #14
Client-centric, energetic, hands-on Human Resources leader with excellent interpersonal and communication skills. Experienced in a variety of fast-changing industries from consumer products to biotechnology, with proven success in all aspects of the human resources discipline
Human Resources Resume Summary Example #15
As a motivated, goal-oriented, responsible and committed intern and employee , I would now like to optimally implement and expand my knowledge and skills at your company.
Human Resources Resume Summary Example #16
Human resource professional with experience in delivering high quality results. Extensive background in HR generalist affairs, including recruitment and retention, staff training and development, mediation, conflict resolution, benefits and compensation, HR records management, HR policies development and compliance.
Human Resources Resume Summary Example #17
A creative and innovative thinker with effective Human Resources management, and goal setting abilities combined with communication, interpersonal skills. Self-motivated with the ability to excel in a fast-paced environment; communicate effectively at all levels; manage competing priorities, and adapt readily to new challenges. Enjoy working in a multicultural and vibrant team, and look forward to making a difference in a global HR team.
Copyright © 2023 VisualCV
Select Your Language :
21 Human Resources (HR) Resume Examples for 2023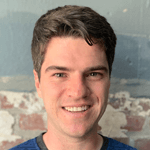 Human Resources Resumes
HR Resumes by Experience
HR Resumes by Role
Writing Your HR Resume
A company's most valuable resource is its employees, but it takes a great human resources manager to find, manage, and help those employees succeed within an organization.
From hiring to onboarding to benefits, you know how to help colleagues succeed within a company. When it comes to being a successful human resources (HR) professional, you put people first. But although you can spot a great resume from a mile away, building a resume of your own is an entirely different beast.
Our HR resume examples and writing guide have helped HR professionals learn how to write a resume to land highly coveted jobs with companies like Facebook and Lyft. Writing an amazing human resources resume has never been easier!
Human Resources (HR) Resume
or download as PDF
Why this resume works
If you have more than 10 years of experience, you can add a resume summary (also called a career summary) to list your HR experience and biggest achievements.
Space is limited on your resume, but don't worry—you'll have more room to discuss the context of your experience in your human resources cover letter , so you don't have to try and cram everything onto your resume.
Whenever possible, quantify the scale or impact of your work on your human resources resume. For example, how many employees did you help hire or onboard? What was the scale of the compensation plan you managed? How many disputes did you resolve? Numbers speak louder than words!
Human Resources (HR) Manager Resume
Start by listing your hard skills (the tools and technologies you know) and the areas of HR in which you're an expert, such as Disability or FMLA.
Don't make your skills section a laundry list; only include skills that you can readily demonstrate if asked. Honesty is key!
You can help the reader out by formatting your resume with your most recent experience first. That way hiring managers see your best roles right away, which will encourage them to keep reading.
Human Resources (HR) Intern Resume
Don't be afraid to showcase your work and accomplishments! Use strong action words like "developed", "spearheaded", or "operated" to show hiring managers that you have what it takes to move into roles with more responsibility.
In just two to four sentences, let hiring managers know what company you want to work for, the job title you're seeking, and what specific skills you have that will be an asset to the company.
The key word here is specific. A vague resume objective won't do you any favors!
Entry-Level Human Resources (HR) Resume
Have you started a club, held an internship, or had a part-time job? These can all be valuable on your entry-level human resources resume !
You can also highlight your academic abilities by listing your GPA or any awards you won during college. You can even list relevant courses to really show off your skills!
Some employers prefer resumes in different formats, so check the Human Resources job description if you need to use a Google Doc template or a Microsoft Word template to format your entry-level human resources resume correctly.
Junior Human Resources (HR) Generalist Resume
Woah, cowpoke! Hold off for a minute and use our resume checker to ensure your Jr. human resources generalist resume is formatted correctly and that you're using all the gold-standard grammar and punctuation rules.
Leverage metrics about the number of employees at each company you've worked for, the percent increase in efficiency after implementing a new HR tool, the number of new hires you've added, or the increase in qualified applicants you've driven through recruitment strategies
Human Resources (HR) Assistant Resume
Above all, be specific. A generic, vague objective only wastes valuable space. Instead, talk about your qualifications for the position at hand, then mention why you want this particular role with this specific company.
For example, did you help plan an event that brought in an extra $3K in revenue? Or maybe you collaborated with your HR team to develop new onboarding processes that decreased the cost-per-hire by 21%. Whatever you did, find a way to tell the employer why your efforts mattered on your human resources assistant resume .
Human Resources Recruiter Resume
For example, you must show your unmatched competencies in skills and tools that track, assess, and help onboard new hires smoothly.
Human Resources Administrator Resume
A great example you can use in your human resources administrator resume is underscoring your input in achieving a 42% increase in promotion rates for employees under your supervision.
Human Resources Associate Resume
However, it's not enough to state that you're a team player; your human resources associate resume must also show your contribution in identifying, interviewing, and onboarding new hires.
Human Resources Executive Resume
For instance, integrating Tableau's HR data analytics dashboard to support decision-making would give recruiters a reason to pick your human resources executive resume ahead of others.
Human Resources (HR) Director Resume
Use your work experience bullet points to showcase a variety of skills, like management, collaboration, data analysis, and mentorship. Think of each bullet point as a separate skill you want to showcase.
Using a resume template can help you easily change stylistic elements to suit your fancy, like colors, font types, and layouts. Be creative and go for it!
Human Resources (HR) Coordinator Resume
Set a timer for six seconds. Now, read through your resume until the timer runs out. What stands out the most?
Hopefully, "numbers" was your top answer. Numbers are easier to scan, and they're great at showing how you improved your workplace, so include them when you can!
Try to include rates like ROIs, time and cost per hour, the staff you oversee, reviews, error reductions, efficiency improvements, and employee retention time.
While you don't have to use an outline, we would recommend it, especially if you haven't written a resume in a while.
Human Resources (HR) Generalist Resume
Use small amounts of color (and different font types) to break up an otherwise-monotonous page of black text and draw attention to section headers.
However, if you personalize your summary by calling out the employer and the role by name, as well as listing your most relevant achievements, you should add it in to help make a great first impression!
Human Resources (HR) Representative Resume
While that's understandable when you make a resume outline , your resume must be polished and customized to highlight past experience that is applicable to the new job you desire.
In general, we recommend including three to four work experience listings total so you can expand on each. Any more than four, and it starts to get pretty overwhelming!
This way, you can quickly review your resume against the job description to build a customized resume for every job for which you apply!
Human Resources (HR) Data Analyst Resume
Always double (and even triple) check your resume for any typos or grammatical errors before you turn it in. Even areas that you think are perfect, like your Contact Information, might have a missed "t" or an extra period.
We'd recommend having a friend or colleague read your resume, too, since they're more likely to notice mistakes.
Font : are you using two fonts, one for your body text and one for your headers?
Layout : is your resume easy to read? Do you have headers for each section?
Style : does your resume convey your personality? If not, consider adding some color and different font types, provided your resume is still readable afterwards.
Human Resources (HR) Benefits Specialist Resume
Numbers will encourage hiring managers to slow down and carefully read your text. Plus, they take less space then words and can demonstrate your capabilities faster. So, if you want to demonstrate your capabilities quickly, use numbers!
For example, adding a resume objective usually isn't the best option unless you've just changed careers or are starting out in the HR field.
Human Resources (HR) Business Partner Resume
That internship you had back when pagers and Razr phones were a thing? Probably not relevant—instead, pick three to four recent positions where you've showcased your leadership abilities.
We'd recommend listing your experience in reverse-chronological order (aka putting your most recent work experience at the top) to increase the chances of making a good first impression right away.
Human Resources (HR) Recruitment Coordinator Resume
That's right. Your resume doesn't need to be boring to command respect. In fact, a bold color can demonstrate confidence and individuality, which can make you an even more desirable candidate.
A note of caution: While more companies are valuing individuality and personality, there are times when muted colors (think deep navy, slate gray, or hunter green) may be more appropriate. This may be especially true if you're applying to work in HR for a legal or investment firm.
Human Resources (HR) Specialist Resume
If yes, use our human resources specialist resume to add a dedicated section where you can add certs and improve your chances of being hired.
Chief Human Resources (HR) Officer ( CHRO ) Resume
With a cluttered template, you run the risk of leaving an employer overwhelmed and unsure of where to look on your resume. Using a clean template, like our Elegant, Official, Standout, or Professional templates, will let a recruiter focus on what's important and help you put your best foot forward.
VP HR Resume
If you're applying for a senior-level position, like Vice President of HR, you've probably got a ton of experience under your belt. Still, your resume should ideally fit into one page, so select your most substantial achievements at each role to mention under your work experience in your VP HR resume.
Related resume guides
Office Administrator
Talent Acquisition
Operations Manager
Formatting is essential for making your resume stand out for all the right reasons. You could be an employer's dream candidate, but you won't be hired if your resume isn't readable or logical. Our resume guide will walk you through the top resume formats, what to include in your contact header, and how to make your HR resume readable for employers and ATS.

Top resume formats
The top three resume formats for 2023 are reverse-chronological, functional, and combination/hybrid. Each format showcases your aptitude for the job in different ways.
Reverse-chronological : This format stresses your career progression by putting your most recent job at the top. It's easy to skim, but it can reveal gaps in employment or career changes.
Functional : Skills are the name of the game with this format, which highlights position-related and transferable skills alike. However, it can confuse ATS and recruiters since it's not common.
Combination/hybrid : It's the best of both worlds with an in-depth skills section and a work history section, but it can be hard to format and isn't ATS-friendly.
We believe the reverse-chronological format, as shown below, is the best choice for a human resources resume because it's easy for ATS and recruiters to read quickly and tells a consistent, steady of your career.
Include the right details in your contact header
Your contact header is where you list (surprise, surprise) your contact information. In this section, you'll want to include the following:
Job title you're seeking
Email address
Phone number
City/State (optional)
Professional links (optional but recommended)
Since your contact header is the first thing recruiters will read, you need to design it carefully. Place your contact header at the top of your resume, either centered or left-aligned, to make it easy to spot. If you're struggling to fit everything, remove the optional elements or go down a font size. Just make sure it's no smaller than your resume body text .
You should also adjust the color, font style, and layout. Giving your name a different font and a color block outline can showcase your personality and desired role. No matter what you do with your contact header, just ensure it's easy to read and looks professionally appealing.
Our resume examples can offer inspiration if you're struggling to format your contact header.
Make your HR resume readable for software and people
HR professionals know the hiring process is complex, so ATS can be a lifesaver when used well. That means that when you write your HR resume, keep ATS in mind to avoid getting the boot.
Our tips on formatting elements can help you format your resume to impress ATS and employers.
Margins : Avoid margins smaller than half-inch or larger than one inch to give your resume a professional and clean appearance.
Fonts : Sans-serif fonts are the best for ATS readability, but unusual fonts aren't a good choice. Choose safe standards like Arial, Verdana, and Helvetica.
Font sizes : Overly large or small fonts are overwhelming and hard to read. Use 10 or 12-point font sizes to keep reading a cinch.
Header names : ATS systems aren't programmed to recognize creative header names, so stick to industry standards like "work experience" and "skills."
Skills: Include skill keywords listed on the job description to ensure your resume passes ATS inspection.
Logical order : ATS and recruiters read resumes quickly, so organize your resume according to industry recommendations. Namely, put your contact header at the very top and put your work experience in the middle.
One page : Recruiters have limited time to read endless qualifications, so keep your resume to a single page.
File type : Some ATS won't recognize .dot, .txt, .jpg, or other file types that aren't .docx. Submit your resume as a Word document and PDF to cover all your bases.

Write a Winning HR Resume
Writing an effective resume is an overwhelming process, but human resource professionals can get it done in no time by writing only a section at a time.
In the following sections, we'll introduce:
Using an objective/summary effectively
Listing your HR experience
Choosing the appropriate skills
Writing the education section and adding optional elements
Tailoring your HR resume
Editing your resume for maximum impact
Determine whether you should use an objective/summary
Many people will argue that a resume objective or summary is a waste of space that's "me-centric." Yet, a worthwhile objective or summary can showcase your qualifications and give a snapshot of how you can impact a business.
Good objectives and summaries tell the recruiter why you should be hired in three sentences or less. They should highlight your skills while expressing how you'll use your unique experience in the role for which you're applying.
Objectives are typically used when you're changing careers or just starting out, and they focus on your strengths and transferable skills. Summaries are used for those who have been in their career field for some time, and they function as a snapshot of your long-standing career.
You may not need a summary or an objective, but if you do choose one, always tailor it to each job for which you apply.
For example, generic objectives give nothing more than buzzwords like this:
Talented human resources professional seeking new opportunities. Skilled at hiring, management, and communication.
This doesn't tell the recruiter anything about the candidate's unique experience (or anything about the candidate at all). A good objective is specific and personable, like this example:
Compassionate and detail-driven HR professional with 3 years of experience. I want to use my interpersonal communication skills and conflict resolution abilities to increase employee satisfaction at CORE. My goal is always to foster relationships from the start of the onboarding process, resulting in a 15% decrease in ETR.
Similar to the example above, notice how this savvy candidate tailors the career objective to the target business.
Summaries are excellent tools if you're further along in your career. If you're SHRM-SCP certified or have been in management for years, you should use a summary for your resume . Summaries can be difficult, though, because you have to cram in years of experience, often resulting in something that looks like this:
Experienced HR professional who is organized and passionate about people. I am certified and ready to bring my 10+ years of communication, training, and administration skills to your company.
It's not bad per se, but it's vague and not tailored to the company. The one below gives examples of the applicant's skills and what they'll provide for their employer:
Onboarding and employee training are my specialties as a PHR-certified manager with 10+ years of HR experience. I'm passionate about talent acquisition, coaching, interviewing, and compensation/benefits. I wish to use my skills to increase employee satisfaction and training effectiveness while decreasing time-to-hire and time-to-productivity at CORE.
Like the visual below, the above summary explains goals, specialties, and what the candidate can do for their future employer. When writing your objective or summary, make sure it's detailed and concise to showcase your best qualities.
List your HR work experience
HR professionals wear a lot of hats, so it can be tempting to cram in as many past jobs as you can to showcase your adaptability and skills. This results in a resume that's overloaded without a clear focus.
Instead, list two to four of your most relevant job experiences . Doing so provides a clear story of your career and gives you room to expand on the responsibilities and skills you obtained from each position.
If you lack formal job experience, list internships, volunteer/leadership work, and projects related to your desired HR position.
Write actionable bullet points
Bullet points are the bread and butter of your experience section, so your writing should be as specialized as possible in this area. Use active verbs and targeted language without resorting to personal pronouns to create the most impact. Consistency is key, so match your verb tenses and either use punctuation or avoid it altogether.
Excellent bullet points for an HR resume are distinct and concise. Use the following examples to help you craft amazing bullet points on your resume:
Enforced compliance with federal, state, and company employment laws
Created individualized employee performance reviews in collaboration with management quarterly
Educated employees on company policies, procedures, and compensation during employee training
Established a standard set of onboarding processes, including interviewing, office setup, and software training
These bullet points showcase your specialized skills and highlight your accomplishments most effectively and efficiently.
Harness the power of numbers
Metrics are frequently missed in HR resumes, but they're a huge asset. They're definitive proof that you've done your job well. So, you should aim to include metrics on 50 percent of your job description bullet points.
When discussing your job responsibilities, try to include some of the following HR metrics :
Improved time-to-hire
Increased employee retention
Increased employee satisfaction
Increased employee performance
Below are some sample job description bullet points using the above metric types.
Established improved hiring processes, including quarterly job description updates, sourcing plans, and training/development opportunities for current staff, reducing the time to hire by 7 days
Provided individualized guidance through weekly one-on-one meetings with new staff members, resulting in 13% higher employee retention than in previous years
Distributed satisfaction surveys in meetings and incorporated feedback into procedures over 6 months, resulting in 50% higher satisfaction rates than the previous year
Encouraged employees in weekly meetings with special shout-outs and consistently pointed employees to HRIS records in case of concerns regarding payroll, benefits, or training, resulting in 15% higher employee performance than the previous quarter

Choose your HR skills selectively
The skills section on an HR resume presents your attributes and qualifications in an easy way to read. Regardless of your experience, this section showcases why you're the best candidate for the job because you possess the traits and knowledge the employer is seeking.
This is why ATS prioritizes skill keywords to weed out candidates, so nailing this section is crucial. To ensure you stay on the recruiter's list, choose skills that appear in the job description or those related to similar HR positions.
Below are some good examples of hard and soft skills HR recruiters desire:
Microsoft Office Suite
Legal Compliance
Conflict Resolution
Performance Management
Compensation and Benefits
HRIS or HRMS
PHR Certification
Planning and Strategy
These resume skills show experience in multiple areas, like recruiting and payroll, while also listing some hard skills like ATS knowledge.

Include education, and decide on optional sections
As displayed in the visual below, you'll need to include education, as most HR positions require a BA in Human Resources Management or associated degrees. Depending on your education level, years in the workforce, and any specializations and certifications, you may need to include different sections on your resume.
For example, if you have multiple certifications, it may not be wise to crowd them all in your objective/summary. Instead, list them in your skills section.
You may wonder if you should add a hobbies and interests section to your resume , but most HR resumes shouldn't include these. Interests and hobbies can be useful in tipping the scale in your favor, but most often, they don't increase your chances significantly.
However, if the job description or ad mentions company culture or the importance of interests, you should include an interests and hobbies section. For example, if you apply for an entertainment company position, including your love of Harry Potter and Star Wars might be beneficial.
Adjust your HR resume accordingly
Every job is different, so each resume you submit should also be unique. Human resources jobs will have things in common, so you don't need to revamp your resume completely. Still, pay attention to the differences with each position. Tailor your objective/summary , your skills , and your work experience bullet points to match the job description or ad for every job to which you've applied.
Edit your HR resume for optimal impact
Although it's tempting, don't submit your resume right away! Even though it's technically complete, there could be mistakes you've overlooked.
Walk away for a day or two and let others read it. Once you've refreshed your mind, come back and check your resume one last time for any errors. Then make the necessary changes until your HR resume is spotless.

Nail the interview and get hired
The last step is to celebrate and prepare for your interview! You can use our resume checker to upload your resume and check it against our AI-powered tips or use our resume builder , which allows you to create resumes from scratch. Just remember, whenever you apply for a job, you'll want to tailor your resume again. Good luck—we're rooting for you!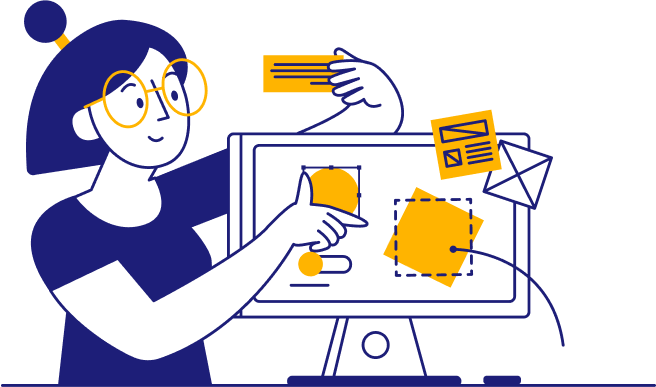 13 Human Resources Resume Examples to Land You a Role in 2023
Human resources managers understand how important it is to make hiring decisions based on qualification and fit. As an HR manager, your resume should clearly exhibit your effectiveness with the specific areas of people management that the organization needs. Today we'll examine 11 human resources manager resumes and take a close look at what really makes a strong resume.
Resume Examples
Resume guidance.
High Level Resume Tips
Must-Have Information
Why Resume Headlines & Titles are Important
Writing an Exceptional Resume Summary
How to Impress with Your Work Experience
Top Skills & Keywords
Go Above & Beyond with a Cover Letter
Resume FAQs
Related Resumes
Common Responsibilities Listed on Human Resources Resumes:
Administering health benefits, retirement plans and other employee incentives.
Developing job descriptions.
Supporting recruitment efforts.
Ensuring compliance with labor laws and regulations.
Responsibility for new employee onboarding and orientations.
Assisting in organizational goal setting/strategic planning.
Developing and delivering training materials/workshops.
Assessing staff performance and conducting performance evaluations.
Managing employee relations issues such as disputes and disciplinary measures
Partnering with departments on hiring needs and talent development initiatives
Creating and enforcing workplace policies and procedures
Maintaining employee records and documentation
Handling employee inquiries and grievances
Analyzing HR metrics and providing reports to upper management
You can use the examples above as a starting point to help you brainstorm tasks, accomplishments for your work experience section.
Human Resources Resume Example:
Successfully managed the recruitment process for multiple departments, resulting in a 25% increase in employee retention rate.
Developed and implemented new employee retention and engagement programs, resulting in a 15% increase in employee satisfaction and engagement.
Led the design and implementation of a new performance management system, resulting in a 20% increase in employee performance.
Constructed employee survey to evaluate job satisfaction, garnering 1,000 responses and detailed analysis.
Implemented and managed employee retention and engagement programs, resulting in a 10% increase in employee satisfaction and engagement
Developed and executed recruitment strategies, resulting in a 15% increase in the quality of new hires
Worked with cross-functional teams to develop and execute on-time and on-budget projects and initiatives
Assisted with 15+ job fairs and recruiting events, successfully recruiting 200 potential candidates for HR roles
Assisted in the management of recruitment process, resulting in a positive impact on the company's overall performance
Demonstrated strong attention to detail, resulting in a 25% decrease in errors
Provided support to senior human resources managers, resulting in a positive impact on the company's overall performance
Recruiting & Hiring
Talent Acquisition
Performance Management
Employee Retention
Employee Engagement Strategies
Analytical & Critical Thinking
Conflict Resolution
Training & Development
Data Analysis & Interpretation
Communication & Interpersonal Skills
Budgeting & Cost Analysis
Project Management & Execution
Event Planning & Organization
HR Processes & Policies
Regulatory Compliance
Negotiation & Mediation
Coaching & Mentoring
Change Management
Cultural Sensitivity & Awareness
Customer Service & Relationship Building
Human Resource Management
Business Administration
Beginner Human Resources Resume Example:
Spearheaded successful interview processes, led orientation events, and managed onboarding activities for more than 20 new hires, enhancing morale and performance in the organization.
Introduced a comprehensive employee recognition system, resulting in improved employee morale and a reduction of turnover rate by 20%.
Facilitated the design and execution of an employee communication program, helping to improve two-way dialogue between senior management and the workforce.
Recruitment & Selection Processes
Training & Onboarding
Orientation Programs
Employee Relations & Engagement
Conflict Resolution & Mediation
Benefits & Compensation Administration
Behavioral Interview Techniques
Employee Recognition & Rewards
Salary & Job Negotiations
Employee Retention & Turnover Reduction
Policies & Procedures Development
Conflict Management & Investigation
Labor Law & Employment Regulations
Data Analysis & Report Writing
Public Speaking & Presentation Skills
Auditor & Compliance Management
Entry Level Human Resources Resume Example:
Improved general HR database accuracy and data security by updating 10,000+ records through an automated system.
Developed detailed diversity and inclusion initiatives that increased gender-specific hiring initiatives by 7%.
Coordinated the tasks for onboarding for over 50 new employees, reducing the process by 40%.
Created a streamlined performance review process, resulting in consistency and accuracy throughout the company
Developed and implemented a completely new HR policy manual, increasing compliance with state-wide labor laws
Compiled and organized employee data for a secure and easy to access database
Implemented a detailed payroll management system that secured employee payment accuracy and confidentiality
Streamlined leave of absence processes resulting in a 25% decrease in the number of return employees
Assisted in the recruitment of top talent through rigorous job posting campaigns and consistent interviewing processes
Database accuracy and data security
Diversity and inclusion initiatives
Onboarding processes
Performance review processes
HR policy manual development and implementation
Payroll management
Leave of absence process management
Recruitment and interviewing
Job posting campaigns
Organizational and communication skills
Time management and multitasking
Conflict resolution
Research and analytical skills
Professional demeanor and customer service
Attention to detail and results-driven
Communication
Experienced Human Resources Resume Example:
Spearheaded the development of the company's HR strategy, integrating corporate and global objectives and driving organizational performance.
Streamlined and designed the onboarding process, decreasing employee onboarding time by 40% and increasing employee satisfaction by 30%.
Saved 123 hours a year in administrative time by researching, implementing and managing a modern HR system that improved employee record keeping.
Successfully created an employee engagement strategy with the sole purpose of increasing retention rates by 50%
Organized comprehensive onboarding and training processes that improved employee knowledge of company policies and procedures and reduced onboarding time by 25%
Negotiated and reached a successful collective bargaining agreement with union representatives that was backed and ratified by all parties
Assisted in the development of the HR department's strategic objectives, integrating them with the corporate goals of the organization and increasing performance outcomes by 15%
Developed a standards-based disciplinary process and successfully addressed three high-level grievances cases through successful resolution
Managed employee records and facilitated seamless transition by designing and implementing an automated Human Resources systems that increased efficiency by 20% and saved the organization over $50K annually
Strategic Planning
Organizational and Resource Management
Employee Engagement
Negotiation
Onboarding and Training
HR System Administration
Employee Record Keeping
Data Analysis and Reporting
Collective Bargaining Agreements
Industrial Relations
Disciplinary Processes
Recruitment and Selection
Communication, Interpersonal and Leadership Skills
Organizational Development
Employee Relations
Fresher Human Resources Resume Example:
Developed and maintained personnel files, including employee reviews and attendance records, to capture workforce trends.
Assisted in the evaluation of 10 potential external vendors, resulting in a successful partnering agreement.
Established effective communication channels between management level positions and employees, resulting in an increase in employee engagement.
Contributed to the implementation of new, innovative HR practices, allowing the university to meet compliance regulations.
Organizational Skills
Vendor Selection/Management
Compliance/Regulatory Knowledge
Strategic Planning & Execution
Data Entry & Analysis
Performance Measurement & Improvement
Effective Communication & Interpersonal Skills
Problem-solving & Troubleshooting
Multi-tasking & Time Management
Training & Development Programs
Payroll & Benefits Administration
Talent Retention & Motivation Strategies
Risk Management & Organizational Safety
Diversity & Inclusion Practices
Change Management Strategies
HR Technology Solutions (e.g. ATS systems)
Team Building & Leadership Development
HR Assistant Resume Example:
Successfully facilitated the efficient recruitment process for 50+ positions, leading to a 77% decrease in open vacancy times.
Streamlined payroll systems to ensure compliance with all federal, state, and local regulations.
Developed and implemented HR strategies and initiatives that resulted in a 10% decrease in employee attrition rate.
Established a comprehensive onboarding program for new hires, ensuring minimal disruption to existing operations and a successful transition for new employees
Effectively managed employee relations issues in a timely yet sensitive manner, resulting in a 30% decrease in HR complaints
Created exit interviews process, allowing Human Resources to better understanding employee reasons for leaving
Recruitment & selection
Compensation & benefits management
Employee relations
Performance management
Organization & project management
Payroll processing
Onboarding & exit interviews
Compliance & regulations
Training & development
HR analytics & reporting
Change management
Time & attendance tracking
Records management
Employee engagement
Employee motivation
Microsoft Office Suite
Recruiting software
Database management
Human Resources Generalist Resume Example:
Spearheaded recruitment and onboarding process, propelling the organization toward increased candidate retention and efficiency driven success
Posted job ads and organized interview logistics for 200+ applicants, resulting in a successful onboarding rate of over 89%
Designed and implemented a comprehensive performance management system to evaluate employee progress, resulting in a 15% increase in staff retention and a 12% reduction in workplace grievances
Established key performance indicators and implemented corrective policies to streamline employee development objectives
Optimized employee compensation and benefits package, resulting in a 17% reduction in expenditures while still strengthening incentives to attract and retain top talents
Sourced an array of benefit plans and maintained compliance with all applicable employment laws
Conceptualized and implemented a benefit package, including insurance and retirement plans, to increase employee satisfaction and retention
Designed a human resource database system to register, monitor, and evaluate personnel changes; resulting in a 25% increase in efficiency
Created an efficient recruitment process that filled positions faster and at a lower cost, enabling the organization to stay competitive
Recruitment and onboarding
Performance evaluation and management
Employment legislation/compliance
Benefits packages/compensation optimization
Human resources database systems
Resourceful decision-making
Organizational skills
Interpersonal communication
Analytical thinking
Negotiation/influencing
Data analysis
Problem-solving
Time management/planning
Discretion and confidentiality
Adaptability
Training and development
Human Resources Intern Resume Example:
Coordinated and facilitated 3 successful workshops, resulting in 20% shift in employee morale.
Spearheaded recruiting and interviewing process, priming over 20 candidates for consideration.
Implemented tracking system monitoring employee benefit performance, leading to increased efficiency in overall HR operations.
Developed comprehensive orientation program for new hires, providing onboarding materials in 3 languages
Organized training sessions for current staff, implementing detailed feedback system for continuing improvement
Constructed KPIs for recruitment progress, enabling team to reach desired hiring quota in under 3 months
Excellent communication and interpersonal skills
Strong organizational abilities
Resourceful problem-solving skills
Data analysis proficiency
Knowledge and experience of HR policies and procedures
Ability to create recruiting strategies
Ability to promote team collaboration
Familiarity with Applicant Tracking System (ATS)
Proficiency in tracking and performance monitoring
Ability to customize training programs
Ability to handle confidential information
Knowledge of legislation, regulations and organizational rules
Ability to plan and coordinate successful events
Knowledge of techniques for promoting employee morale
Multi-lingual skills for orienting new hires
Punctuality and strong time management skills
Detail-oriented and highly accurate
Adept at conflict resolution
Familiarity with performance appraisal systems
Ability to assess and review applicants
Familiarity with recruiting platforms and job boards
Human Resources Coordinator Resume Example:
Spearheaded the onboarding process of new hires, reducing onboarding time by 25%
Assisted in developing a performance management and career development program
Designed a cohesive employee recognition and reward system for staff retention
Conducted employee relations and conflict resolutions, resulting in a decrease of 15% in HR-related grievances
Analyzed survey responses from employees and implemented changes accordingly
Developed and implemented an efficient timesheet, insurance, and payroll process
Established protocols to ensure compliance with labor laws and legal regulations
Liaised between managers and employees on various Human Resources matters
Handled disciplinary and grievance cases, improving employee satisfaction by 10%
Ability to create, implement and maintain HR systems
Exceptional communication and interpersonal skills
Excellent organizational and time management skills
Ability to assess employee performance and recommend improvements
Expertise in employee relations and conflict resolution
In-depth knowledge of labor laws and regulations
Familiarity with environmental and safety standards
Proven ability to onboard new hires
Ability to design and execute employee reward and recognition programs
Experienced with employee survey analysis
Skilled at developing performance management and career development programs
Proficiency in managing payroll, insurance and timesheets systems
Human Resources Management
Junior Human Resources Resume Example:
Developed and executed a vastly improved recruitment strategy, resulting in a 47% reduction in candidate acquisition process time
Improved networking tactics to drive traffic to job posts, increasing applications by 38% Played an instrumental role in the onboarding process for 250 new hires in 2019
Spearheaded the design and implementation of a comprehensive HR database with the complete restructuring of structured data
Utilized existing resources and tools to increase data accuracy
Minimized redundancies
Streamlined reporting processes
Measured employee performance
Managed the payroll process for 200+ employees, creating an automated system that ensured accurate and timely payments
Cultivated employee satisfaction
Successfully administered 401K plan enrollments and benefit selections
Improved compliance rates by 15%
Recruitment & Networking Tactics
Analytical & Strategic Thinking
Database Design & Management
Performance Measurement
Automation Process Design & Implementation
Candidate Acquisition
HR Database Restructuring
Onboarding Process Creation
Data Accuracy & Streamlining
Employee Satisfaction
Process Improvement & Efficiency
Compliance & Regulation
Senior Human Resources Resume Example:
Developed and implemented an organizational performance management system that increased employee engagement by 25% in 6 months
Established a training program within the HR department to ensure cross-functional skills development, resulting in a better utilization of employees by 20%
Partnered with managers and leadership to drive strategic workforce planning and succession initiatives that promoted long term organizational success
Constructed a robust applicant tracking system that improved the candidate selection process by 40% in the past year
Created a corporate onboarding program to provide new hires with a seamless transition into the organization that increased their productivity by 10%
Implemented new initiatives to improve employee collaboration and engagement initiatives, resulting in greater employee satisfaction and more productive work environments
Seamlessly refreshed and managed the employees' compensation and benefits program, increasing employee morale and loyalty by 30%
Led lively Human Resources meetings, workshops, and seminars to cultivate a better understanding of HR processes and guidelines amongst staff
Mentored and coached junior Human Resources staff in their career development and job function, building a better overall understanding of Human Resources operations
Training program development
Strategic workforce planning & succession initiatives
Applicant tracking system
Corporate onboarding program
Employee engagement & collaboration initiatives
Conducting seminars/workshops
Mentoring & coaching staff
HR operations
Recruiting & hiring
Project management
Risk management
Regulatory compliance
Talent management
Organizational development
Budget & financial planning
Policy & procedure development
Human Resources Specialist Resume Example:
Developed and implemented a comprehensive employee engagement program, resulting in a 25% increase in employee satisfaction scores and a 10% decrease in turnover rate.
Managed the recruitment and selection process for a high-volume call center, reducing time-to-fill by 30% and increasing candidate quality by 20%.
Implemented a performance management system that aligned individual goals with company objectives, resulting in a 15% increase in overall team productivity.
Developed and executed a diversity and inclusion strategy, resulting in a 50% increase in diverse hires and a 20% increase in employee satisfaction scores.
Managed the benefits program, negotiating a 10% reduction in healthcare costs while maintaining the same level of coverage for employees.
Implemented a training and development program that increased employee skill sets, resulting in a 15% increase in promotion rates and a 5% increase in employee retention.
Developed and implemented a compensation strategy that aligned with industry standards, resulting in a 10% increase in employee satisfaction scores and a 5% decrease in turnover rate.
Managed the HRIS system, streamlining processes and reducing administrative time by 20%.
Ensured legal compliance by conducting regular audits and implementing necessary changes, resulting in zero legal violations over a two-year period.
Recruitment and selection
Diversity and inclusion
Benefits administration
Compensation strategy
HRIS management
Legal compliance
Talent acquisition
Workforce planning
Onboarding and orientation
HR analytics
Employment law
Succession planning
HR policy development
Fresher HR Resume Example:
Developed and implemented an employee engagement program that resulted in a 10% increase in employee satisfaction scores within the first six months.
Collaborated with hiring managers to streamline the recruitment process, reducing the time-to-hire by 20% and increasing the quality of hires by 15%.
Conducted a training needs assessment and developed a training program that improved employee performance by 25% in targeted areas.
Managed the onboarding process for new hires, resulting in a 90% retention rate for employees within their first year.
Developed and implemented a performance management system that improved employee productivity by 15% and reduced turnover by 10%.
Collaborated with the finance team to analyze and optimize the company's benefits program, resulting in a 5% reduction in costs while maintaining employee satisfaction.
Conducted a comprehensive review of the company's HR policies and procedures, identifying areas for improvement and implementing changes that increased compliance by 20%.
Collaborated with the leadership team to develop and implement a diversity and inclusion program, resulting in a 10% increase in diversity within the company.
Developed and implemented a talent management program that improved employee retention by 15% and increased employee satisfaction scores by 10%.
HR policy development and compliance
Retention strategies
Collaboration and teamwork
Analytical and problem-solving skills
Time management and organization
Communication and interpersonal skills
Adaptability and flexibility
High Level Resume Tips for Human Resourcess:
When creating a resume for a Human Resources role, it's important to emphasize your leadership skills, organizational track record, and ability to work with employees from a broad range of backgrounds. Make sure to use concrete examples of your accomplishments and successes in previous roles to help illustrate your value. It's best to focus on specific results, such as improvements in employee satisfaction, cost savings, and efficiency gains. Demonstrate your understanding of employment law and ability to stay on top of relevant developments. Highlight your ability to maintain human resources data and guide effective personnel decisions. Don't forget to include the soft skills necessary for success in a Human Resources role such as communication, organization, conflict resolution, and problem-solving. Be sure to tailor your resume to each job you apply for, emphasizing the skills and experiences that make you a strong fit for the specific role and company. This can help you stand out from the competition.
Must-Have Information for a Human Resources Resume:
Here are the essential sections that should exist in a human resources resume:
Contact Information
Resume Headline
Resume Summary or Objective
Work Experience & Achievements
Skills & Competencies
Additionally, if you're eager to make an impression and gain an edge over other human resources candidates, you may want to consider adding in these sections:
Let's start with resume headlines.
Why Resume Headlines & Titles are Important for Human Resourcess:
Human resources resume headline examples:, strong headlines.
Experienced Human Resources Professional with 4+ Years of Experience
Strategic Human Resources Manager Skilled in Employee Relations
What makes the good headlines good is that they are concise and demonstrate relevant skills and experience without unnecessary fluff. The headline should draw the employer's attention to the most important aspects of the applicant's background and qualifications. In the examples above, the good headlines specifically highlight job-relevant experience and qualifications, such as "Experienced Human Resources Professional", "Strategic Human Resources Manager", and "Employee Relations".
Weak Headlines
Happy–Go–Lucky Human Resources Professional
Human Resources Professional: Four Years on the Job
What makes the bad headlines bad is that they lack proper focus and do not effectively communicate the applicant's experience or skills. The phrases "Happy-Go-Lucky Human Resources Professional" and "Four Years on the Job" are generic, overly descriptive, and come off as unprofessional. Also, the second bad headline does not mention the applicant's qualifications, which detracts from the resume's impact and does not differentiate the HR professional from the other applicants.
Writing an Exceptional Human Resources Resume Summary:
A resume summary is a crucial aspect of a Human Resources Manager's resume, providing a brief yet impactful overview of their skills, experiences, and achievements in the field. As a Human Resources Manager, your summary should emphasize your expertise in personnel management, talent acquisition, and employee relations, as well as your ability to create and implement HR policies and programs that support organizational goals.
Here are a few tips for writing an effective summary for a Human Resources Manager:
Tailor the summary to the specific job you are applying for by highlighting the most relevant skills and experiences.
Include quantifiable accomplishments, such as reducing turnover rate, improving employee satisfaction, or launching successful employee engagement initiatives.
Use relevant HR industry terms and keywords to demonstrate your proficiency in the field and to make your resume stand out to both humans and applicant tracking systems (ATS).
Keep the summary concise and to-the-point, around 4 sentences or less.
Avoid using generic statements and cliches, focus on concrete details.
Human Resources Resume Summary Examples:
Strong summaries.
Experienced Human Resources Manager with 4+ years of experience in recruitment, employee relations, and worker development. Skilled in creating and implementing policies and procedures to promote a positive work environment.
Proactive Human Resources Manager with 4+ years of experience in building and leading teams, and providing organizational support. Adept at utilizing data-driven insights to develop effective strategies for talent acquisition and retention.
Why these are strong:
Both summaries are concise, feature the required experience, and provide specific examples of skills and expertise. This provides the reader with a clear understanding of the Human Resources Manager's abilities and experience.
Weak Summaries
Experienced Human Resources Manager with 4+ years of experience. Skilled in recruitment, employee relations, and worker development.
Human Resources Manager with 4+ years of experience. Adept at creating and implementing policies and procedures.
Why these are weak:
Both of these resume summaries are very general and don't provide any specific information about the candidate's skills or accomplishments. They also don't show any understanding of how HR can support business goals, or how the candidate has contributed to their previous organizations. Additionally, the first example only mentions basic computer skills and recruiting, which are likely to be requirements for most HR roles, while the second example doesn't provide any information beyond the candidate's desire for a challenging role.
Resume Objective Examples for Human Resourcess:
Strong objectives.
Dedicated Human Resources professional with 1+ years of experience in the field seeking to leverage my skills in recruiting, employee relations and corporate training to join a progressive organization in a Human Resources role.
Results-driven Human Resources professional eager to use my 1+ years' experience in organizational development, staffing implementation and problem-solving to take on new challenges and help a company meet its goals.
What makes the great resume objective great is that it explains the applicant's qualifications and what they are hoping to get out of the opportunity. It also provides an example of the experience that the candidate brings to the role.
Weak Objectives
Recent college graduate looking for Human Resources position to gain experience and learn from others.
Experienced Human Resources professional with 1+ years in the field looking for a job.
The poor objectives do not give enough information about the applicant's background and experience and does not delineate what they can bring to the table.
Generate Your Resume Summary with AI
Speed up your resume creation process with the ai resume builder . generate tailored resume summaries in seconds., how to impress with your human resources work experience:, best practices for your work experience section:.
Focus on demonstrating tangible, value-driven results (for example, increased sales, improved customer service ratings, streamlined processes, enhanced customer satisfaction).
Prioritize the most relevant and recent work experiences to the position.
Use strong action words to illustrate accomplishments, such as "managed", "coordinated", or "implemented".
Showcase soft skills or transferable skills that may be applicable to the position (for example, problem-solving, communication, negotiation).
Include measurable results that illustrate success such as "increased profits by 25%" or "cut costs by 10%".
Limit each work experience entry to 3-6 bullet points illustrating the duties and responsibilities.
Incorporate phrases that show value to the employer, such as "Communicated effectively with clients" or "Managed daily operations with minimum supervision".
Ensure that each statement focuses on the impact that you have made in each job (e.g. "Developed and implemented successful customer experience strategy").
Quantify achievements, where possible, to maximize impact.
Be concise and clear in the descriptions and don't use filler words.
Prioritize what is important to this specific role and omit any irrelevant experience.
Example Work Experiences for Human Resourcess:
Strong experiences.
Developed and implemented a new employee training program that reduced onboarding time by 30%, resulting in a higher retention rate and increased productivity.
Conducted a thorough analysis of the company's compensation and benefits structure, resulting in a new plan that increased employee satisfaction and reduced turnover by 25%.
Implemented new HR policies and procedures that increased compliance with state and federal regulations and reduced risk for the company.
Led a successful company-wide diversity and inclusion initiative, resulting in a 20% increase in minority hires and a more inclusive work environment.
Worked closely with hiring managers to streamline the recruitment process, resulting in a 40% reduction in time to fill positions and improved candidate experience.
Designed and executed an employee engagement survey that increased employee satisfaction by 15% and provided valuable insights for the leadership team to improve workplace culture.
In these examples, the Human Resources Manager demonstrates their ability to create impactful programs and initiatives that benefit the company and its employees. They provide specific metrics and outcomes to showcase their success and highlight their ability to work collaboratively with other teams to improve processes and achieve common goals. These bullet points are clear, concise, and provide a strong understanding of the manager's achievements in their previous roles, making them stand out to potential employers.
Weak Experiences
Conducted new hire orientations for XYZ Inc.
Maintained employee files for ABC Inc.
Assisted with conducting employee performance evaluations for DEF Inc.
Was responsible for creating and updating HR policies for GHI Inc.
Was in charge of conducting employee background checks for XYZ Inc.
Assisted with handling employee benefits enrollment for ABC Inc.
Worked on conducting employee exit interviews for DEF Inc.
Was responsible for organizing company events for GHI Inc.
These work experiences focus primarily on tasks and responsibilities, rather than achievements and impact. The language used is generic and does not demonstrate specific HR skills or results. These experiences do not clearly show the individual's contribution or value to the company.
Top Skills & Keywords for Human Resources Resumes:
Top hard & soft skills for human resourcess, hard skills.
Microsoft Office Suite (Word, Excel, PowerPoint, Outlook)
Human Resources Management software (HRIS, ATS)
Benefits Administration
Problem-solving and Conflict Resolution
Soft Skills
Interpersonal skills
Communication skills
Conflict resolution skills
Problem-solving skills
Go Above & Beyond with a Human Resources Cover Letter
Human resources cover letter example: (based on resume).
Dear [Hiring Manager], I am excited to apply for the Human Resources Manager position at [Company]. With over [number of years] years of experience in human resources management, I have a strong track record of successfully managing recruitment processes, employee engagement programs, and performance management systems. In my most recent role, I led the recruitment process for multiple departments, resulting in a 25% increase in employee retention rate. Additionally, I developed and implemented new employee retention and engagement programs, resulting in a 15% increase in employee satisfaction and engagement. These accomplishments are a testament to my ability to develop effective strategies that help organizations attract, engage, and retain top talent. I am also proud of my work in designing and implementing a new performance management system, which resulted in a 20% increase in employee performance. I constructed an employee survey to evaluate job satisfaction, garnering over 1,000 responses, which allowed me to gain detailed insights into employee experiences and drive continuous improvements. My ability to work with cross-functional teams, manage multiple projects on-time and on-budget, and provide support to senior human resources managers, has consistently resulted in positive impacts on the company's overall performance. I am confident that my strong attention to detail, coupled with my ability to identify and resolve challenges proactively, will make me a valuable addition to the [Company] team.
Thank you for considering my application. I look forward to the opportunity to further discuss my qualifications with you. Sincerely, [Your Name]
A cover letter is a valuable tool for any job seeker, and this is especially true for Human Resources professionals. Human Resources is a highly competitive field, and a cover letter can help you stand out from other applicants. It can showcase your communication skills, highlight your relevant experience, and demonstrate your enthusiasm for the position.
While a resume provides a summary of your skills and experience, a cover letter allows you to personalize your application and connect with the hiring manager on a deeper level. It's an opportunity to tell your story, explain why you're passionate about Human Resources, and show how you can add value to the organization.
Here are some of the key reasons for pairing your Human Resources resume with a cover letter:
It demonstrates your communication skills: As a Human Resources professional, communication is key. Your cover letter provides an opportunity to showcase your ability to write clearly and concisely, and to convey your ideas effectively.
It shows your enthusiasm for the position: A well-written cover letter can demonstrate your passion for the role and the organization. This can make a big difference in the hiring manager's decision-making process.
It highlights your relevant experience: Your cover letter allows you to explain how your skills and experience align with the requirements of the job. This can help the hiring manager understand why you're a good fit for the role.
It sets you apart from other applicants: A well-crafted cover letter can help you stand out from other applicants who may have similar experience and qualifications.
We understand that writing a cover letter may seem daunting, but it doesn't have to be. Remember that the cover letter is an extension of your resume, so you can use the same format and content as your resume. It's also a chance to address any gaps or questions that the hiring manager may have after reading your resume.
Tips for aligning your cover letter with your resume:
Use the same header as your resume: This will help the hiring manager identify your application as a complete package.
Align the content of your cover letter with the requirements of the job: Use the job description as a guide to highlight your relevant skills and experience.
Use keywords from the job posting: Incorporate relevant keywords from the job posting to help your application get past applicant tracking systems (ATS).
Keep your cover letter concise and focused: Aim for one page and avoid repeating information from your resume.
Proofread carefully: Errors in your cover letter can undermine your credibility, so make sure to proofread carefully before submitting your application.
Resume FAQs for Human Resourcess:
How long should i make my human resources resume.
The ideal length for an Human Resources resume depends on the experiences and qualifications of the individual. Generally, a resume should be between one to two pages, with more succinct content tailored to the specific position they are applying for. It is important to showcase only your most relevant experiences and qualifications, so as not to overwhelm the prospecting employer with an unnecessarily lengthy resume. Ultimately, quality remains more important than quantity when creating a Human Resources resume.
What is the best way to format a Human Resources resume?
The best way to format a Human Resources resume is to ensure that it is clear and easy to read. Use headings to separate sections, as well as action words to showcase different skills. Ensure that the resume is concise and output-oriented. Finally, include specific information and metrics whenever possible, to show the potential of your achievements.
Which Human Resources skills are most important to highlight in a resume?
When creating a resume as a Human Resources professional, it is important to include certain hard skills that demonstrate your qualifications and knowledge. Some of the most important hard skills to include when crafting a Human Resources resume are: 1. Employment Law Knowledge: It is essential to understand the regulations and laws that govern the hiring and management of employees. 2.Employee Recruitment And Selection: This skill involves understanding the recruitment process, what to look for in potential employees, and how to choose the right hires. 3. Human Resources Administration: The ability to effectively manage the day-to-day operations of the Human Resources department is key. 4. Performance Management: You should be able to understand how to properly assess employee performance, handle their career development, and provide guidance accordingly. 5. Compensation and Benefits: Being able to set up and administer compensation and benefit plans is an important skill that any Human Resources professional should have. 6. Diversity and Inclusion Practices: Human Resources professionals must be well-versed in diversity and inclusion principles, and know how to properly implement anti-discriminatory practices in the workplace. 7. Training and Development: Being able to create training and development initiatives, as well as assess their success, is essential for Human Resources professionals. 8. Working with Technology: It is important to be comfortable using HR software and other technology to manage different aspects of the job.
How should you write a resume if you have no experience as a Human Resources?
If you have no formal experience in Human Resources, you should focus on other experiences that have prepared you to transition into an HR role. Painting a picture of your transferable skills by highlighting examples of where you have utilized problem solving to develop a solution, demonstrated effective communication or people management skills, or had any roles dealing with recruitment, onboarding, or payroll can help you showcase your ability to move into the Human Resources role. Additionally, the educational path you have taken or the certifications you've earned can help to bridge any gaps in your experience. Lastly, be sure to highlight the research you have done relating to the field, any books you've read, or any programs you have attended.
Compare Your Human Resources Resume to a Job Description:
Identify opportunities to further tailor your resume to the Human Resources job
Improve your keyword usage to align your experience and skills with the position
Uncover and address potential gaps in your resume that may be important to the hiring manager
Related Resumes for Human Resourcess:
Beginner human resources resume example, entry level human resources resume example, experienced human resources resume example, fresher human resources resume example, hr assistant resume example, human resources coordinator resume example, human resources generalist resume example, human resources intern resume example, junior human resources resume example, senior human resources resume example, human resources resume example, human resources specialist resume example, fresher hr resume example, more resume guidance:.
• Recruited more than 150 employees on local and European level.
• Served as the first point of contact to 115+ employees on all benefits, payroll, and administrative questions.
• Ensured a headcount growth of 300% and a retention rate of 80% in 1,5 years.
• Supported 150+ monthly and hourly employees.
• Exceeded recruitment metrics for 3 years in a row.
• Coordinated first ever college fair event for employees to continue education - 8 local colleges and 70% of employees attended.
• Implemented monthly employee engagement activities to motivate staff, which led to an increase in overall employee satisfaction from 68% to 88%.
• As the 2nd recruit, I employed a team of 17 resources in the domain of technology, finance and marketing.
• Facilitated 50+ workshops reaching 400+ employees.
• Designed and executed a smooth restructuring process that took a 15% personnel cost reduction (yearly).
20 Human Resources Resume Examples & Guide for 2023
Customize this resume with ease using our seamless online resume builder. Try more resume templates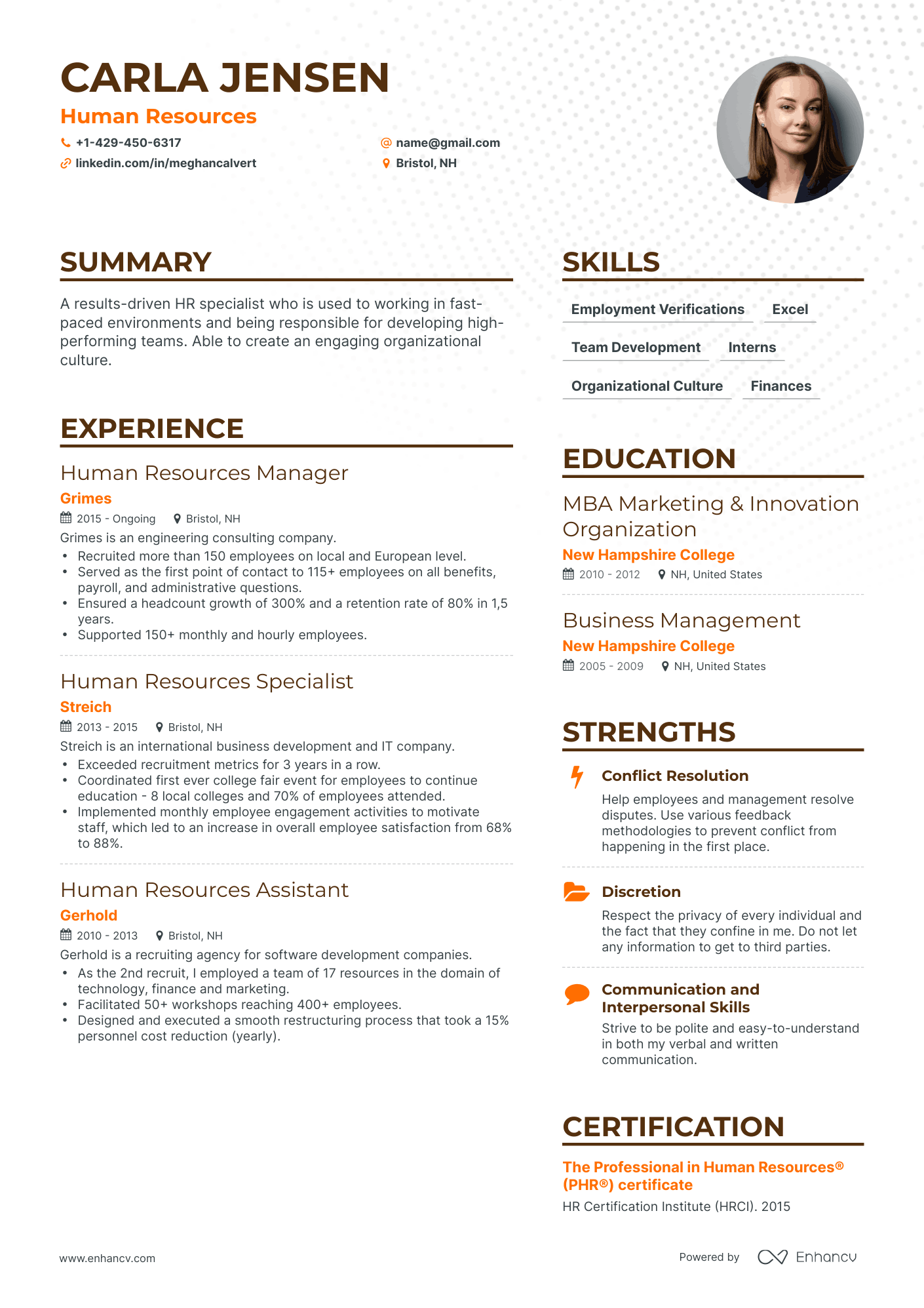 Traditional
Resume Guide
Making Your HR Resume
HR Resume Sections
HR Resume Tips & Tricks
By Experience
Human Resources Intern
Entry-level human resources, junior human resources, human resources coordinator, human resources representative, human resources data analyst, human resources benefits specialist, human resources specialist, chief human resources officer, contracts manager, diversity and inclusion manager, hr assistant, hr business partner, hr director, hr generalist, human resources consultant.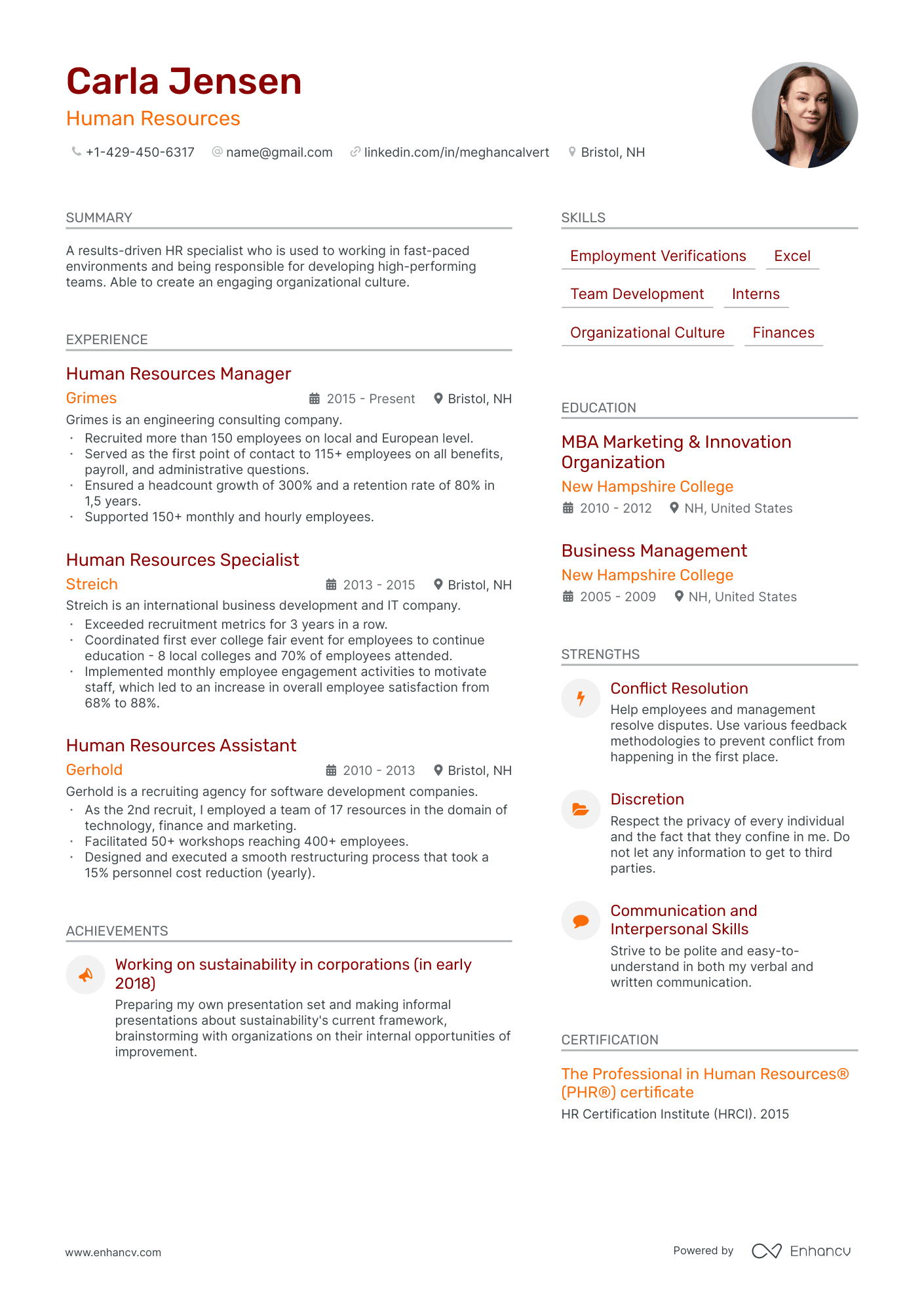 Crafting a winning HR resume can be daunting, especially when it comes to quantifying your achievements. Fear not, because we've got you covered! In this article, you'll learn how to write an eye-catching HR resume that showcases your skills and experience. We'll provide
Actual ready-to-use examples from successful resumes
A step-by-step guide for each important section of your resume
Tips on tailoring your resume to match the job description
How to design your HR resume
While an ATS system may not parse some visual details on your resume, such as icons, colors, backgrounds, and a headshot, your resume content remains unaffected. This means there's no harm done in wanting to stand out from the crowd. Here's how to do it in a minimalistic and professional way:
Font type and size : Opt for easy-to-read, professional fonts like those found in this resume font guide , and maintain a consistent size of 10-12 points.
Colors : Add a touch of color to accentuate headings or sections.
Backgrounds : Subtle backgrounds can elevate your resume's appearance without compromising readability.
Icons : Use resume icons to highlight important details or skills, making your resume more visually engaging.
Photo : Including a professional resume photo can help you stand out and create a strong personal brand.
Keep in mind that nowadays, headshots on resumes in some countries like the US are frowned upon. Consider that when creating your resume.
How to write each section of your HR resume
As an HR professional, your resume is also a proof of concept of your abilities in finding candidates, conducting interviews, and hiring the best of them. In the rest of this guide, you'll discover all the must-have sections for human resources resumes. You'll learn how to improve each one of them to maximize your chances of landing your dream job.
Human Resources isn't a thing we do; it's the thing that runs our business.
Steve Wynne
Step #1. Add your contact information and more in the HR resume header
A well-crafted resume header with accurate contact information is crucial for making a strong first impression on HR professionals.
Here's a bullet point checklist highlighting the essential components of an effective resume header:
First and last name : Present your full name for easy identification. Avoid using nicknames .
Title : Include a specific, professional title to showcase your expertise.
Phone number : Ensure your phone number is properly formatted and easy to read.
Email address : Use a professional email address featuring your full name.
Location : Provide your city and state , or country if applying internationally.
Relevant social media handles : Optionally, add handles such as LinkedIn, with a customized URL , or other industry-specific platforms.
For a comprehensive guide on perfecting your resume header and additional advice on how to start your resume , visit Enhancv's blog.
Let's examine two examples of HR resume headers and what makes them good or bad.
What's bad about this example
The applicant used a nickname or abbreviation making it hard to identify among a pile of candidates.
The title is not professional and includes an informal phrase.
Avoid outdated email providers like Hotmail.
The example features an inaccurate city and state name
Phone number is not formatted properly
LinkedIn URL is not using the applicant's real name
What's good about this example
LinkedIn URL : The LinkedIn URL is customized to be concise and professional, featuring the candidate's full name.
Step #2. Create an impactful HR resume summary
A compelling summary is vital for HR resumes, as it succinctly showcases your expertise and value proposition to potential employers.
Here's a checklist with the most important components of a resume summary:
Title and years of experience : Highlight your professional title and the number of years you've worked in the field.
Relevant skills : List the most pertinent skills that demonstrate your proficiency in HR.
Top professional achievements : Showcase 1-2 significant accomplishments that emphasize your expertise.
A well-crafted summary benefits both ATS systems and recruiters, as it:
Provides additional space for incorporating keywords from the job description, ensuring better ATS compatibility.
Offers a recruiter-friendly, easy-to-read overview of your professional profile.
To optimize your summary for ATS, name the section "Summary" or "Professional Summary."
For a comprehensive guide on crafting an effective resume summary , visit Enhancv's blog.
Let's examine two examples of HR resume summaries and what makes them good or bad.
Lack of focus : The summary does not present a clear value proposition, making it difficult for recruiters to quickly assess the candidate's suitability for the role.
Objective : The summary concludes by stating the candidate's goal of joining Startivum to assist with talent development and performance management, demonstrating alignment with the prospective employer's objectives.
Step #3. Build an experience section for your HR resume that outshines other candidates
A well-crafted experience section, featuring quantified achievements, is essential for showcasing your professional accomplishments and career growth on your resume.
Here's a bullet point checklist highlighting the key components of an effective experience section:
Section name : To optimize for ATS, name the section "Experience" or "Work Experience."
Reverse chronological order : List your jobs in reverse chronological order, starting with the most recent.
Job title : Clearly state your job title for each position held.
Company details : Include the company's name, location, and a brief description.
Employment dates : Ensure proper date formatting for ATS compatibility, such as MM/YYYY to MM/YYYY.
Achievements and responsibilities : List 3-5 bullet points per job, focusing on quantifiable achievements. Aim to include no more than 10-15 years of relevant work experience .
Additional considerations : Depending on your career history, address employment gaps , consider whether to include irrelevant experience and decide how many jobs to list .
For a comprehensive guide on crafting a compelling experience section , as well as tips on using resume keywords and action verbs , visit Enhancv's blog.
Let's now outline good and bad practices in the resume experience sections.
• Responsible for interviewing and hiring new employees
• Developed training and safety programs for managers and employees
• Helped with investigating complaints of discrimination and employee relation issues
Generic phrasing : Language is too vague and doesn't showcase unique accomplishments.
• Eliminated $260K in additional spendings by realigning the company's organizational structure and improving hiring processes
• Designed and delivered department-specific training programs that increased overall productivity by 40% and retention rate by 68%
• Developed a business continuity program for COVID-19 management that focused on employee communications as well as health and safety measures
Clear achievements : Each bullet point highlights a distinct accomplishment, demonstrating the candidate's unique contributions and problem-solving abilities.
Step #4. Make a strong HR resume education section
A strong education section in HR resumes is essential to showcase your academic prowess and demonstrate your expertise in the field. To create a compelling education section, make sure to include the following key elements:
Degree name : Clearly state the name of your degree, such as Bachelor of Arts in Human Resources Management, Master of Business Administration (MBA) , or other relevant qualifications.
University, college, or other institution : Mention the institution where you earned your degree, such as a reputable university or college.
Location (optional) : You may choose to include the city and state or country where the institution is located, if applicable.
Years attended : Specify the years you attended the institution, which helps convey the duration of your academic journey.
One or two bullets about your academic achievements , relevant coursework, or notable projects that align with the HR domain.
Let's look at a good example of an HR education resume section.
This example of an education section in a resume is effective for several reasons:
Focused on Essentials : The example highlights the most critical details without overwhelming the reader with additional information. This allows recruiters to quickly assess the candidate's qualifications. Although the example does not include location, GPA, or selective bullets, it still effectively communicates the candidate's educational background. Including additional information could further enhance the section, depending on the candidate's achievements and the position's requirements.
Step #5. List your relevant HR resume skills
Effectively showcasing your skills in an HR resume is crucial to demonstrate your expertise and ability to excel in the role. To create a compelling skills section, consider the following essential aspects:
Name the Section for ATS : Use a clear, straightforward title like "Skills" or "Core Competencies" to ensure your resume is easily parsed by Applicant Tracking Systems (ATS).
List Hard Skills : Include specific, measurable hard skills that are relevant to the HR field, such as talent acquisition, benefits administration, or HRIS software proficiency. Explicitly listing these skills is essential for ATS and showcasing your technical abilities.
List Soft Skills : Incorporate interpersonal or people-related soft skills, such as communication, empathy, or conflict resolution. These skills are crucial for HR professionals and are highly valued by both ATS and recruiters.
When listing both hard and soft skills, make sure to tailor them to the job description to demonstrate your suitability for the specific position. Understanding the difference between hard and soft skills and matching them to the requirements is key to creating a well-rounded skills section.
Here are a couple of good examples showing how it's done.
Step #6. Add extra sections to your resume
In addition to the core sections in an HR resume, consider including these relevant supplementary sections to showcase your unique experiences and qualifications:
Language Skills: Highlighting your proficiency in multiple languages can be an asset in diverse workplaces and global organizations.
Volunteering : Showcasing your volunteer work demonstrates your commitment to social responsibility and can highlight transferable skills relevant to the HR field.
Awards : Including awards you've received can help emphasize your expertise and accomplishments in the HR domain.
These additional sections can help you stand out from other candidates and provide further evidence of your suitability for the role. Remember to keep the information relevant and concise, focusing on what aligns with the job requirements.
Step #7. Finalize your HR resume
Before sending out your HR resume, make sure to complete these final essential steps:
Proofreading and Editing : Thoroughly review your resume for spelling and grammatical errors, ensuring a polished and professional presentation. Resume Spelling Guide
Saving the File : Choose the appropriate file format, such as PDF or Word , based on the job application requirements.
File Naming : Use a clear and concise file name , including your name and the word "resume" to make it easily identifiable.
Sending the Email : Craft a professional email with a brief introduction and a clear subject line when submitting your resume.
By paying attention to these details, you'll ensure that your HR resume stands out and makes a strong impression on potential employers.
Step #8. Create a HR cover letter to show your extra effort
A well-crafted cover letter complements your resume by providing a personalized introduction and showcasing your passion and fit for the HR role.
To create an effective HR cover letter , be sure to include the following elements:
Contact Information : Ensure your contact details match those on your resume for consistency.
Greeting : Address the hiring manager or recruiter by name, if possible.
Achievements in the First Paragraph : Capture the reader's attention by highlighting a notable achievement relevant to the role.
Cover Letter Body : Elaborate on your work experience, skills, and reasons why you'd be a good fit for the position.
Call to Action : Close your cover letter with a polite request for an interview or further discussion.
Here's a quick HR cover letter template you can use as a starting point for your own:
[Your Name] [Your Address] [City, State, Zip Code] [Email Address] [Phone Number] [Date]
[Recipient's Name] [Recipient's Job Title] Salesforce [Company Address] [City, State, Zip Code]
Dear [Recipient's Name],
I am writing to express my keen interest in the Human Resources position at Salesforce. As a highly skilled HR professional with a Bachelor of Arts in Psychology from the University of Minnesota, I bring a unique blend of technical and soft skills that make me an ideal candidate for this role. My passion for driving organizational success by attracting and retaining top talent, coupled with my experience in HR software and technology, has prepared me well for this exciting opportunity.
Throughout my career, I have honed my expertise in HRIS systems, applicant tracking systems, and various HR analytics tools. My experience with software such as Workday, BambooHR, and Taleo, as well as my proficiency in the Microsoft Office Suite, enables me to streamline HR processes and provide data-driven insights. I am confident that my technical skills and software proficiency will be a valuable asset to the Salesforce HR team.
In addition to my technical acumen, my Bachelor's degree in Psychology has equipped me with a deep understanding of human behavior and motivation. This knowledge has been invaluable in my ability to foster a positive work environment and manage employee relations effectively. I pride myself on my strong interpersonal skills, which have allowed me to excel in conflict resolution, employee engagement, and talent development initiatives. My natural empathy and active listening skills enable me to create meaningful connections with employees, ensuring they feel valued and supported.
Moreover, I possess a keen eye for identifying and nurturing talent, and I am dedicated to creating a diverse and inclusive workplace that encourages growth and innovation. My strong communication and presentation abilities have consistently been an asset in facilitating training sessions, employee onboarding, and management coaching.
As a forward-thinking HR professional, I understand the importance of staying current with industry trends and emerging technologies. I am confident that my combination of technical expertise, soft skills, and passion for people-centric solutions will make a significant impact at Salesforce. I am excited about the opportunity to join your esteemed organization and contribute to the ongoing success of the HR team.
Thank you for considering my application. I look forward to the opportunity to further discuss my qualifications and how I can contribute to Salesforce's mission. Please do not hesitate to contact me at [Your Phone Number] or [Your Email Address] to schedule a conversation.
[Your Name]
Additional HR resume tips and tricks
Go through the next section for a quick overview and ideas on top skills, action verbs, achievements and certifications for your HR resume.
Top skills for your HR resume
Talent Acquisition
Employee Relations
HRIS Management
Benefits Administration
Performance Management
Training & Development
Conflict Resolution
Organizational Development
Recruitment & Selection
Onboarding & Offboarding
HR Policies & Procedures
Workforce Planning
Compensation & Benefits
HR Analytics
Diversity & Inclusion
Employment Law Compliance
Change Management
HR Strategy & Planning
A well-rounded HR resume should showcase a combination of technical and interpersonal skills to demonstrate your ability to excel in the role.
Top action verbs for your HR resume
Coordinated
Implemented
Streamlined
Incorporating powerful action verbs can emphasize your accomplishments and make your HR resume more dynamic.
Top bullet points for your HR resume
Successfully reduced employee turnover by 20% within the first year by implementing effective performance management strategies and fostering a positive work culture.
Spearheaded the implementation of a new HRIS system, resulting in a 30% improvement in HR efficiency and a 15% decrease in data entry errors.
Coordinated and delivered comprehensive training programs for over 500 employees, leading to a 10% increase in overall employee productivity.
Streamlined benefits administration processes, reducing processing errors by 15% and improving employee satisfaction with benefits management.
Developed and executed a targeted recruitment strategy that reduced time-to-fill open positions by 25%, contributing to the organization's overall growth.
Launched a company-wide diversity and inclusion initiative, resulting in a 20% increase in workforce diversity and improved employee morale.
Revamped the employee onboarding process, reducing new hire ramp-up time by 30% and increasing new employee retention by 10% within the first six months.
Implemented HR analytics tools to drive data-driven decision-making, leading to a 10% improvement in overall HR effectiveness and better alignment with business objectives.
Collaborated with management to develop and execute an HR strategy that supported a 15% annual growth rate and ensured smooth organizational scaling.
Conducted regular audits to ensure compliance with employment laws and regulations, reducing the risk of legal issues and maintaining a safe and fair work environment
Top quantifiable achievements or work situations for your HR resume
Did you mediate and resolve employee conflicts?
Did you lead talent acquisition efforts and reduced time-to-fill?
Did you increase employee engagement scores through targeted initiatives?
Did you save on the annual HR budget?
Including quantifiable achievements showcases your ability to drive results and add value to an organization.
Top summaries for your HR resume
Highly experienced HR professional with a strong track record of implementing employee engagement strategies that have led to increased retention, productivity, and overall job satisfaction.
Results-oriented HR Manager with extensive expertise in talent acquisition, performance management, and HR strategy development, focused on helping organizations optimize their human capital investments and achieve their goals.
Versatile HR Generalist adept at managing complex benefits administration, conflict resolution, and workforce planning initiatives, while consistently ensuring a positive and supportive work environment for employees.
A compelling summary provides a snapshot of your HR expertise and highlights your unique value proposition.
Top certifications for your HR resume
Talent Management Practitioner (TMP™)
Certifications can greatly enhance your HR resume by showcasing your commitment to professional development and validating your skills in the field. When listing certifications, be sure to include:
Certification Name
Name of Issuer
Year of Obtainment
Location (if applicable)
Date of Expiration (if applicable)
Expected Date of Obtainment (if applicable)
HR resume examples
Explore additional hr resume samples and guides and see what works for your level of experience or role.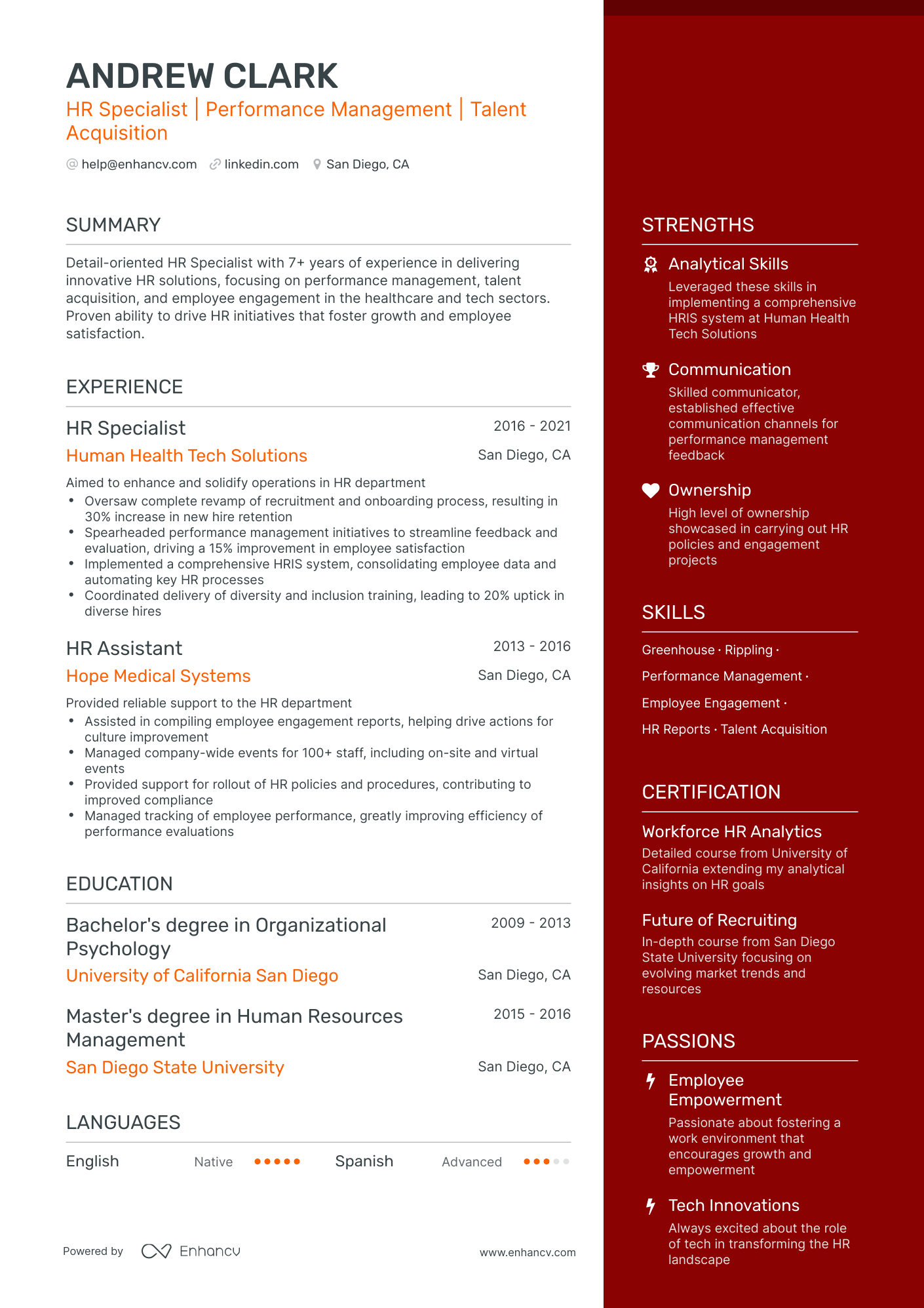 View Human Resources Intern Resume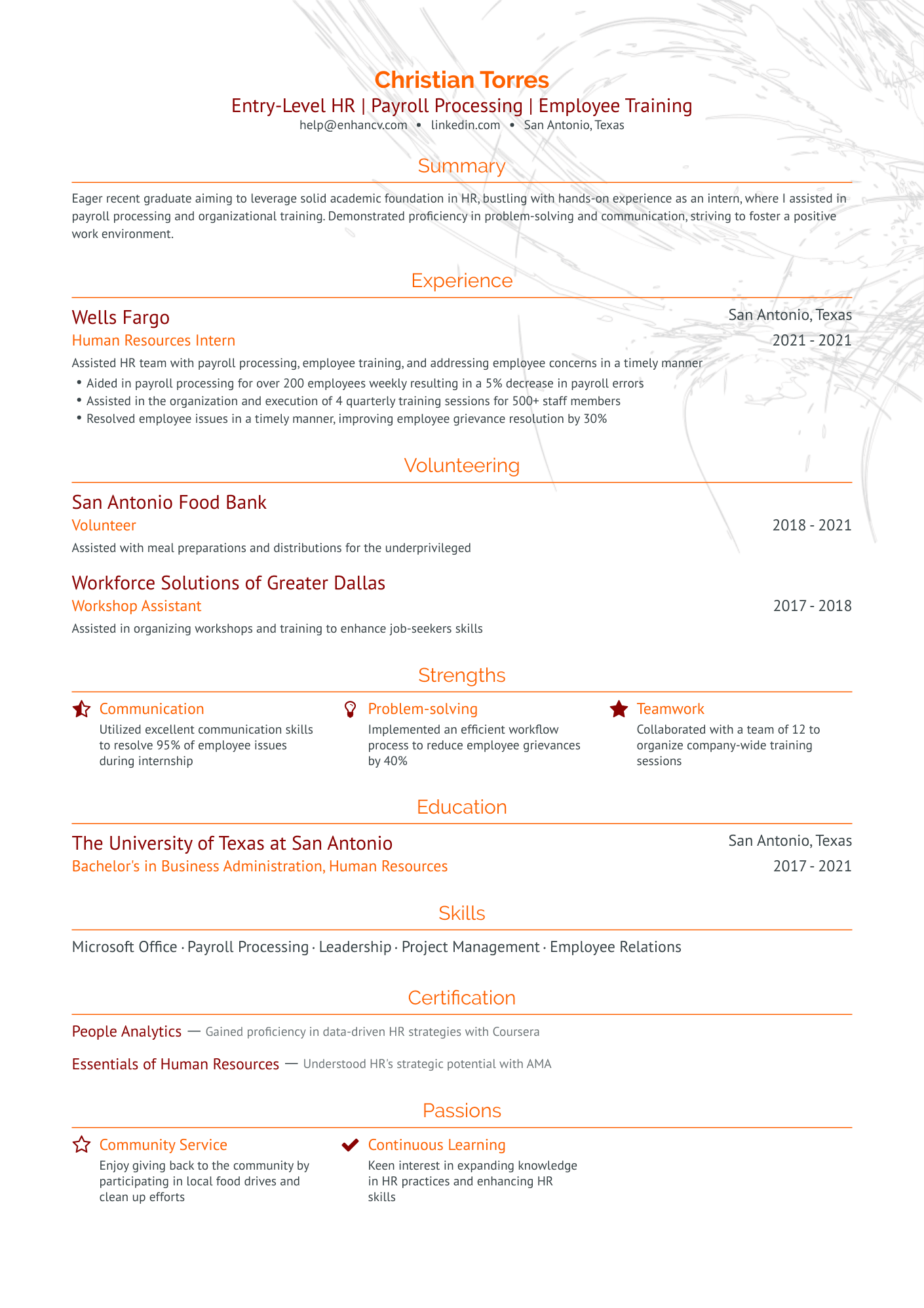 View Human Resources Coordinator Resume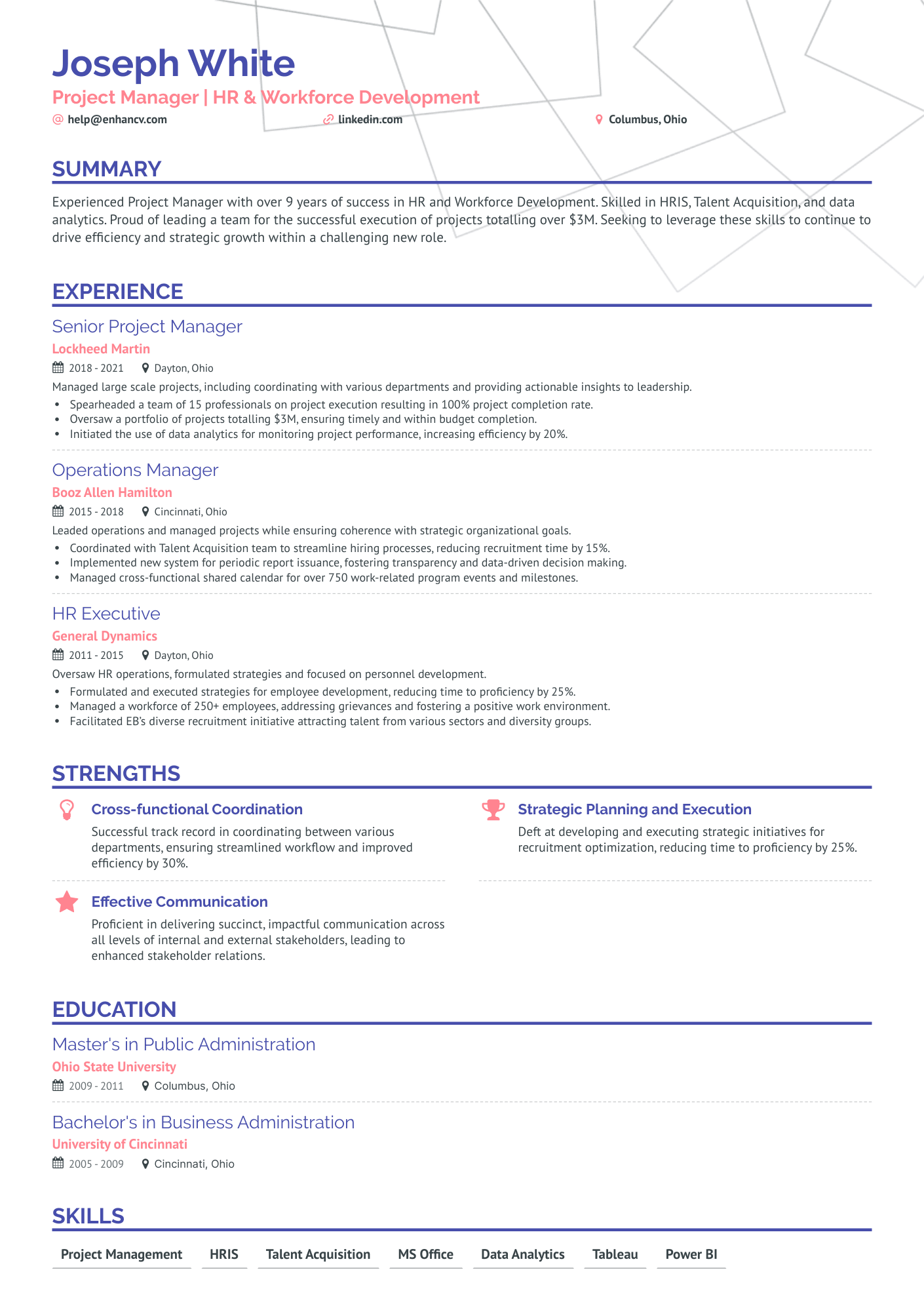 View Human Resources Specialist Resume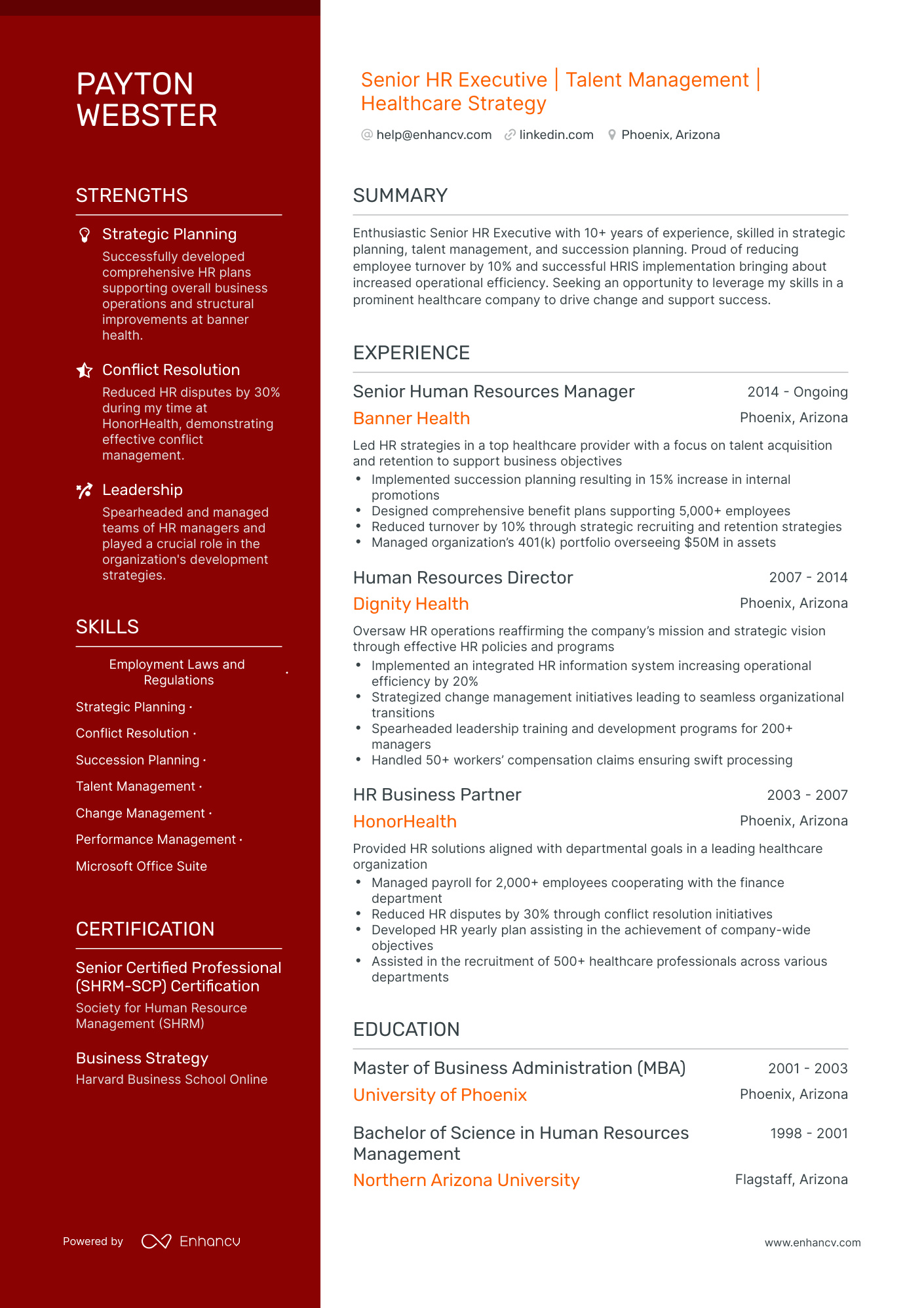 View Chief Human Resources Officer Resume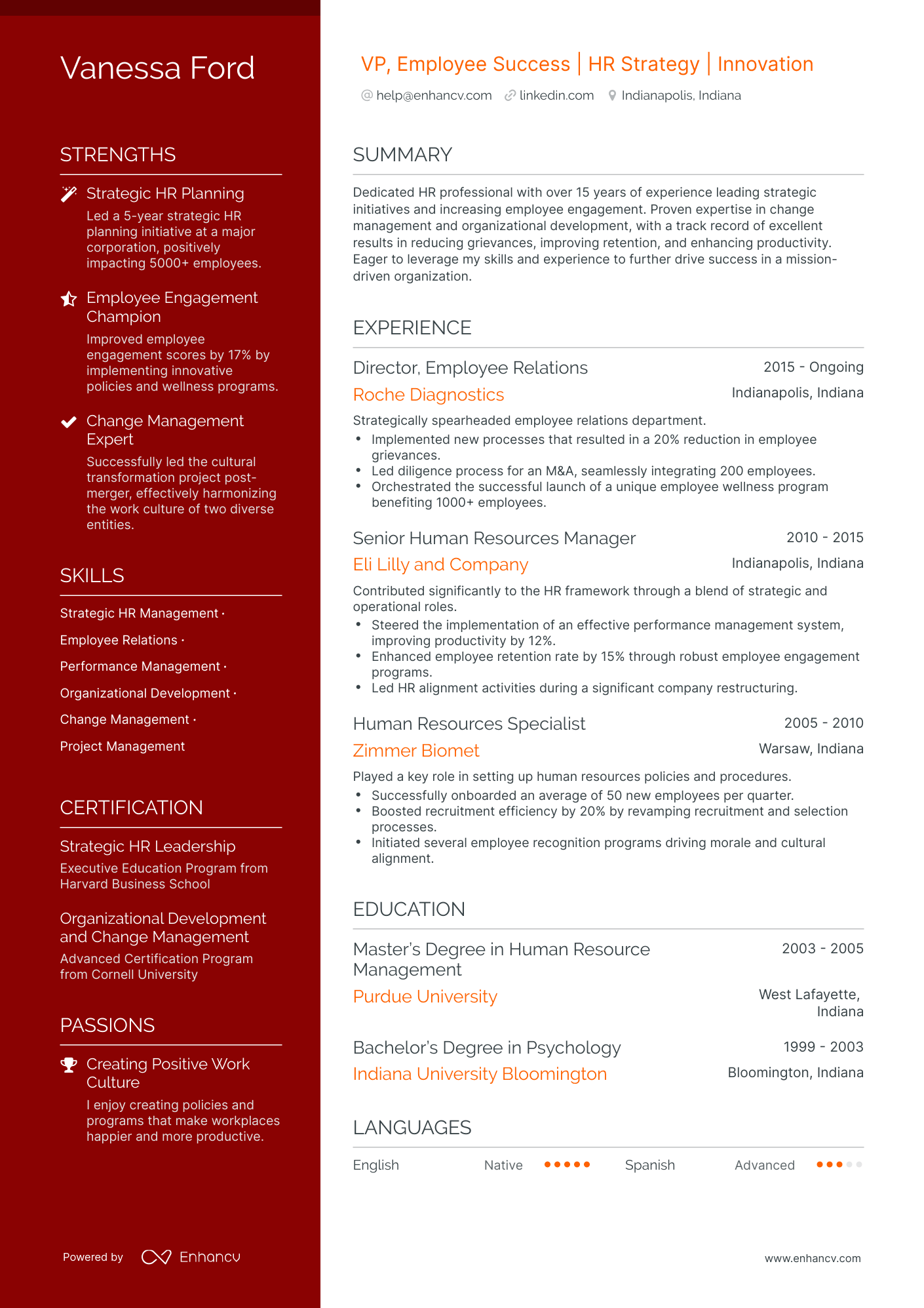 View VP HR Resume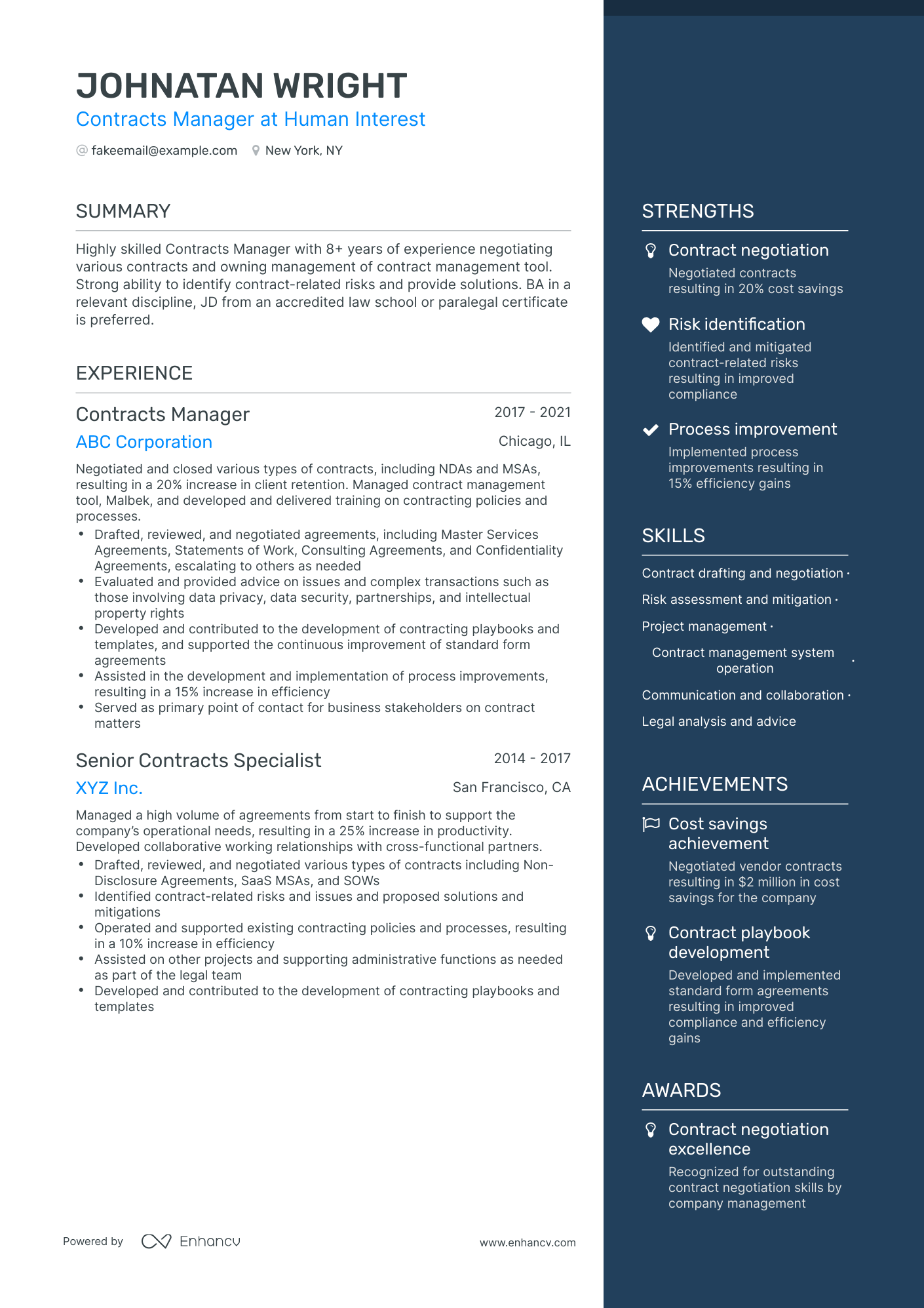 View Contracts Manager Resume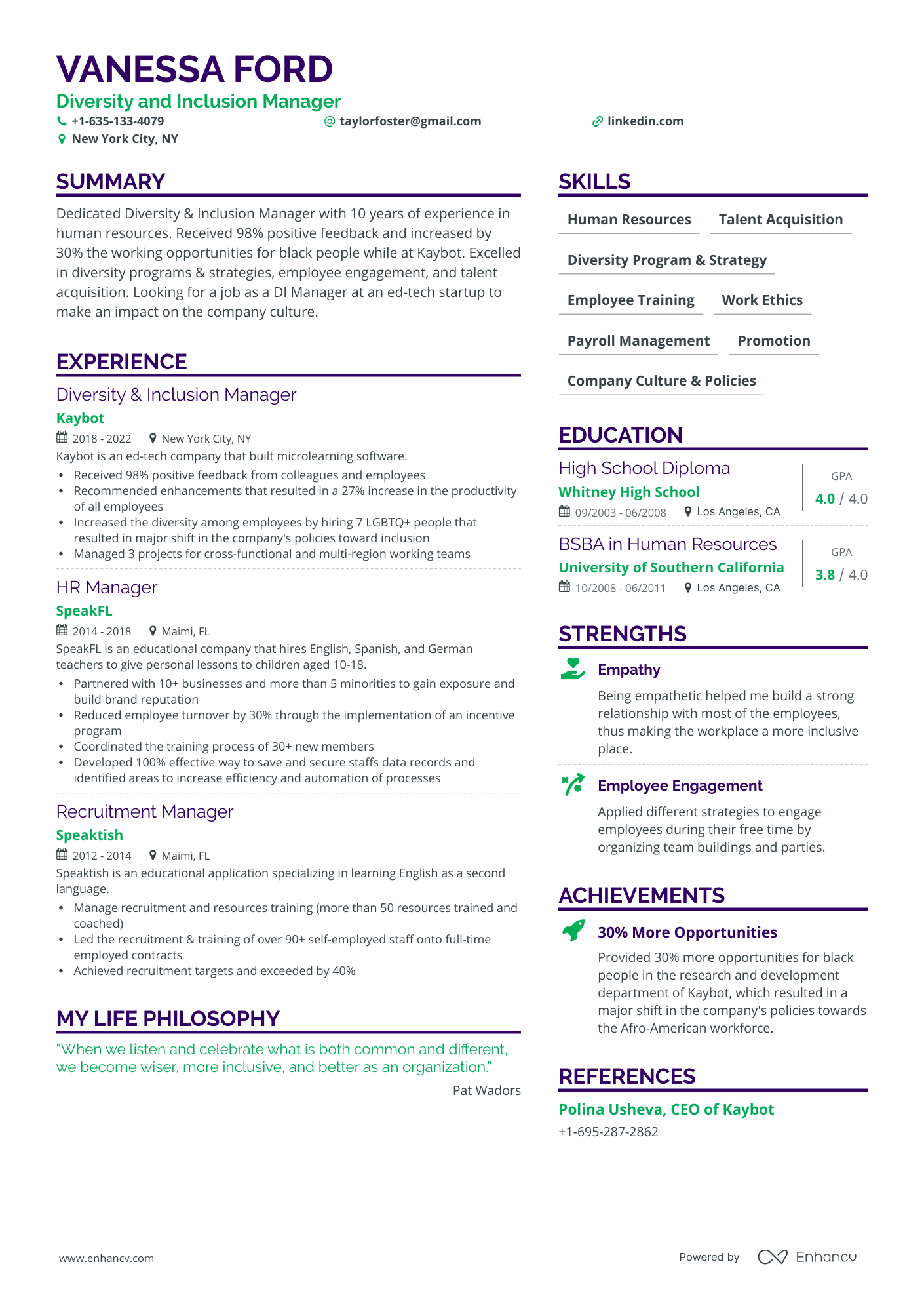 View Diversity And Inclusion Manager Resume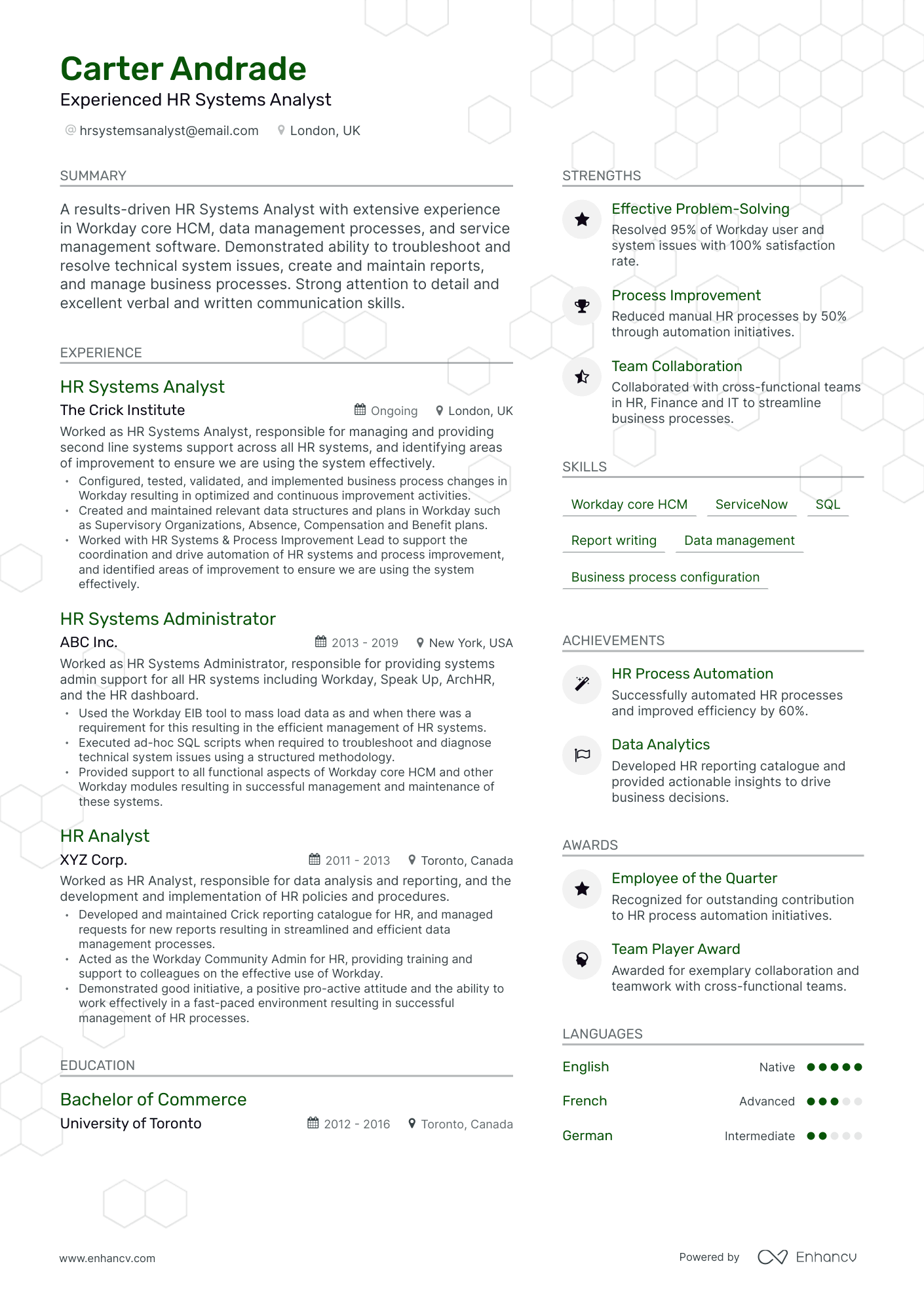 View HR Analyst Resume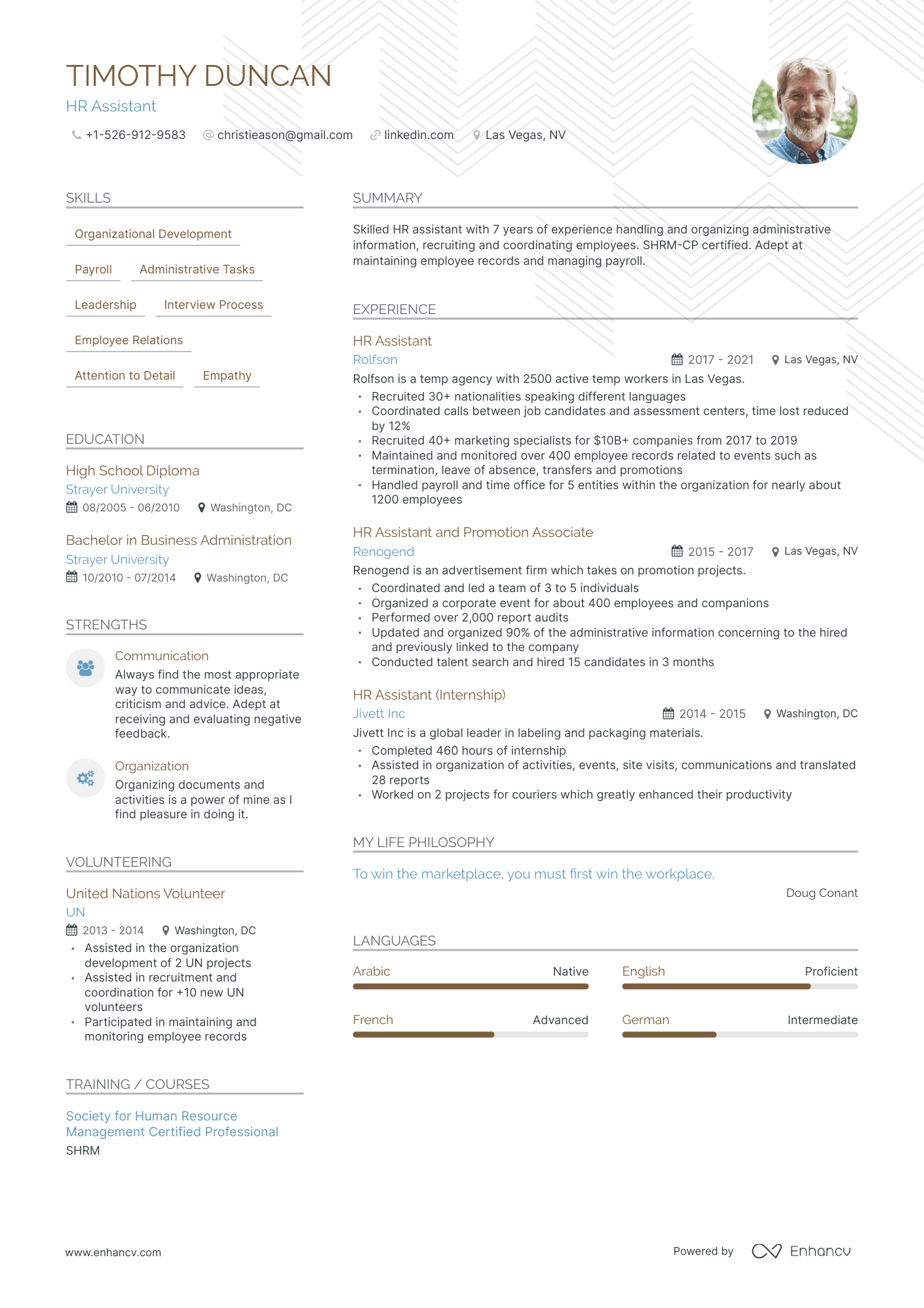 View HR Assistant Resume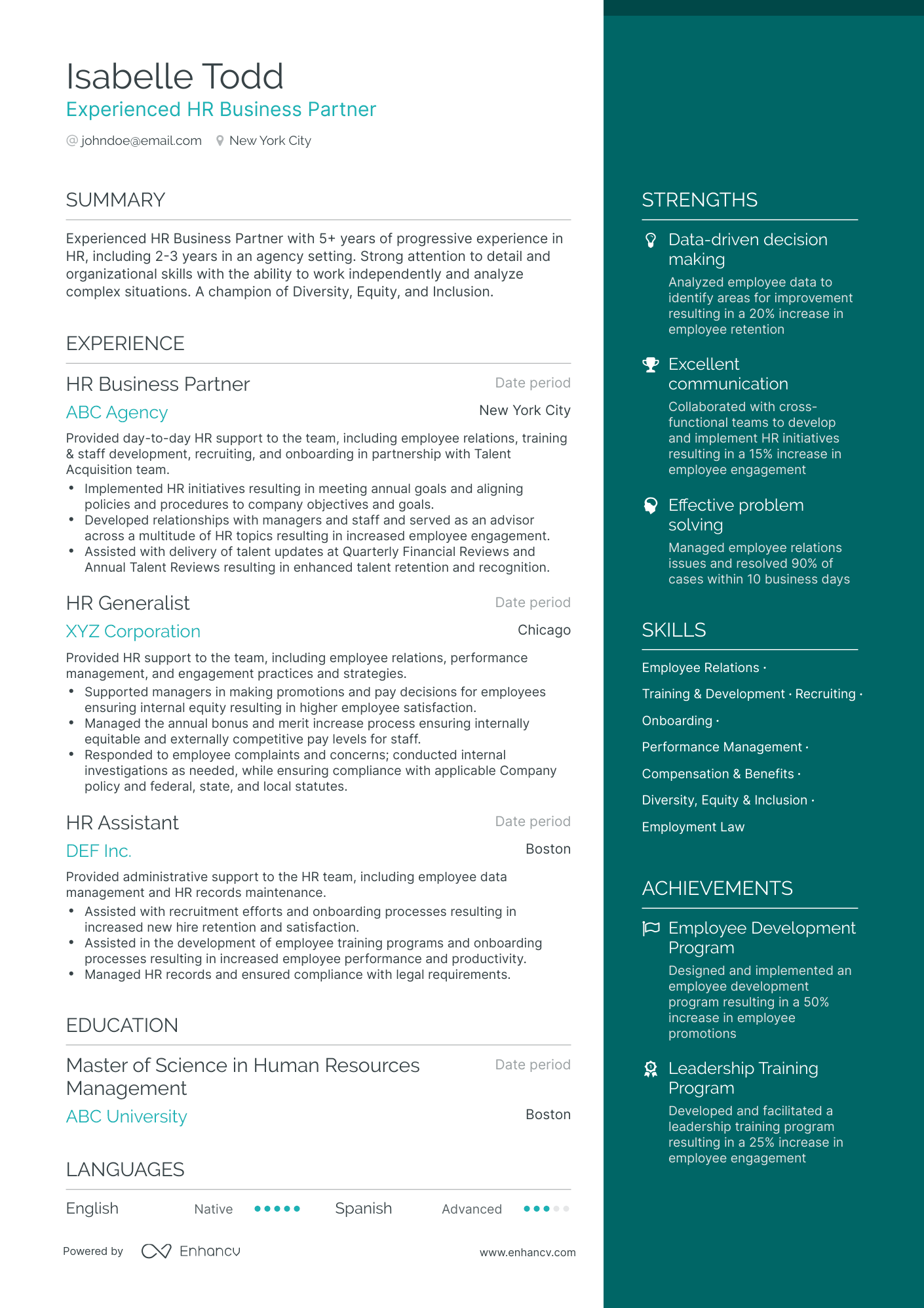 View HR Business Partner Resume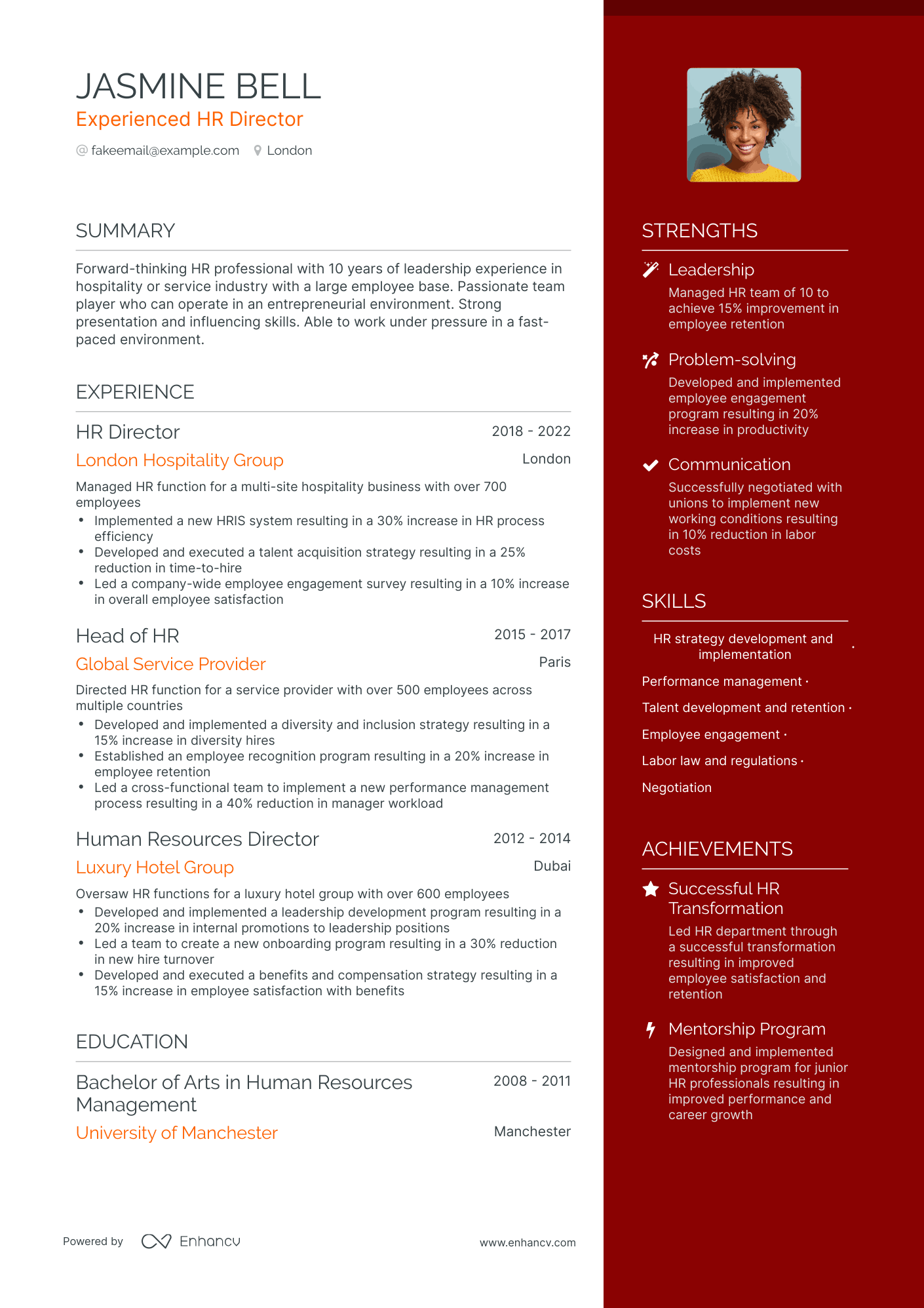 View HR Director Resume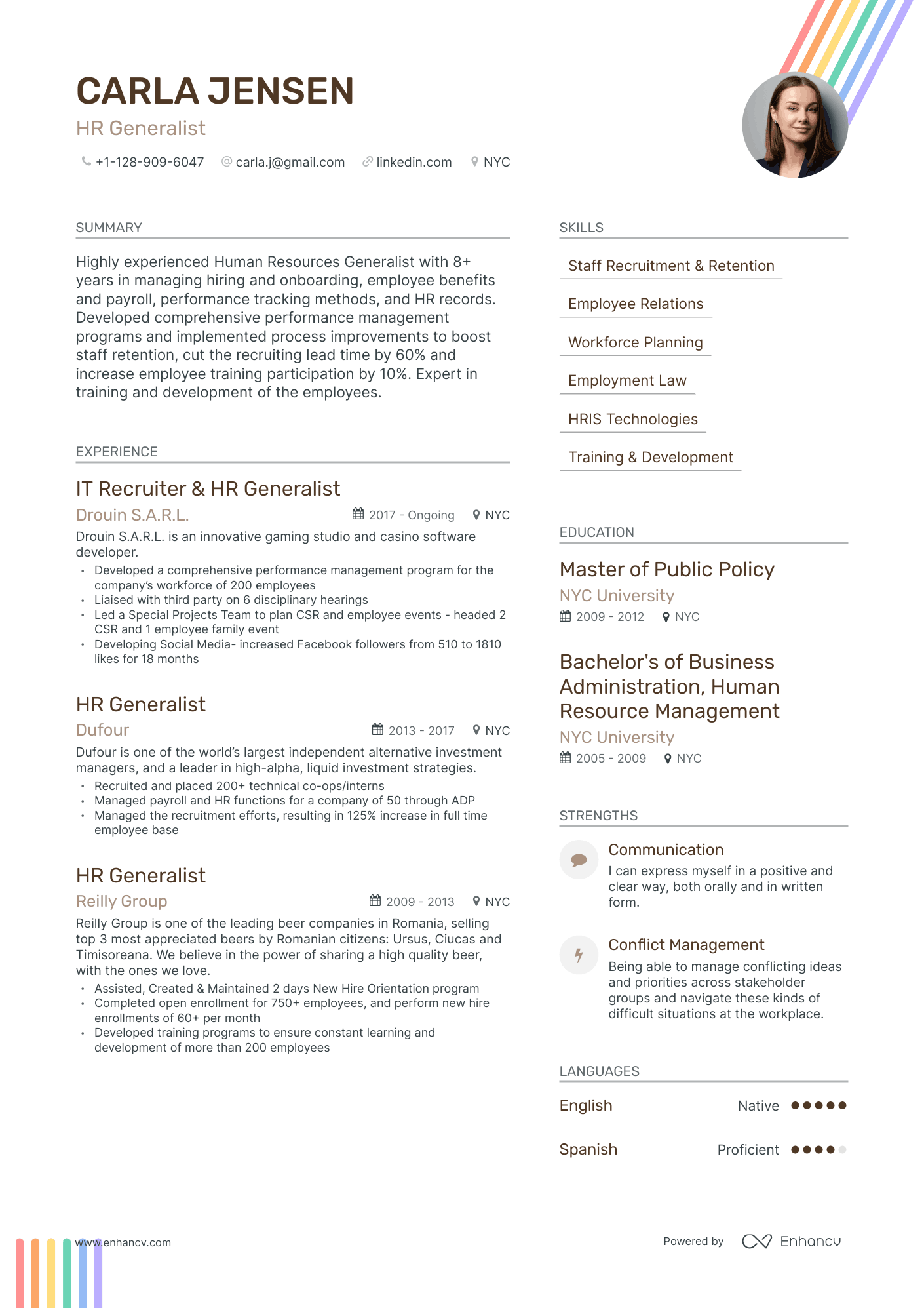 View HR Generalist Resume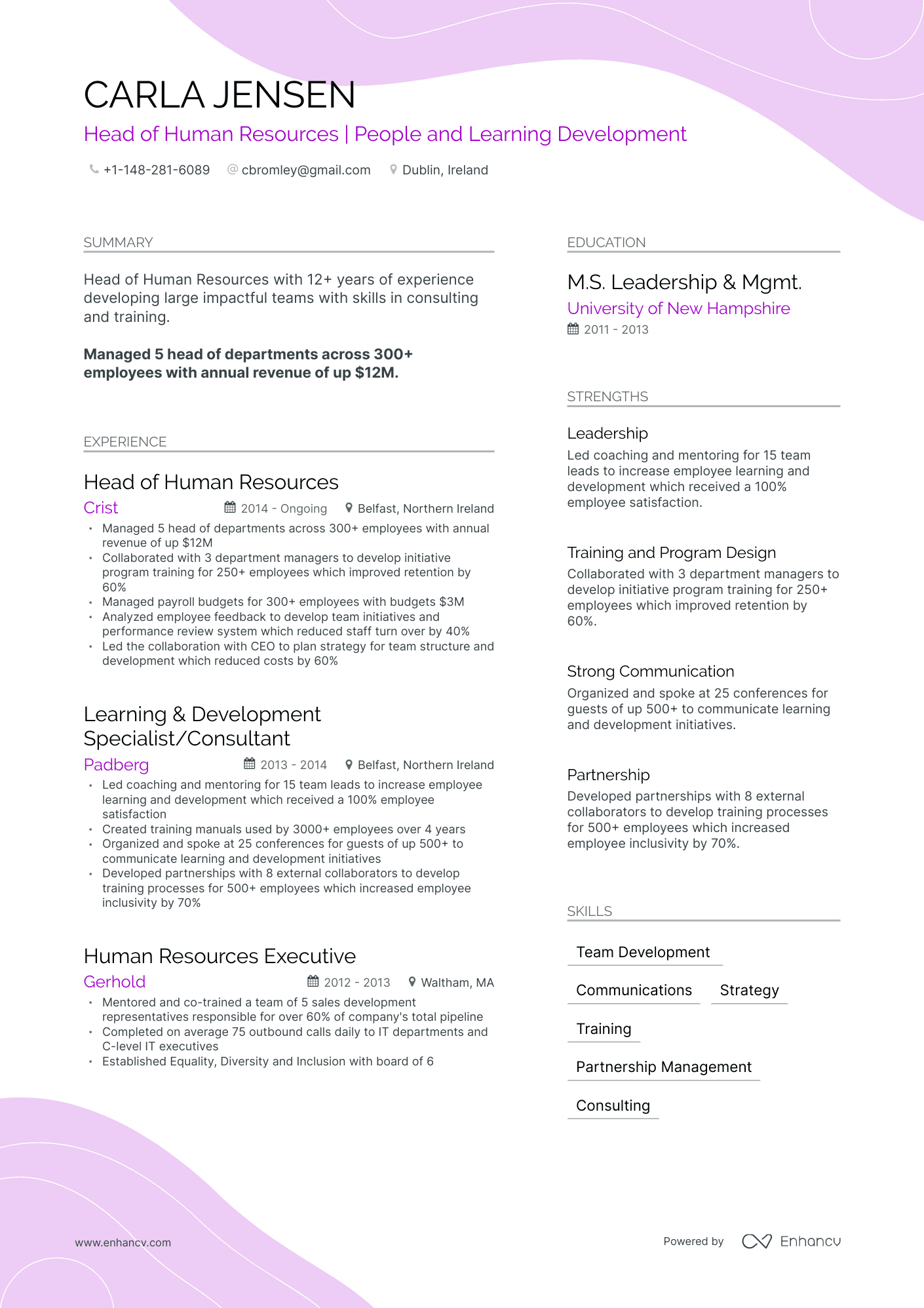 View HR Manager Resume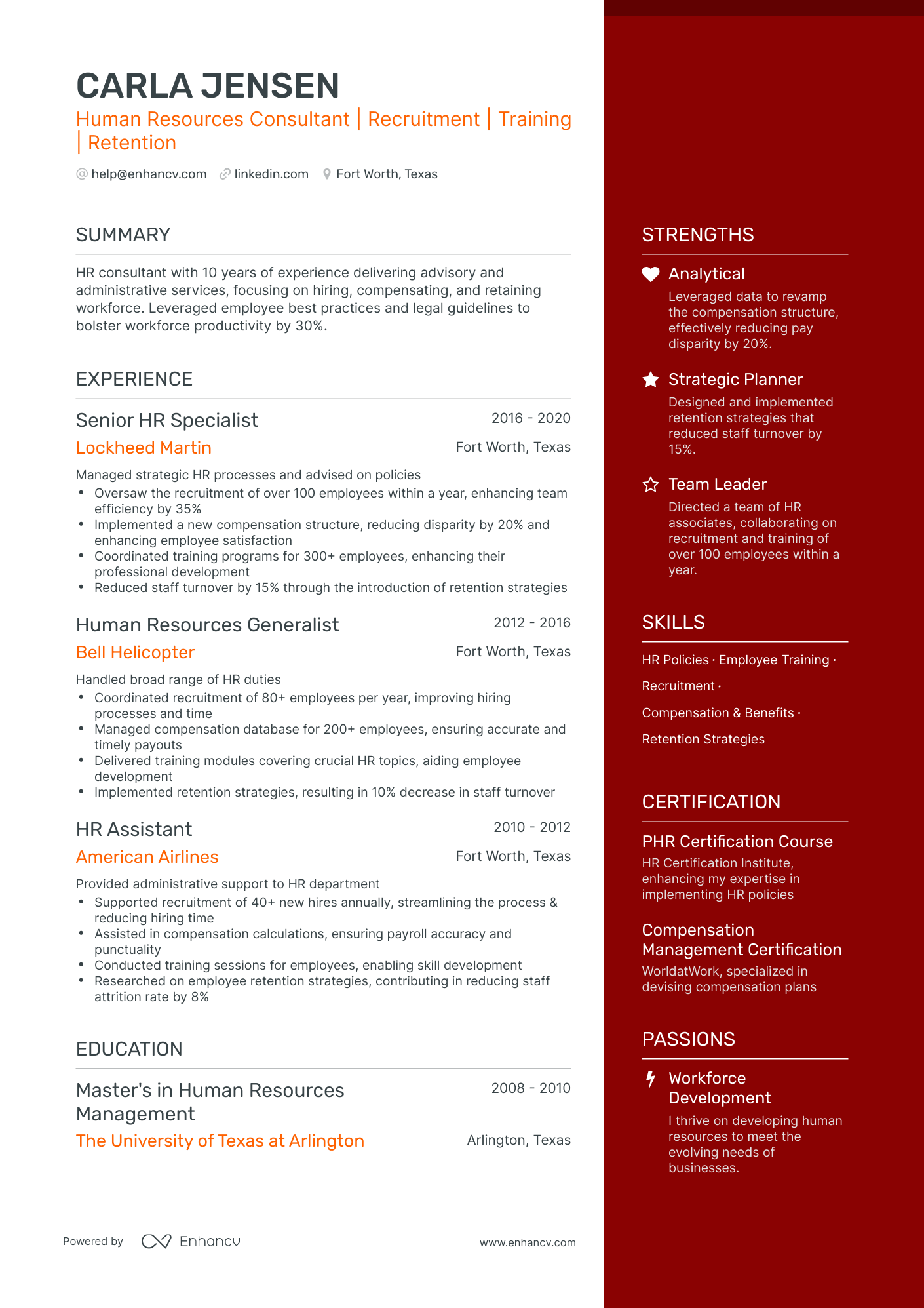 View Human Resources Consultant Resume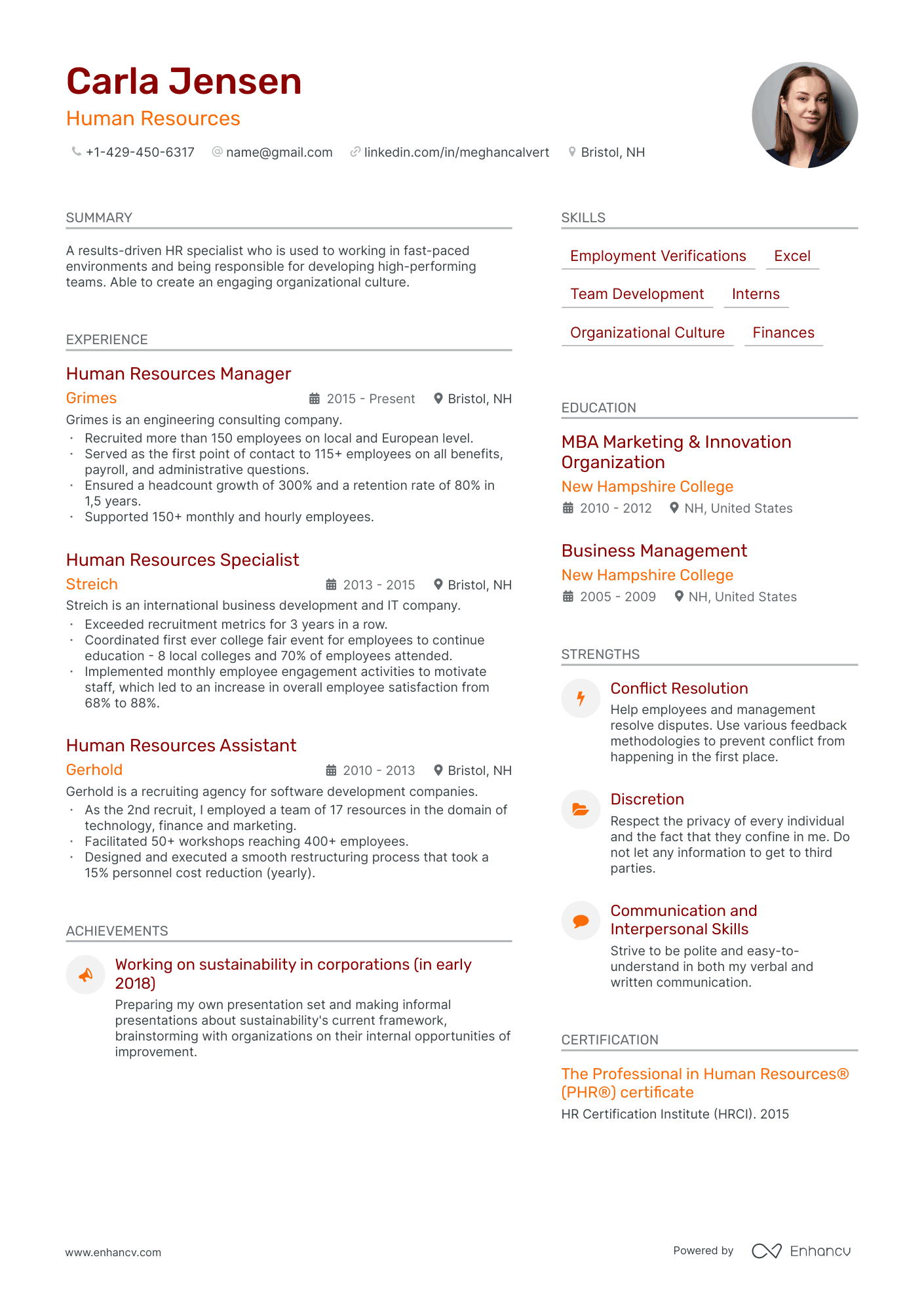 Looking to build your own HR resume?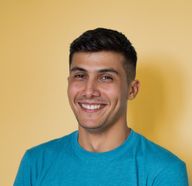 Frequently asked questions about HR resumes
How long should i make my hr resume, what is the best format for an hr resume, which hr skills are most important to add to your resume, should i include a summary or objective in my hr resume, can i use an hr resume template, how can i make my hr resume stand out.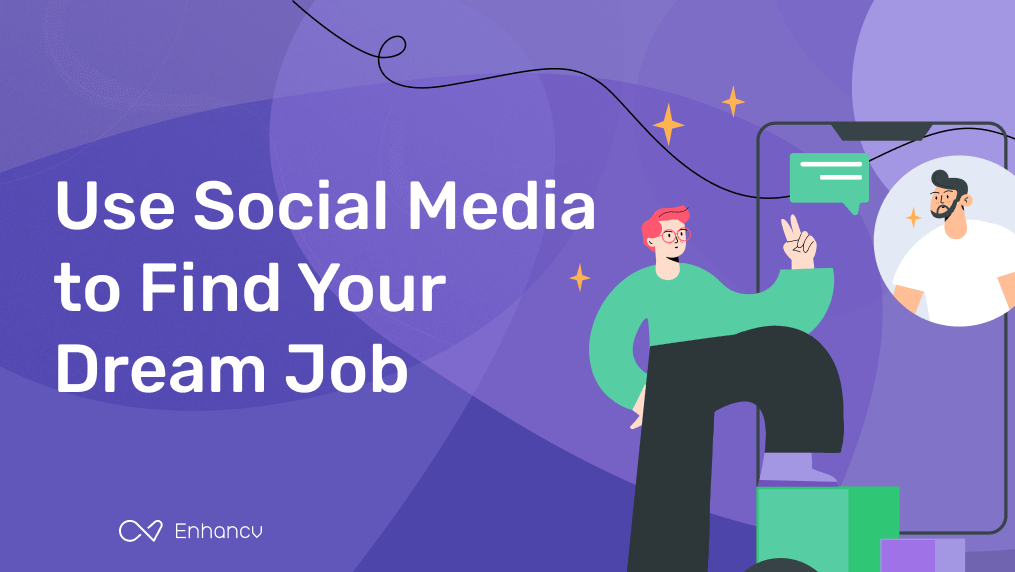 How to Harness Social Media to Find Your Dream Job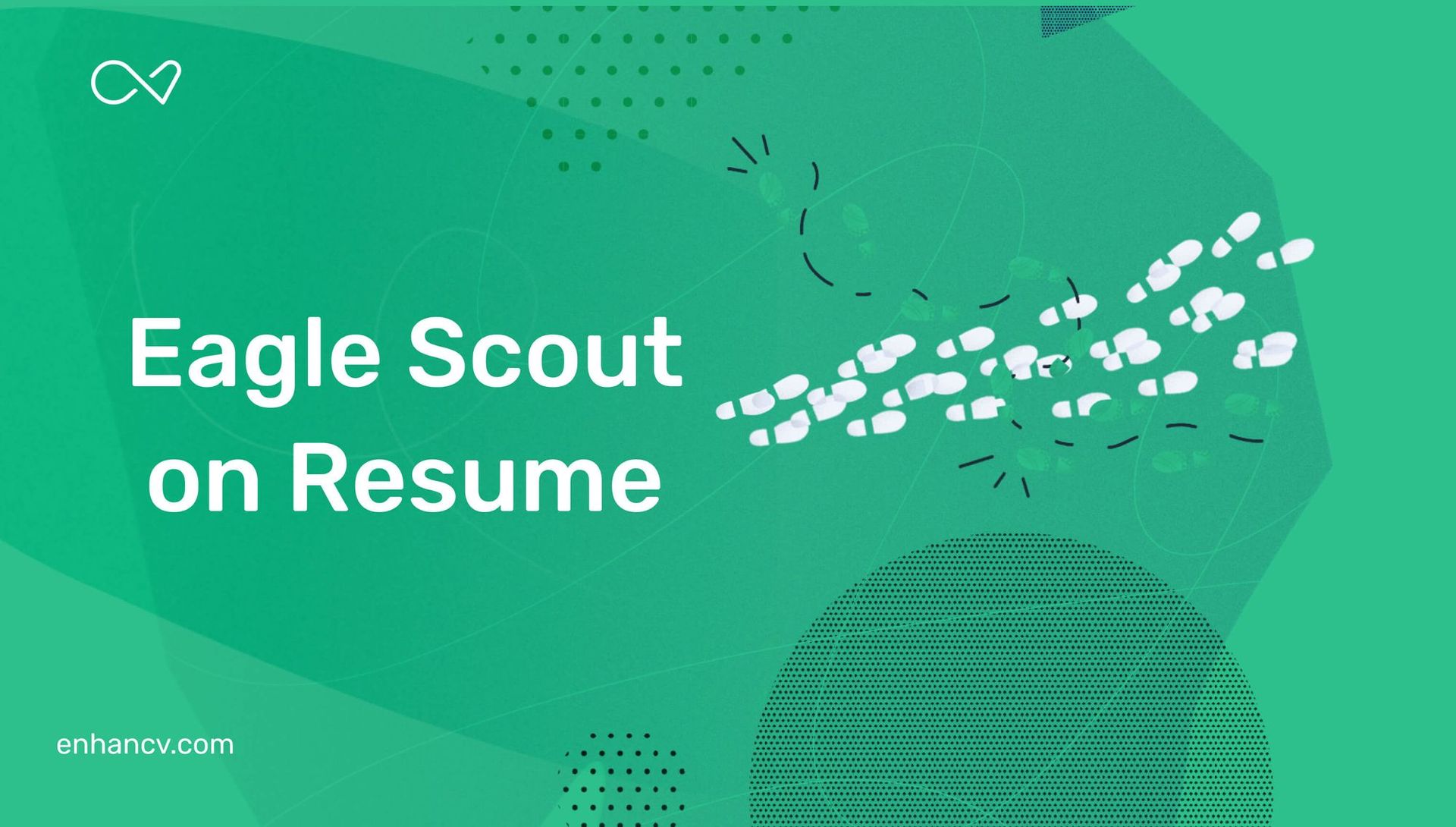 Should You Include Eagle Scout On Your Resume?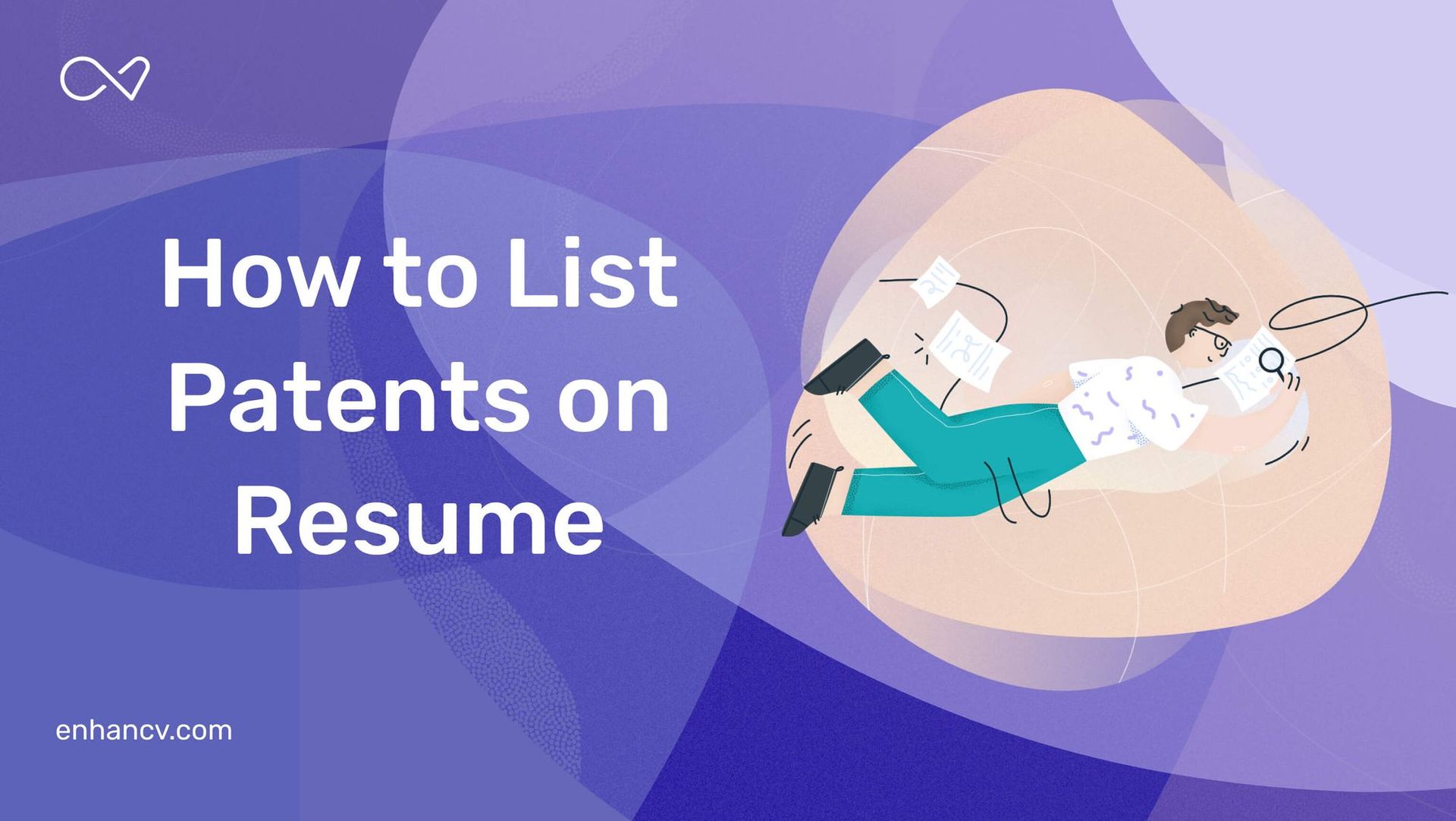 How to List Patent on Resume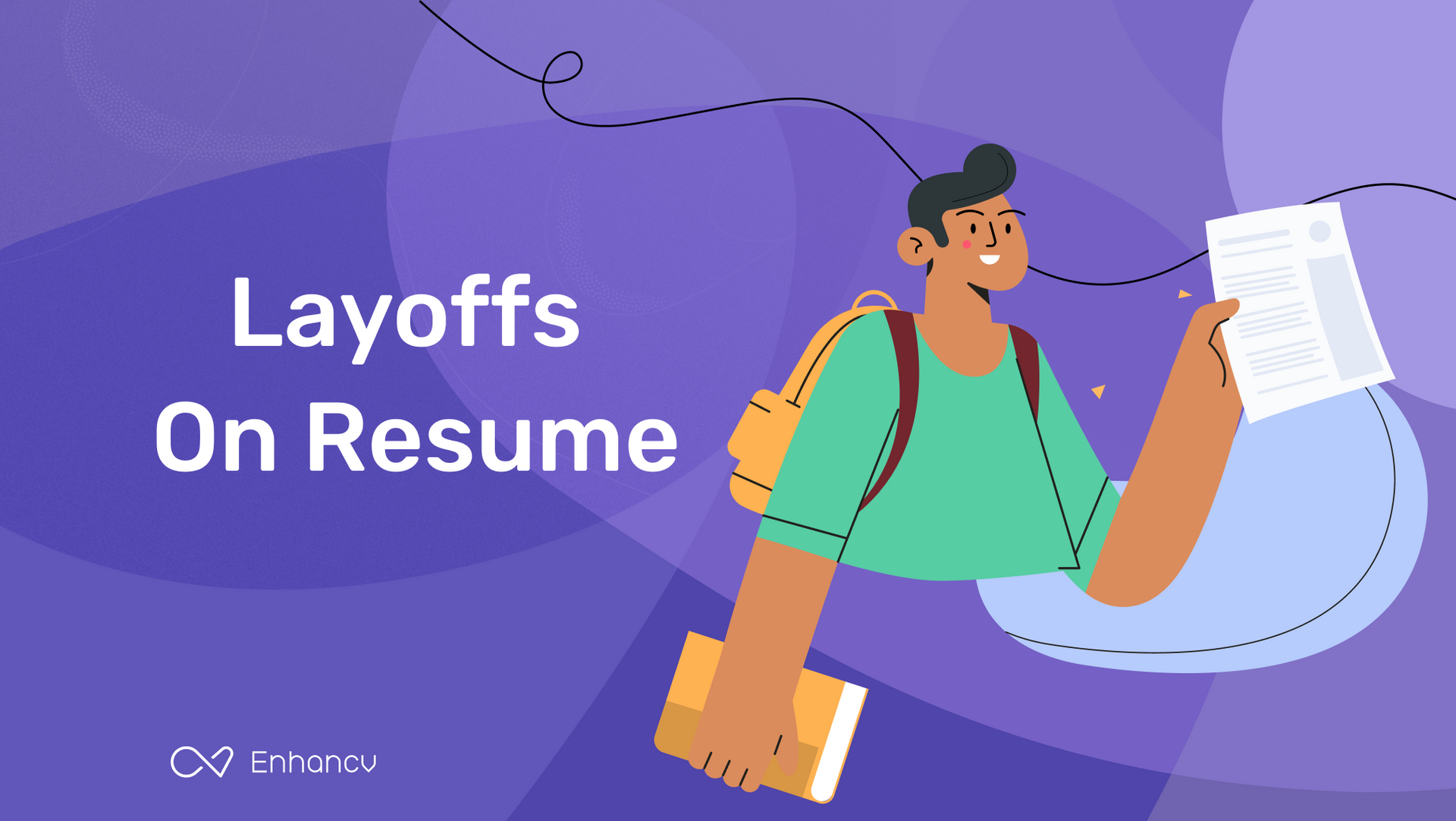 Expert Advice: How To Handle Layoffs And Downsizing On Your Resume?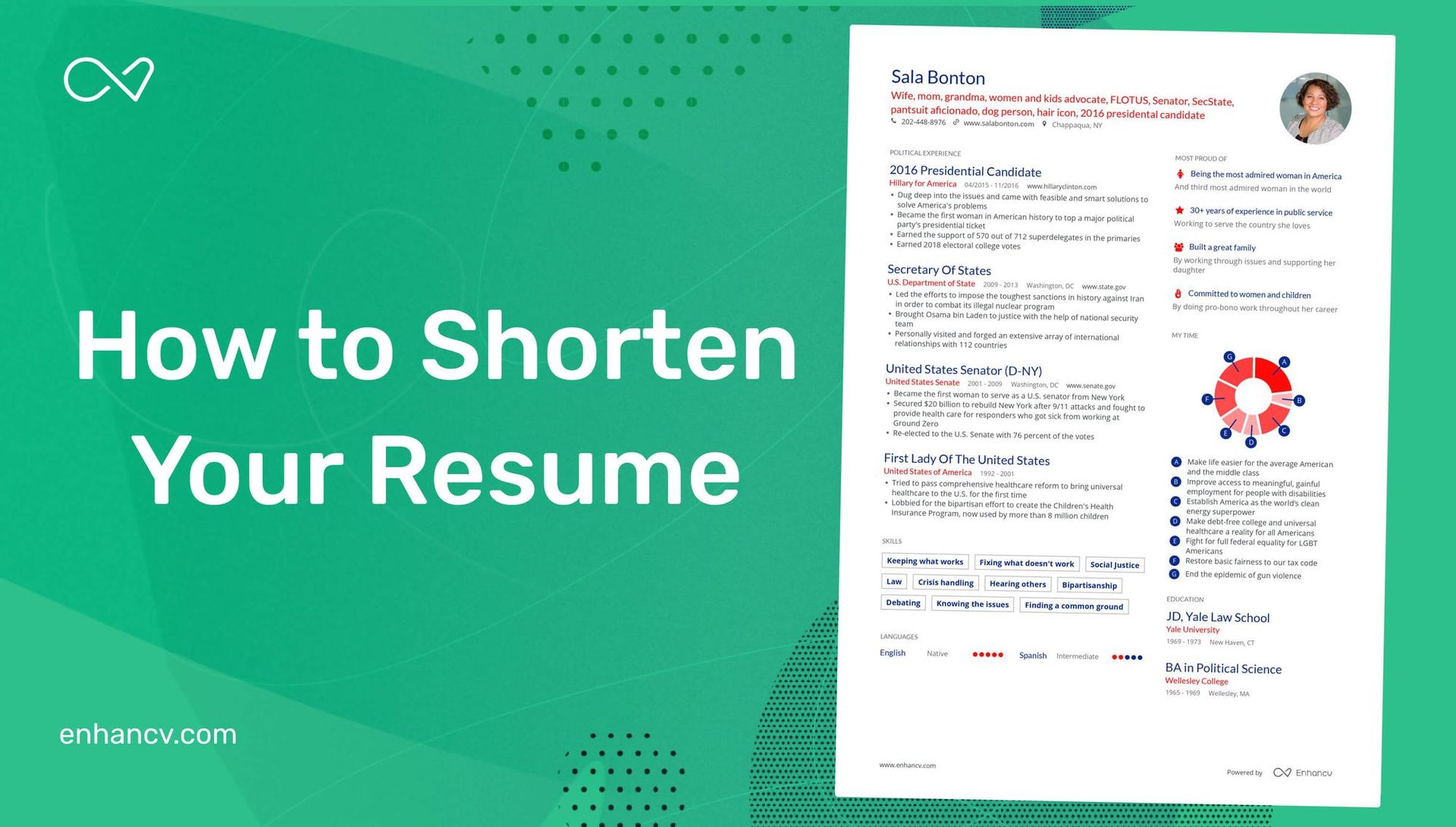 How to Shorten Resume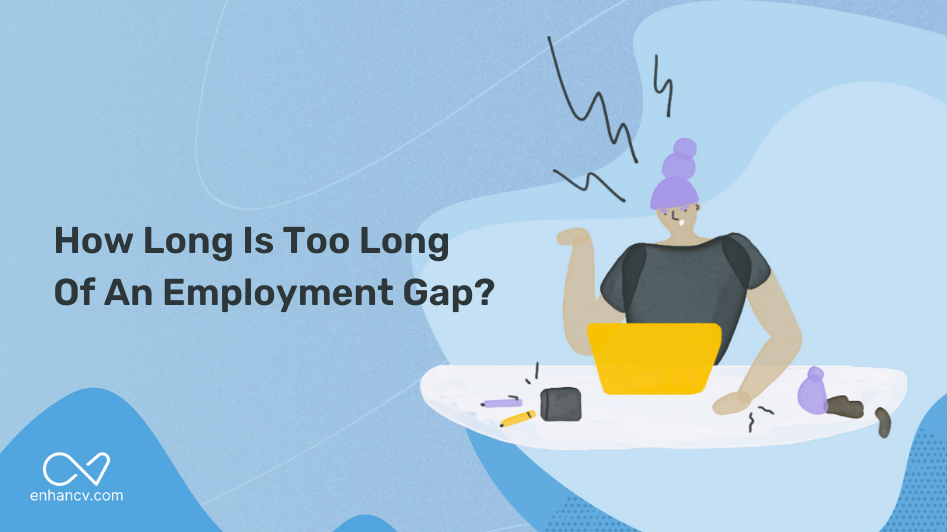 How Long Is Too Long Of An Employment Gap
Create Resume
Terms of Service
Privacy Policy
HTML Sitemap
Resume Templates
Resume Formats
Resume Checker
Resume Skills
How to Write a Resume
Modern Resume Templates
Simple Resume Templates
Cover Letter Builder
Cover Letter Examples
Cover Letter Templates
Cover Letter Formats
How to Write a Cover Letter
Resume Guides
Cover Letter Guides
Job Interview Guides
Job Interview Questions
Career Resources
Meet our customers
Career resources
English (UK)
French (FR)
Swedish (SE)
© 2023 . All rights reserved.
Made with love by people who care.
How to Write a Human Resources Resume Summary
Quick Navigation:
What is a resume summary?
How to write a human resources resume summary, human resources resume summary tips, resume summary examples for hr professionals.
Your resume summary ideally focuses on what you can offer the employer, whether it's soft skills, technical skills, special credentials, awards or other achievements. An effective resume summary acts as an enticement for a hiring manager to read the rest of your resume. In this article, you can explore what a resume summary is and the benefits of having one, followed by steps to write a resume summary for a human resources professional with tips and examples.
A resume summary is a short professional statement that introduces what makes you valuable to an employer. This introduction is typically located at the top of a resume, acting as a highlight reel of your most relevant skills and experiences. This helps an employer to immediately see if you possess the skills and background required for the role.
A resume summary can be three to five sentences to summarize your skills, experience and achievements as they relate to the specific position. If you've got an abundance of HR experience, you should try to curate your best accomplishments and experiences to include in your summary.
Follow the steps to craft your human resources resume summary:
1. First, write your resume then focus on your summary
Your resume summary should appear first on your finished resume, but it should be written last. It's much easier to write your summary after you've completed the other sections of your resume, as you can refer to them as an overall picture and pluck the best examples out for your summary.
2. Second, lead with your title
The first sentence should state your professional title and number of years of experience.
3. Next, pick the top three most impressive parts of your resume
Paraphrase your best and most relevant skills and experience into brief highlights that connect with the role you're applying for. Keep in mind that you're trying to entice the employer to read further.
4. Then, use relevant keywords wherever possible
An Applicant Tracking System (ATS) is capable of scanning resumes for keywords before they even get into the hands of an employer. It is important to include keywords that are shown in the job description to show that your experience and qualifications align with the requirements of the role.
5. Next, remember to relate each sentence to the job requirements
Make sure to show employers the connection between your qualifications and the job requirements. This helps close the gap between what you've accomplished and what the position requires.
6. Last, finish by summing up what you can offer to an employer
Re-read your summary to make sure that it focuses on what value you can offer to the company and not on what you want from them.
Here are a few tips to consider when writing your own HR resume summary:
Look through job descriptions that interest you and take note of the required qualifications. Align your skills and achievements with what the employer is looking for.
Emphasize your accomplishments, quantifying when possible. For example, stating that you increased employee retention by 25% is more impactful than simply saying that you are friendly and helpful.
Keep it short. Three to five concise sentences are the maximum that you should include in your resume summary.
Use an active voice. Begin your statement with a strong adjective for yourself and include key action words to describe your experience.
Proofread your resume summary several times. You may even consider sending your resume summary to a trusted friend for a peer review. They may catch mistakes that you missed.
The following examples can be used as guidelines when writing your own human resources resume summary:
'Highly competent Human Resources Manager and SHRM-CP with 12 years of experience. Implemented process improvements to boost staff retention by 25%, cut recruiting lead time by 40% and increase employee training participation by 18%. Expert in applicant tracking systems, benefits management and payroll management.'
This applicant starts off by showcasing their experience in the field, and then gets to the heart of their impressive accomplishments. There are plenty of keywords for ATS to pick up, and the whole thing is concise and easily scannable.
'Human Resources Generalist with six years of experience managing hiring and onboarding, employee benefits and payroll, performance tracking methods and HR records. Reliable, knowledgeable and highly organized team player with excellent communication skills, team building and relationship management. Highly proficient with HRIS software as well as ATS.'
The applicant starts off by highlighting their experience in HR roles and continues to build on this pattern throughout the summary. They showcase their hard and soft skills using basic terms for easy understanding, and they use keywords to please the ATS. The tone is written in a genuine manner that does not seem forced.
Privacy preference center
We care about your privacy
When you visit our website, we will use cookies to make sure you enjoy your stay. We respect your privacy and we'll never share your resumes and cover letters with recruiters or job sites. On the other hand, we're using several third party tools to help us run our website with all its functionality.
But what exactly are cookies? Cookies are small bits of information which get stored on your computer. This information usually isn't enough to directly identify you, but it allows us to deliver a page tailored to your particular needs and preferences.
Because we really care about your right to privacy, we give you a lot of control over which cookies we use in your sessions. Click on the different category headings on the left to find out more, and change our default settings.
However, remember that blocking some types of cookies may impact your experience of our website. Finally, note that we'll need to use a cookie to remember your cookie preferences.
Without these cookies our website wouldn't function and they cannot be switched off. We need them to provide services that you've asked for.
Want an example? We use these cookies when you sign in to Kickresume. We also use them to remember things you've already done, like text you've entered into a registration form so it'll be there when you go back to the page in the same session.
Thanks to these cookies, we can count visits and traffic sources to our pages. This allows us to measure and improve the performance of our website and provide you with content you'll find interesting.
Performance cookies let us see which pages are the most and least popular, and how you and other visitors move around the site.
All information these cookies collect is aggregated (it's a statistic) and therefore completely anonymous. If you don't let us use these cookies, you'll leave us in the dark a bit, as we won't be able to give you the content you may like.
We use these cookies to uniquely identify your browser and internet device. Thanks to them, we and our partners can build a profile of your interests, and target you with discounts to our service and specialized content.
On the other hand, these cookies allow some companies target you with advertising on other sites. This is to provide you with advertising that you might find interesting, rather than with a series of irrelevant ads you don't care about.
Human Resources Resume Examples & Writing Guide for 2023
How to build an eye-catching human resources resume?
Whether you are a seasoned human resources manager or you are aspiring for an entry-level HR job, you form part of the department that effectively oversees the employee life cycle.
You may find yourself recruiting, hiring, training, and even firing employees. Your position certainly requires a very complex skill-set, and there is no doubt you can succeed in any position.
However, you will, for starters, need to craft a jaw-dropping HR resume that will impress your prospective employer.  
1. Select an adequate format for your HR resume
As an HR job applicant, you certainly know how important it is to make your CV easy to read and easy to navigate for a hiring manager.
If you want to prevent your resume from ending up in the "reject pile", follow these handy formatting tips, and make your CV clean looking.
Opt for a two-column layout . With your contact details, skills, and any extra sections featuring in the left column, your right side can be dedicated to segments such as professional profile, work experience and education.
Make your resume more scannable through listing your work history and education in a reverse-chronological order. Start with the most recent role, and use bullet points avoiding large blocks of text.
Employ negative space between individual sections granting your resume breathing room.
Avoid flashy images and stylish fonts. If you opt for graphic elements, make sure they work as focal points leading a hiring manager's eye to the desired section.
Still looking for a job? These 100+ resources will tell you everything you need to get hired fast.
2. Make your HR professional summary stand out
A successful professional summary should be:
Relevant to the job position you are applying for
Captivating
Achievement-focused
Make your professional profile 3-5 lines long, projecting your best accomplishments and brilliant HR skills.
Human resources professional profile example
Self-driven, detail-oriented human resources professional with 4+ years of experience developing and enhancing employee onboarding and orientation processes. Successfully collaborated with all departments to create a 100% virtual onboarding for new hires. An outstanding problem solver with an eagerness to learn. Excellent communicator and effective team leader who thrives in a deadline driven environment. Able to manage both internal and external relationships with appropriate sense of urgency and courtesy. 
Find out your resume score!
3. The most effective skill-set to put on your human resources CV
Not anyone could be in charge of filling positions, handing walking papers, looking after employee benefits and managing confidential data.
Interpersonal skills, outstanding communication, teamwork and patience are just a few of many skills you'll need to equip yourself with in order to fulfil your role.
Customize your skill-set effectively to the job posting you are interested in, and impress your potential employer.
The best human resources soft skills for your resume
Customer service skills
Outstanding spoken and written communication skills
Responsibility
Flexibility
Confidentiality
Decision making 
Problem solving
Ability to work well under pressure
Organization
Time management
Effective hard skills to put on your human resources CV
Payroll systems
Candidate assessment
Compensation and benefits
Talent acquisition techniques
HRIS (Superior proficiency)
MS Office (Superior proficiency)
4. Create a job-winning work experience section for your HR resume
It often happens that a promising employee is overlooked by a hiring manager due to an underperforming work experience resume section.
Don't let that happen, and have the recruiter see what you are — a top-notch professional who will contribute to the success of their company.
Always tailor your work history to what is expected from you in a specific job posting.
Avoid large chunks of text, and use bullet lists instead. Keep the number of points moderately low.
Mention only the most relevant achievements and quantify them whenever you can.
Use powerful language.
HR work experience section example
Mark & Benson Human Resources Assistant 2015–2018 
Developed an onboarding and orientation process, and successfully collaborated with all departments to create a 100% virtual onboarding for new hires.
Coordinated employee benefits and served as the first point of contact for all benefits related inquiries.
Developed 7+ recognition programs.
Effectively coordinated 19 events and assisted the Marketing department with 10+ large-scale campaigns.
Served as the first point of contact for all HR-related queries.
5. Make your HR education section shine with academic achievements
When it comes to listing your education , it's a real plum to have a bachelor's degree in business, human resources, or a related field. 
However, even if you have not received formal education in the field, you can still use your academic achievements, relevant coursework or areas of interests to make your resume shine.
Listing education in an HR resume
University of Europe MA in Psychology 2010–2015
Excelled in Diversity and Multiculturalism
Thesis: Methods of Data Collection, 
Relevant Coursework: COgnitive Psychology, Statistics, Organizational Behavior, Motivation, Conflict Management and Negotiation
6. Include suitable extra sections in your human resources CV
Passions, activities, interests, learning experiences — you can leverage any of these to showcase your related competencies.
Having learned a foreign language, for instance, can perfectly convey your ability to communicate effectively. 
Pick relevant additional sections that can convey your exceptional HR skills:
Language skills
Certifications
Qualifications
Volunteering activities
Testimonials from employees
Accomplishments
Listing additional sections in your HR resume
Volunteering Activities
Member / Volunteer, Junior League of Colorado Springs, January 2019
Board Secretary, Colorado Springs Society of Human Resource Management
Certificates
Associate Professional in Human Resources (aPHR), HR Certification Institute, March 2019
Veterans at Work Certificate, SHRM Foundation, May 2020
Language Skills
French, B2 Certificate
German, Fluent
Julia Gergelova
Julia is a professional writer, translator and graphic designer. She holds degrees in translation and interpretation, and has international work experience from a number of different countries in Europe as well as China and Panama. Julia formerly taught academic writing and as a graphic designer contributed to outlets such as The Business of Business . She has a passion for lifelong learning and good coffee.
Subcategories
Human Resources Assistant
Talent Acquisition Specialist
Training Specialist
All human resources resume examples
Related human resources cover letter examples
Resume guides
How to write a professional resume summary [+examples], how to put your education on a resume [+examples], how to describe your work experience on a resume [+examples], let your resume do the work..
Join 3,600,000 job seekers worldwide and get hired faster with your best resume yet.