Create Cover Letter
Scott Patrick Avineon, Inc 2312 Primrose Lane Madison, WI 53703
Subject: Application for position of Information Security Analyst
Dear Mr. Patrick,
I am writing to express my interest in your Information Security position at Avineon, Inc. You will find in my resume and this cover letter all the information you are looking to find for this position.
In the past three years as an Information Security professional at BAE Systems, I have worked as the IT departments specialist and supervisor in all security issues, training, and new projects and maintenance. I am confident with all the latest in Information Security programs and applications, and have much experience installing and using them, as well as teaching them to all departments regardless of their IT knowledge. I received my Master's Degree from Fairleigh Dickinson University in IT Securities, and also worked as an IT Securities intern during college at Princess Cruises. I am a great choice for this position, as I have the technical mind, the in depth knowledge of information security, and the great communications skills to bring real success to your company.
I wish to further my career in Information Security with your company, as you are a pioneer in the IT industry. Thanks for your consultation of my resume and this cover letter. I look forward to hearing from you.
Yours Sincerely,
(Signature hand written in blue pen ink)
Encl: Resume
Advertisement
You control your data
We and our partners use cookies to provide you with our services and, depending on your settings, gather analytics and marketing data. Find more information on our Cookie Policy . Tap "Cookie Settings" to set preferences. To accept all cookies, click "Accept All".
Cookie settings
Click on the types of cookies below to learn more about them and customize your experience on our Site. You may freely give, refuse or withdraw your consent. Keep in mind that disabling cookies may affect your experience on the Site. For more information, please visit our Cookies Policy and Privacy Policy .
Choose type of cookies to accept
These cookies allow us to analyze our performance to offer you a better experience of creating resumes and cover letters. Analytics related cookies used on our Site are not used by Us for the purpose of identifying who you are or to send you targeted advertising. For example, we may use cookies/tracking technologies for analytics related purposes to determine the number of visitors to our Site, identify how visitors move around the Site and, in particular, which pages they visit. This allows us to improve our Site and our services.
These cookies give you access to a customized experience of our products. Personalization cookies are also used to deliver content, including ads, relevant to your interests on our Site and third-party sites based on how you interact with our advertisements or content as well as track the content you access (including video viewing). We may also collect password information from you when you log in, as well as computer and/or connection information. During some visits, we may use software tools to measure and collect session information, including page response times, download errors, time spent on certain pages and page interaction information.
These cookies are placed by third-party companies to deliver targeted content based on relevant topics that are of interest to you. And allow you to better interact with social media platforms such as Facebook.
These cookies are essential for the Site's performance and for you to be able to use its features. For example, essential cookies include: cookies dropped to provide the service, maintain your account, provide builder access, payment pages, create IDs for your documents and store your consents.
To see a detailed list of cookies, click here .
This site uses cookies to ensure you get the best experience on our website. To learn more visit our Privacy Policy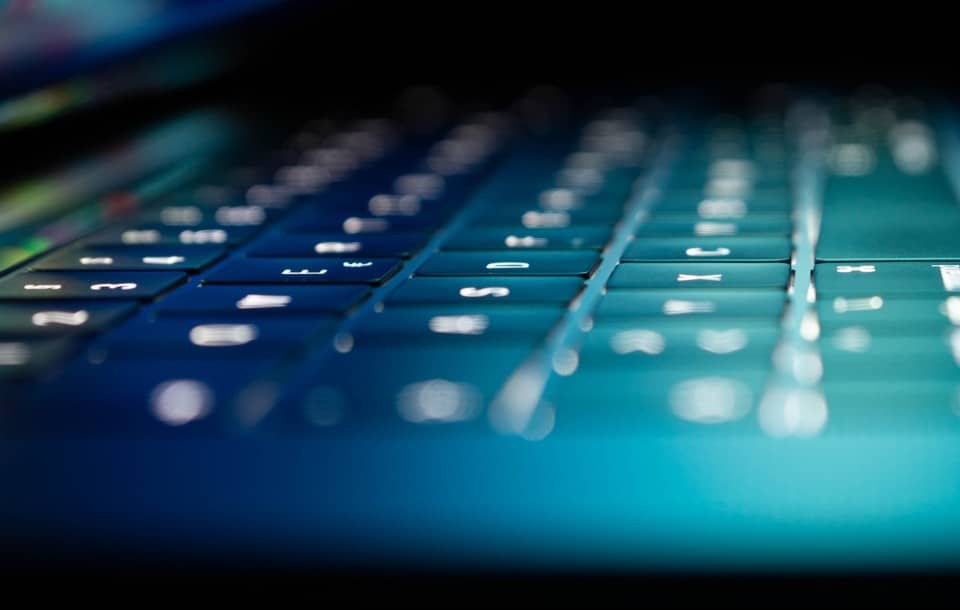 Cybersecurity / Information Security Cover Letter Sample
Wish to have a cyber security cover letter that passes two-factor authentication? Grant yourself access to a cyber security job with a letter that doesn't read like spam.
As seen in:
"Dear Sir or Madam, "—Ouch. A cybersecurity cover letter like this will be treated like the Nigerian prince scam. To get an information security job at Protonmail or Symantec, you need a cover letter that will work like a catfish.
Here's a pentested formula.
This guide will show you:
A cyber security cover letter sample better than 9 out of 10 others.
The work plan for how to write a cover letter for information security.
Tips for entry-level cybersecurity cover letter that will get you ahead of the race.
Want to write your cover letter fast? Use our cover letter builder. Choose from 20+ professional cover letter templates that match your resume. See actionable examples and get expert tips along the way.
Create your cover letter now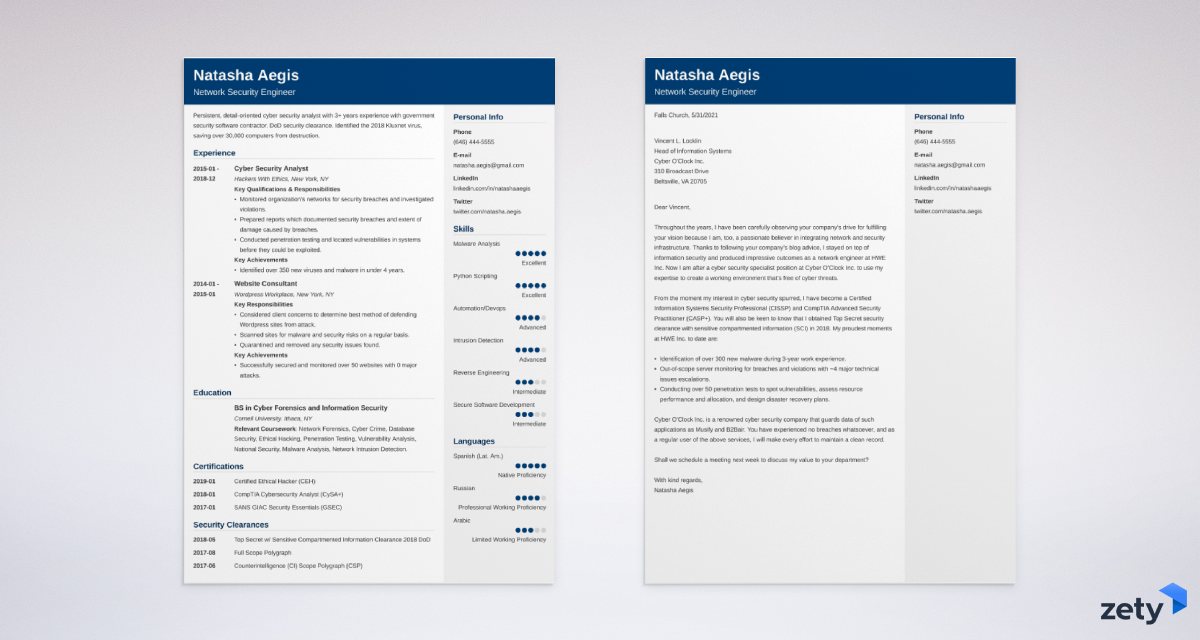 Cybersecurity Cover Letter for a Resume— See more cover letter templates and create your cover letter here .
Perhaps you wish to read more than a cover letter for cyber security? See other guides we wrote:
Business Analyst Cover Letter Example
Computer Science (CS) Cover Letter Example
CIA Cover Letter Example
Data Analyst Cover Letter Example
Data Scientist Cover Letter Example
Front-End Developer Cover Letter Example
Federal Cover Letter Example
IT Cover Letter Example
IT Technician Cover Letter Example
Software Engineer Cover Letter Example
Web Developer Cover Letter Example
Entry-Level Cover Letter Example
Best Cover Letter Examples For All Jobs
Cyber Security Cover Letter Example
Richard T. Hahne
Cyber Security Specialist
4364 Forest Drive
Falls Church, VA 22042
703-849-6106
linkedin.com/in/richardrhahne
Falls Church, 5/31/2021
Vincent L. Locklin
Head of Information Systems
Cyber O'Clock Inc.
310 Broadcast Drive
Beltsville, VA 20705
Dear Vincent,
Throughout the years, I have been carefully observing your company's drive for fulfilling your vision because I am, too, a passionate believer in integrating network and security infrastructure. Thanks to following your company's blog advice, I stayed on top of information security and produced impressive outcomes as a network engineer at HWE Inc. Now I am after a cyber security specialist position at Cyber O'Clock Inc. to use my expertise to create a working environment that's free of cyber threats.
From the moment my interest in cyber security spurred, I have become a Certified Information Systems Security Professional (CISSP) and CompTIA Advanced Security Practitioner (CASP+). You will also be keen to know that I obtained Top Secret security clearance with sensitive compartmented information (SCI) in 2018. My proudest moments at HWE Inc. to date are:
Identification of over 300 new malware during 3-year work experience.
Out-of-scope server monitoring for breaches and violations with ~4 major technical issues escalations.
Conducting over 50 penetration tests to spot vulnerabilities, assess resource performance and allocation, and design disaster recovery plans.
Cyber O'Clock Inc. is a renowned cyber security company that guards data of such applications as Musify and B2Bair. You have experienced no breaches whatsoever, and as a regular user of the above services, I will make every effort to maintain a clean record.
Shall we schedule a meeting next week to discuss my value to your department?
With kind regards,
A solid backup plan means everything at your cyber security jobs, also when you're trying to get one. The information security cover letter is just the support your need. So, before hitting send, do the penetration testing on this guide: Cyber Security Resume
Now let us deliver on the promise.
Information Security Cover Letter Template
Here's the work plan for how to write a jaw-dropping IT security cover letter :
1. Set Up a Stable Cybersecurity Cover Letter Format
Without a stable network and security architecture, you won't be able to perform. The same goes for your IT security cover letter.
Establish solid grounds when formatting your cover letter , and don't let anything and anyone make threats to your product.
Find a modern cover letter template that meets the environment requirements.
Use proper cover letter spacing : 1-inch margins on each side, 1-1.5 line spacing, and double space between paragraphs.
Choose the best business-like cover letter font in 12pt size.
Left-align your letter. Don't make your hiring manager jump from one word to another because ofyour oops.
Divide your cover letter structure into clear sections: header, introduction, body, closing, and signature.
Title your cover letter file with your name and the position you're applying for. See an example: Richard-Hahne_Cover-Letter_Cyber-Security-Specialist .
Read more: How To Write A Cover Letter For A Job Today
2. Link Your Information Security Cover Letter Header Design to Your Resume
Going through SOPs with no idea where you at?
Yeah . Happens to all of us. But—
It can't happen to your hiring manager. They need to know who you are and what you want from the start.
Duplicate the resume design in your cover letter for cyber security. Consistency looks good on you.
Give your contact information : full name, mailing address, phone number, and email address.
Mention your current title or the job you're interested in.
Add your social media links. Remember to optimize your LinkedIn account to stay professional.
Mention the place and date of writing.
Find your hiring manager details and address them. Make an effort to learn their name. If you can't find it in all over the web, go ahead and call the reception.
Salute with Dear [Hiring Manager's name] in the cover letter . Don't think for a second that To Whom It May Concern will break the firewall.
Read more: The Way To Address A Cover Letter
3. Identify and Apply the Best Fix to Your First Paragraph
Once upon a time, your password was admin .
But you aren't a newb anymore, so generic cover letters and passwords are a flat-out no-go.
You won't let your hiring manager press reset and move on to another application just because you lack imagination, will you?
Use one of several strategies of how to start a cover letter . You can make an offer, a promise, drop names, or use one of your biggest achievements.
Tailor your information security cover letter from the start by using resume keywords that you find in the job posting.
Open strong. Don't be afraid of action verbs and adjectives that describe your personality and abilities. Just be sure you'll be able to prove what you wrote.
Let them know you're interested in joining the company, but be confident about your fit. You need to intrigue the hiring manager to make them go next to the cover letter body.
Read more: What Does And Does Not Your Cover Letter Say
4. Validate Your Qualifications and Skills in the Body of Your IT Security Cover Letter
You're waiting for the beat to drop. And, out of nowhere, your antivirus software sends you this blaring, earsplitting, and deafening sound followed by "The database has been updated."
Jeez. I almost jumped out of my skin!
Your recruiter wants to be surprised, too. So, exceed their expectations with your achievements , rather than giving them a panic attack with a lack of problem-solving skills.
The second paragraph of your cover letter outline is all about relevant experience and skills. Keep the attention you grabbed in the intro by proving you've got what they need.
A list of responsibilities interests no one. Mention real-life examples with an in-depth description of your relevant qualifications and achievements at work.
Quantify your achievements, use power phrases , and show your impact on the company's development.
In an entry-level cyber security cover letter, this is the moment you can elaborate on the relevant coursework you had in school or the internship you did. Boast about any transferable skills you picked up.
Refer to the hard and soft skills mentioned in the job ad, yet avoid creating a never-ending list. Use power bullet points to pinpoint the requirements.
Read more: Elements Of An Exceptional Cover Letter
5. Re-Enter Your Reasons Why You Want the Information Security Job
Imagine you're Elliot sitting on an empty subway and a shady Mr. Robot approaches you asking to follow him.
Whoa, buddy !
You know why you do the things you do, but working with a group of hackers?
FSociety or not, display your motivation to join their ranks in the last but not least paragraph.
No matter if applying for a chief information security officer or an entry-level position, show your enthusiasm and excitement about joining the company.
Tell the hiring manager why you want to join and prove you know what the company's all about.
Refer to the company's mission, vision, and value statements.
Give a specific example of a recent activity taken by the company and tell why they impressed you.
Personalize this section because, after all, you're not a robot.
Read more: What To Include And Get Rid Of In A Cover Letter
6. Call to Action and Sign Off
You open strong, so the finish line can't be any different. Write an impressive one-punch-line that Stieg Larsson would want in his Millennium series.
Ask the hiring manager to schedule a call or a meeting to further discuss your application further. You don't ask, you don't get it.
Sign off with a professional and respectful sentiment like With kind regards , Sincerely , or Best regards followed by your full name.
(Optional) If you have one more ace up your sleeve, include a postscript in the cover letter closing. But it needs to add value like 0 to 1 in the binary code.
Create a cover letter enclosure if you're attaching a resume and other documents.
Read more: Ways To End A Cover Letter
When making a resume in our builder, drag & drop bullet points, skills, and auto-fill the boring stuff. Spell check? Check . Start building a professional resume template here for free .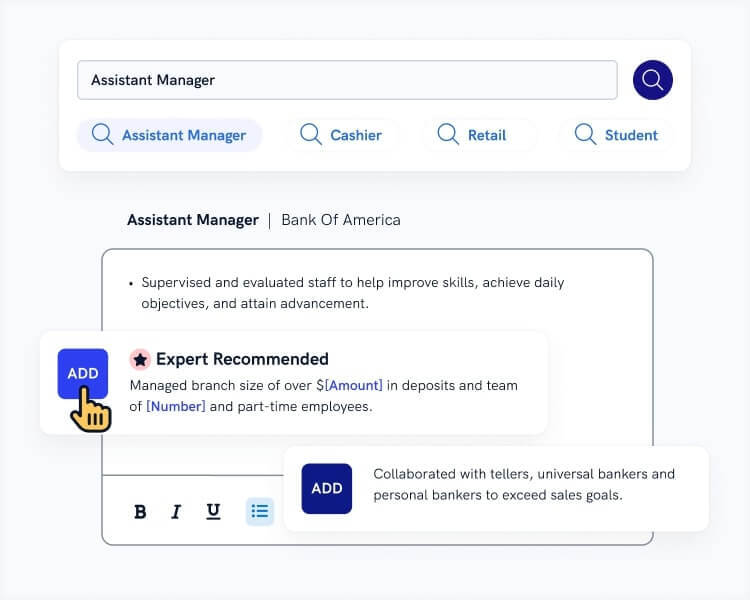 When you're done, our online resume builder will score your resume and our resume checker will tell you exactly how to make it better.
That's it! You're off to a great start as an information security professional.
Thank you for reading!
What do you think of this sample cybersecurity cover letter? Are you writing an entry-level cover letter for a cyber security internship? Are there any tips you think are worth adding?
Let us know in the comments!
About Zety's Editorial Process
This article has been reviewed by our editorial team to make sure it follows Zety's editorial guidelines . We're committed to sharing our expertise and giving you trustworthy career advice tailored to your needs. High-quality content is what brings over 40 million readers to our site every year. But we don't stop there. Our team conducts original research to understand the job market better, and we pride ourselves on being quoted by top universities and prime media outlets from around the world.
https://www.ius.edu/career/files/power-phrases.pdf
https://www.careereducation.columbia.edu/resources/resumes-impact-creating-strong-bullet-points
Don't miss out on exclusive stories that will supercharge your career!
Get a weekly dose of inspiration delivered to your inbox
Similar articles
How to Make a Resume in 2023: Writing Guide + Examples
How to write a resume that will get the job done? This step-by-step guide will show you the best resume examples and how to make a professional resume in a few easy steps.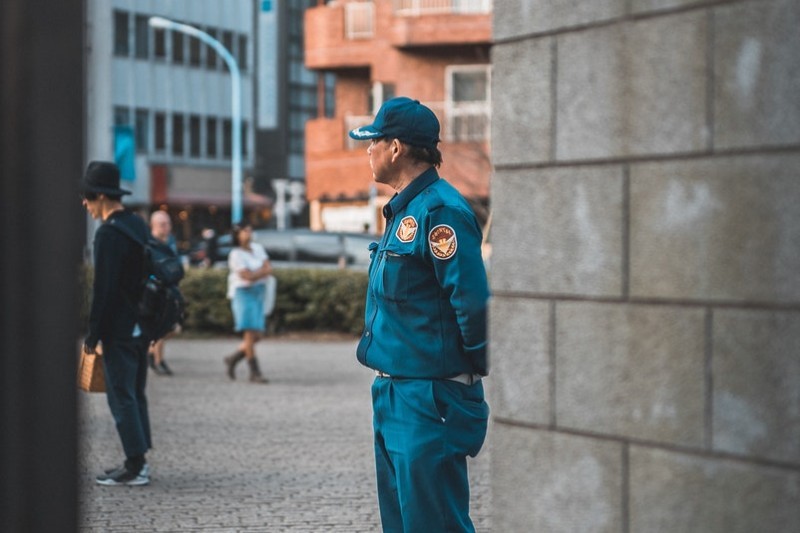 Security Guard Resume Examples & Job Description 2023
How to secure a security guard position that fits you like a uniform? Write a job-winning security guard resume. Read on, see some security guard resume examples and ace it!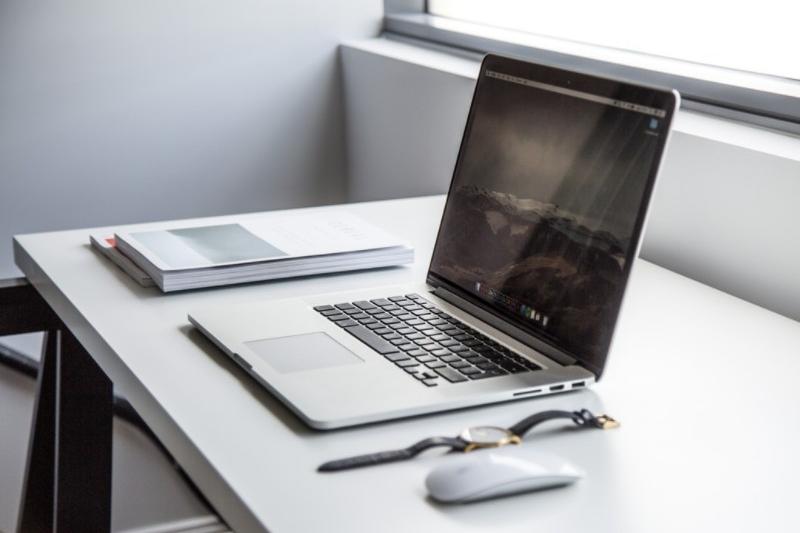 How to Make a Resume With No Experience: Examples & Tips
Writing a resume with no experience seems like a mission impossible. But there's a way to make a resume with no work experience look great! And you're about to see how.

Cyber Security Analyst Cover Letter Example (Free Guide)
Create an cyber security analyst cover letter that lands you the interview with our free examples and writing tips. use and customize our template and land an interview today..
If you're looking for a job as a Cyber Security Analyst, you'll need a cover letter that stands out from the competition. Our Cyber Security Analyst Cover Letter Guide will provide you with the tools to create an eye-catching letter that will grab the attention of hiring managers. With our guide, you'll learn how to write a compelling letter that makes you look like the perfect fit for the position.
We will cover:
How to write a cover letter, no matter your industry or job title.
What to put on a cover letter to stand out.
The top skills employers from every industry want to see.
How to build a cover letter fast with our professional Cover Letter Builder .
What a cover letter template is, and why you should use it.
Related Cover Letter Examples
Windows Administrator Cover Letter Sample
CTO Cover Letter Sample
Computer Engineer Cover Letter Sample
Computer Repair Technician Cover Letter Sample
Cyber Security Analyst Cover Letter Sample
Cyber Security Engineer Cover Letter Sample
Android Developer Cover Letter Sample
Computer Scientist Cover Letter Sample
Front End Engineer Cover Letter Sample
Front End Web Developer Cover Letter Sample
Full Stack Developer Cover Letter Sample
CTO & Founder Cover Letter Sample
CTO & Co-Founder Cover Letter Sample
Dear [Hiring Manager],
I am writing to apply for the Cyber Security Analyst position at [Company Name]. I have the technical and analytical skills necessary to take on this role and exceed your expectations.
I have a Bachelor's degree in Computer Science and a Master's degree in Information Security, both from [University Name]. I have worked for [Company 1] and [Company 2] as a Cyber Security Analyst for the past 5 years, where I have gained extensive experience in the field. I have also been certified in [Certifications].
I am highly knowledgeable of the technologies, processes, and protocols that relate to cyber security, and I am confident that my skills and experience make me an ideal candidate for this position. My technical knowledge includes:
Advanced knowledge of cyber security tools and protocols, such as firewalls, intrusion detection systems, antivirus software, and encryption technologies.
Expertise in network security management and implementation.
In-depth understanding of cyber security policies, best practices, and procedures.
Strong ability to identify and mitigate security threats and vulnerabilities.
Experience with incident response and risk management.
In addition to my technical skills, I am an excellent communicator, both orally and in writing. I have a proven ability to explain complex technical concepts to non-technical colleagues, and I am comfortable working with stakeholders at all levels. I also have the organizational skills necessary to manage multiple tasks and projects, and I am highly motivated to exceed expectations.
I am confident that I am the right person for the job. Please contact me at your earliest convenience so that we can discuss my qualifications in more detail. I look forward to hearing from you.
Sincerely, [Your Name]
Why Do you Need a Cyber Security Analyst Cover Letter?
It is essential to have a Cyber Security Analyst cover letter for a variety of reasons:
To demonstrate your understanding of the Cyber Security Analyst role and its requirements.
To highlight your relevant experience, technical skills, and qualifications.
To express your enthusiasm and commitment to the role.
To explain why you are the ideal candidate for the job.
To make an impression on the employer and stand out from other applicants.
To provide a direct link to your CV and other relevant materials.
A Few Important Rules To Keep In Mind
Start your cover letter with a strong opening statement that explains why you are the ideal candidate for the position.
Include specific details about your experience and qualifications that make you the best choice for the job.
Be sure to focus on the skills and qualifications that the employer is looking for in a Cyber Security Analyst.
Highlight any certifications or relevant coursework that you have completed.
Discuss how your past experience in a similar role has prepared you for the position.
Explain why you are passionate about cyber security and how you plan to use your skills to benefit the company.
Close your letter with a call to action, expressing your interest in the position and requesting an interview.
Double-check your cover letter for any typos or errors before submitting it.
What's The Best Structure For Cyber Security Analyst Cover Letters?
After creating an impressive Cyber Security Analyst resume , the next step is crafting a compelling cover letter to accompany your job applications. It's essential to remember that your cover letter should maintain a formal tone and follow a recommended structure. But what exactly does this structure entail, and what key elements should be included in a Cyber Security Analyst cover letter? Let's explore the guidelines and components that will make your cover letter stand out.
Key Components For Cyber Security Analyst Cover Letters:
Your contact information, including the date of writing
The recipient's details, such as the company's name and the name of the addressee
A professional greeting or salutation, like "Dear Mr. Levi,"
An attention-grabbing opening statement to captivate the reader's interest
A concise paragraph explaining why you are an excellent fit for the role
Another paragraph highlighting why the position aligns with your career goals and aspirations
A closing statement that reinforces your enthusiasm and suitability for the role
A complimentary closing, such as "Regards" or "Sincerely," followed by your name
An optional postscript (P.S.) to add a brief, impactful note or mention any additional relevant information.
Cover Letter Header
A header in a cover letter should typically include the following information:
Your Full Name: Begin with your first and last name, written in a clear and legible format.
Contact Information: Include your phone number, email address, and optionally, your mailing address. Providing multiple methods of contact ensures that the hiring manager can reach you easily.
Date: Add the date on which you are writing the cover letter. This helps establish the timeline of your application.
It's important to place the header at the top of the cover letter, aligning it to the left or center of the page. This ensures that the reader can quickly identify your contact details and know when the cover letter was written.
Cover Letter Greeting / Salutation
A greeting in a cover letter should contain the following elements:
Personalized Salutation: Address the hiring manager or the specific recipient of the cover letter by their name. If the name is not mentioned in the job posting or you are unsure about the recipient's name, it's acceptable to use a general salutation such as "Dear Hiring Manager" or "Dear [Company Name] Recruiting Team."
Professional Tone: Maintain a formal and respectful tone throughout the greeting. Avoid using overly casual language or informal expressions.
Correct Spelling and Title: Double-check the spelling of the recipient's name and ensure that you use the appropriate title (e.g., Mr., Ms., Dr., or Professor) if applicable. This shows attention to detail and professionalism.
For example, a suitable greeting could be "Dear Ms. Johnson," or "Dear Hiring Manager," depending on the information available. It's important to tailor the greeting to the specific recipient to create a personalized and professional tone for your cover letter.
Cover Letter Introduction
An introduction for a cover letter should capture the reader's attention and provide a brief overview of your background and interest in the position. Here's how an effective introduction should look:
Opening Statement: Start with a strong opening sentence that immediately grabs the reader's attention. Consider mentioning your enthusiasm for the job opportunity or any specific aspect of the company or organization that sparked your interest.
Brief Introduction: Provide a concise introduction of yourself and mention the specific position you are applying for. Include any relevant background information, such as your current role, educational background, or notable achievements that are directly related to the position.
Connection to the Company: Demonstrate your knowledge of the company or organization and establish a connection between your skills and experiences with their mission, values, or industry. Showcasing your understanding and alignment with their goals helps to emphasize your fit for the role.
Engaging Hook: Consider including a compelling sentence or two that highlights your unique selling points or key qualifications that make you stand out from other candidates. This can be a specific accomplishment, a relevant skill, or an experience that demonstrates your value as a potential employee.
Transition to the Body: Conclude the introduction by smoothly transitioning to the main body of the cover letter, where you will provide more detailed information about your qualifications, experiences, and how they align with the requirements of the position.
By following these guidelines, your cover letter introduction will make a strong first impression and set the stage for the rest of your application.
Cover Letter Body
I am writing to apply for the position of Cyber Security Analyst. With my proven success in security risk assessment, vulnerability management, and developing security policies and procedures, I am confident that I have the right qualifications for the job.
I have a strong background in the information security field with 5+ years of hands-on experience. I have a thorough understanding of cyber security best practices, industry regulations, and standards. I am adept at analyzing network traffic, identifying potential threats, and developing countermeasures. I also have experience in developing security policies and procedures, and providing training to employees on the importance of information security.
I have a deep understanding of network security principles and methods to identify and investigate security threats. I have extensive knowledge of security tools and technologies, such as firewalls, intrusion detection systems, and antivirus software. I am also proficient in using security auditing tools to evaluate the effectiveness of existing security measures.
In my current role, I am responsible for implementing and monitoring network security measures and responding to security incidents. I work closely with IT teams, system administrators, and other stakeholders to ensure the security of corporate networks and systems. I am also responsible for developing and presenting security reports to senior management.
I am confident that I can bring my experience and expertise to the position of Cyber Security Analyst. I am highly motivated and eager to contribute to the success of your organization. I appreciate your time and consideration for this position.
Complimentary Close
The conclusion and signature of a cover letter provide a final opportunity to leave a positive impression and invite further action. Here's how the conclusion and signature of a cover letter should look:
Summary of Interest: In the conclusion paragraph, summarize your interest in the position and reiterate your enthusiasm for the opportunity to contribute to the organization or school. Emphasize the value you can bring to the role and briefly mention your key qualifications or unique selling points.
Appreciation and Gratitude: Express appreciation for the reader's time and consideration in reviewing your application. Thank them for the opportunity to be considered for the position and acknowledge any additional materials or documents you have included, such as references or a portfolio.
Call to Action: Conclude the cover letter with a clear call to action. Indicate your availability for an interview or express your interest in discussing the opportunity further. Encourage the reader to contact you to schedule a meeting or provide any additional information they may require.
Complimentary Closing: Choose a professional and appropriate complimentary closing to end your cover letter, such as "Sincerely," "Best Regards," or "Thank you." Ensure the closing reflects the overall tone and formality of the letter.
Signature: Below the complimentary closing, leave space for your handwritten signature. Sign your name in ink using a legible and professional style. If you are submitting a digital or typed cover letter, you can simply type your full name.
Typed Name: Beneath your signature, type your full name in a clear and readable font. This allows for easy identification and ensures clarity in case the handwritten signature is not clear.
Common Mistakes to Avoid When Writing a Cyber Security Analyst Cover Letter
When crafting a cover letter, it's essential to present yourself in the best possible light to potential employers. However, there are common mistakes that can hinder your chances of making a strong impression. By being aware of these pitfalls and avoiding them, you can ensure that your cover letter effectively highlights your qualifications and stands out from the competition. In this article, we will explore some of the most common mistakes to avoid when writing a cover letter, providing you with valuable insights and practical tips to help you create a compelling and impactful introduction that captures the attention of hiring managers. Whether you're a seasoned professional or just starting your career journey, understanding these mistakes will greatly enhance your chances of success in the job application process. So, let's dive in and discover how to steer clear of these common missteps and create a standout cover letter that gets you noticed by potential employers.
Not including a professional summary.
Including irrelevant information.
Using too much technical jargon.
Not aligning your skills with the job description.
Not mentioning any certifications or qualifications.
Using a generic template.
Not using keywords from the job description.
Not proofreading for errors and typos.
Not following the correct formatting guidelines.
Not customizing the letter for the specific position.
Key Takeaways For a Cyber Security Analyst Cover Letter
Ensure that all computer systems and networks are secure from possible cyber threats.
Identify security vulnerabilities and implement solutions to fix them.
Develop and maintain security standards, policies, and procedures.
Monitor and analyze system and network activities for suspicious activities.
Install and configure security systems, such as firewalls, antivirus, and intrusion detection systems.
Perform regular security assessments and audits.
Provide technical support to users regarding security issues.
Stay up-to-date with the latest security technologies, trends, and best practices.
Privacy preference center
We care about your privacy
When you visit our website, we will use cookies to make sure you enjoy your stay. We respect your privacy and we'll never share your resumes and cover letters with recruiters or job sites. On the other hand, we're using several third party tools to help us run our website with all its functionality.
But what exactly are cookies? Cookies are small bits of information which get stored on your computer. This information usually isn't enough to directly identify you, but it allows us to deliver a page tailored to your particular needs and preferences.
Because we really care about your right to privacy, we give you a lot of control over which cookies we use in your sessions. Click on the different category headings on the left to find out more, and change our default settings.
However, remember that blocking some types of cookies may impact your experience of our website. Finally, note that we'll need to use a cookie to remember your cookie preferences.
Without these cookies our website wouldn't function and they cannot be switched off. We need them to provide services that you've asked for.
Want an example? We use these cookies when you sign in to Kickresume. We also use them to remember things you've already done, like text you've entered into a registration form so it'll be there when you go back to the page in the same session.
Thanks to these cookies, we can count visits and traffic sources to our pages. This allows us to measure and improve the performance of our website and provide you with content you'll find interesting.
Performance cookies let us see which pages are the most and least popular, and how you and other visitors move around the site.
All information these cookies collect is aggregated (it's a statistic) and therefore completely anonymous. If you don't let us use these cookies, you'll leave us in the dark a bit, as we won't be able to give you the content you may like.
We use these cookies to uniquely identify your browser and internet device. Thanks to them, we and our partners can build a profile of your interests, and target you with discounts to our service and specialized content.
On the other hand, these cookies allow some companies target you with advertising on other sites. This is to provide you with advertising that you might find interesting, rather than with a series of irrelevant ads you don't care about.
IT Security Specialist Cover Letter Sample
Boost your chances of getting hired & find ideas for your cover letter with our free, carefully composed IT Security Specialist cover letter sample. Use this cover letter sample for free or rewrite it directly in our sleek cover letter maker.
Related resume guides and samples
Back End Developer Resume: 8 Strategies For Writing One (+Resume Samples)
A quick guide to writing a front end developer resume
How to craft a great tester resume
How to write a compelling UX/UI resume?
How to write a job-winning web developer resume
IT Security Specialist Cover Letter Sample (Full Text Version)
Emile Thimmesch
Dear Recruiters,
I am writing to you regarding your company's opening for the IT Security Specialist job in Toronto, ON. I was very excited to find out that you are seeking to fulfill this position as I believe that I am not only a perfect candidate but also that it would an exceptional opportunity for me to apply my previous experience and expertise and further grow both personally and professionally.
Having worked as an IT Security Specialist at BCG Digital Ventures, Inc. for over three years, I am adept at all aspects of the job. Besides monitoring the company's networks and working on the development and implementation of new security measures, policies, and procedures, I am mainly responsible for:
Identifying and investigating any breaches, configuring and maintaining various hardware and software, and performing professional penetration testing.
Installing and updating firewalls and antivirus software, preventing unauthorized access, and evaluating potential security risks.
Completing technical reports, training and supervising IT Interns, and executing multiple clerical tasks as assigned.
For constantly performing excellent work and exceeding all goals and objectives, I won the Employee of the Month Award once. I am a detail and accuracy-oriented professional with well-developed analytical and research skills and the important ability to work both independently and in fast-paced and deadline-driven team environments.
Next, I am a holder of a bachelor's degree in Computer Science and Information Systems from the Stony Brook University which serves as an excellent evidence of my field knowledge. Moreover, I am a Certified Information Security Technologist offering the experience with multiple software programs necessary for the role, for instance, Netsparker, Acunetix, Core Impact, and Probely. Finally, I am a native French speaker with a proficiency in English and a basic knowledge of Chinese.
Thank you for your time and consideration.
Kind regards,
Milan Šaržík, CPRW
Milan's work-life has been centered around job search for the past three years. He is a Certified Professional Résumé Writer (CPRW™) as well as an active member of the Professional Association of Résumé Writers & Careers Coaches (PARWCC™). Milan holds a record for creating the most career document samples for our help center – until today, he has written more than 500 resumes and cover letters for positions across various industries. On top of that, Milan has completed studies at multiple well-known institutions, including Harvard University, University of Glasgow, and Frankfurt School of Finance and Management.
Edit this sample using our resume builder.
Don't struggle with your cover letter. artificial intelligence can write it for you..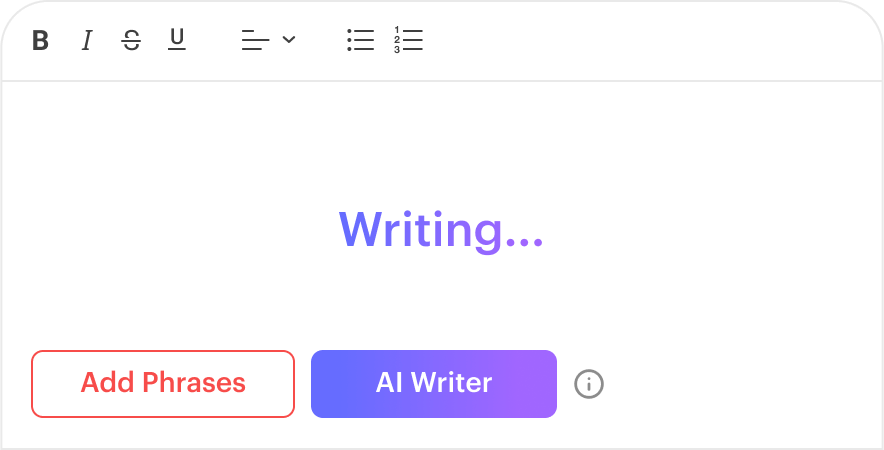 Similar job positions
Back-End Developer / Engineer Programmer Front-End Developer / Engineer Game Designer Network Engineer IT Support Officer UX-UI Database Administrator Information Security Analyst Web Developer Software Tester
Related IT resume samples
Related network engineer cover letter samples
Let your resume do the work.
Join 3,600,000 job seekers worldwide and get hired faster with your best resume yet.

Information Systems Security Officer Cover Letter Examples & Writing Tips
Use these Information Systems Security Officer cover letter examples and writing tips to help you write a powerful cover letter that will separate you from the competition.

Table Of Contents
Information Systems Security Officer Example 1
Information Systems Security Officer Example 2
Information Systems Security Officer Example 3
Cover Letter Writing Tips
Information systems security officers (ISSOs) are responsible for ensuring the security of an organization's computer systems and data. They work with other members of the IT department to develop and implement security policies and procedures.
ISSOs need to be detail-oriented and have a strong understanding of computer security principles. They also need to be able to communicate effectively with other members of the organization.
When you're applying for an ISSO position, you need to make sure your cover letter highlights your skills and experience. Use these examples and tips to write a cover letter that will make hiring managers want to meet you in person.
Information Systems Security Officer Cover Letter Example 1
I am excited to be applying for the Information Systems Security Officer position at Topdown Security. I have more than 10 years of experience in the information technology field, and I possess the skills and qualifications you are looking for in this role. I am motivated to join an organization where I can contribute my unique skills and grow as an information security professional.
I have a proven track record of success in information security. I have successfully implemented and managed a variety of information security programs, including risk management, incident response, and data loss prevention. I have also developed and delivered information security training to employees at all levels. I am confident that I have the skills and experience to make a significant contribution to Topdown Security's information security program.
I am intrigued by the opportunity to join an organization like Topdown Security, which is a leader in the information security field. I am committed to continuing to grow as an information security professional, and I am confident that I have the skills and experience to make a significant contribution to Topdown Security's information security program.
Thank you for your time and consideration. I look forward to learning more details about the Information Systems Security Officer role at Topdown Security. I am confident that I have the skills and experience to make a significant contribution to Topdown Security's information security program.
Information Systems Security Officer Cover Letter Example 2
I am writing in regards to the Information Systems Security Officer opening that I saw on your website. I am confident that I have the skills and qualifications that you are looking for.
For the past three years, I have been working as an Information Systems Security Officer for a major tech company. In this role, I have been responsible for implementing and managing the company's security protocols. I have also been in charge of conducting security audits and vulnerability assessments.
I have a proven track record of success in this field, and I am confident that I can deliver the same results for your company. I have a deep understanding of the latest security threats and how to mitigate them. I am also an expert in the latest security technologies and tools.
I am confident that I can be a valuable asset to your company, and I look forward to the opportunity to discuss this further with you. Thank you for your time and consideration.
Information Systems Security Officer Cover Letter Example 3
I am writing to express my interest in the ISSO position that you have posted. I believe that my experience and education make me a strong candidate for this position.
I have been working in the IT field for over 10 years, with most of my experience being in the Information Security arena. I have worked in both the public and private sectors, and have held positions ranging from junior analyst to senior manager. My experience has given me a wide range of skills, including but not limited to: security policy development, risk assessment, incident response, vulnerability management, penetration testing, audit preparation and review, security awareness training, and security program management.
My current position as an Information Security Analyst at Acme Corporation affords me the opportunity to work on a variety of projects each year. One of my primary responsibilities is to develop and maintain security policies for our company's information systems. I also perform vulnerability assessments on our systems and conduct penetration tests to identify potential weaknesses in our security posture. Additionally, I am responsible for managing our company's security awareness program.
I am confident that my experience and education will allow me to be successful in this position. I would appreciate the opportunity to meet with you to discuss how my qualifications can best be utilized by your organization.
Information Systems Security Officer Cover Letter Writing Tips
1. highlight your experience.
When applying for an information systems security officer role, it's important to highlight your experience in the field. This can be done by providing specific examples of your past work experiences, as well as the skills and knowledge you have acquired over the years.
Some ways you can do this include:
Describing how you protected an organization's computer networks from unauthorized access or attacks.
Outlining the steps you took to investigate and resolve security incidents.
Detailing how you implemented security measures to protect data from being accessed, stolen, or destroyed.
2. Customize your cover letter
Just as you would for any other job application, customize your cover letter to match the specific information systems security officer role you're applying for. Highlight your skills and experience that are the best match for the position, and make sure to mention how you can help the company achieve their security goals.
3. Show your commitment to the field
In your cover letter, it's important to show hiring managers that you're committed to a career in information systems security. One way to do this is by explaining your long-term career goals and how this position will help you reach them. You can also talk about your passion for the field and how you stay up-to-date on the latest security trends.
4. Proofread your cover letter
Just like with any other job application, proofread your cover letter for mistakes in spelling, grammar, and sentence structure. This is your chance to make a good first impression, so make sure everything is perfect before submitting your application.
Revenue Management Analyst Cover Letter Examples & Writing Tips
Client service executive cover letter examples & writing tips, you may also be interested in..., breakfast attendant cover letter examples & writing tips, lobbyist cover letter examples & writing tips, school resource officer cover letter examples, assistant coordinator cover letter examples & writing tips.
Cyber Security Analyst Cover Letter Example
Want to use this letter?
City, State, Zip Code
Home : 000-000-0000 Cell: 000-000-0000
Dear Mr. Saunders,
I am writing to apply for the Cyber Security Analyst position with CyberTech LLC. I am a digital securities professional with three years of experience in the field and an Associate's degree in Computer Forensics. In my current role of Cyber Security Analyst for Carmichael Labs I analyze data and documents for inconsistencies that may indicate various types of fraud.
I am detail driven with an eye for spotting errors. My analytical skills are sharp and I am able to solve complex problems. I possess excellent time management skills and am able to meet deadlines for multiple projects. I am very knowledgeable in the use of computers and programs geared toward digital security. I am often the go-to person on staff for assistance with repairing glitches and understanding errors. I would love the opportunity to be your company's go-to person as your next Cyber Security Analyst.
I am quite certain you will find my expertise and talents to be what you are looking for in a Cyber Security Analyst. Please be in touch at your convenience to schedule an interview. I look forward to meeting you and thank you in advance for your time and consideration.
Isla Cisneros
There are plenty of opportunities to land a position, but it won't just be handed to you. Crafting a cover letter that catches the attention of hiring managers is paramount to getting the job, and LiveCareer is here to help you stand out from the competition.
View All Cover Letter Samples
Ready to build a strong cover letter?
Create My Cover Letter
*As seen in :