13 Guaranteed Methods for Becoming a Better Writer -- Fast
Published: October 03, 2018
Communication skills are more important than ever, but what if your grammar doesn't quite make the grade?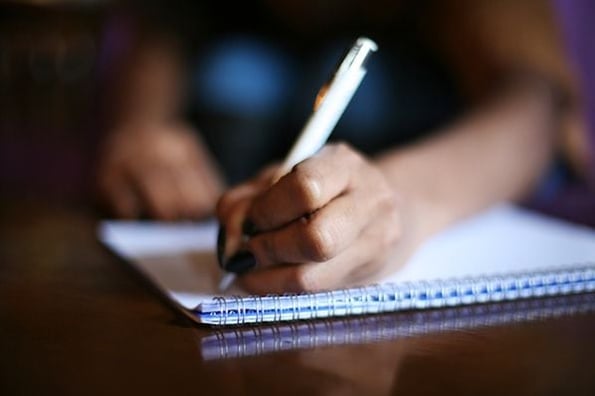 Fifty years ago, you would've walked over to your coworker's desk or called up to the second floor to ask a question. Now, whether your coworkers are in the next cube or half a world away, it's standard practice to email, instant message, or text them.
This shift in basic communication has made writing skills crucial to being listened to.
An increasing number of employees are "working with people they have never met and communicating with them largely through email," Will Ellet, adjunct professor of writing at Brandeis International Business School, told CNBC .
No matter what format your written communication takes, it needs to be clear and concise. Misunderstandings can lead to costly mistakes. Given that the average professional sends and receives more than100 emails a day , no one has time to read rambling messages that don't get to the point quickly.
We could all use a little refresher on our business writing skills . And thanks to a wealth of free classes and resources online, we can improve our grammar and writing from the comfort of our own desk chairs -- without spending a dime.
To get you started, we've put together a list of tips for quickly improving your written communication skills. Check 'em out. (And if you're looking for more, here's an excellent list of helpful websites and tools that address common grammar questions and errors.)
How to Become a Better Writer
Develop a daily writing habit.
Try to read every day.
Capitalize when you're supposed to.
Avoid using exclamation points.
Always think about your audience.
Cut the filler phrases and buzzwords.
Sign up for a free writing course online.
Use writing templates.
Make sure you address people correctly.
Study commonly misused words and phrases.
Drop the word 'very' from your vocabulary.
Read your writing out loud.
Ask for feedback from your peers.
1. Develop a daily writing habit.
Practice makes perfect, so set aside just 10 or 15 minutes each day to free-write. Free writing is a healthy daily habit that allows you to get your thoughts down on paper (or computer) without worrying about outlining or proofreading your ideas. Think of it like a journal, but focus your daily entry on personal growth or a subject in which you want to become -- or be seen as -- an expert.
Once you've finished writing every day, you can then use a tool like Grammarly to help spot mistakes and remember them for the next day.
2. Try to read every day.
In addition to writing each day, a daily reading habit is also crucial to increasing your vocabulary and expanding your writing repertoire.
Be selective about your reading choices, though. While reading in general does help you take on new points of view, the content you're reading can have the biggest impact on what you get out of it. According to a study by the University of Florida , reading academic journals and literary fiction can actually make you capable of more complex writing projects than reading simple, curated, or pop-culture web content.
So, pack a novel alongside your lunch or peruse a magazine. Even industry blogs can be a great source of quality writing (if we do say so ourselves).
3. Capitalize when you're supposed to.
Notice how the University of Florida published that study referenced in the previous tip. And notice how the "University of Florida" is capitalized.
It might seem pedantic to school you on basic rules of grammar, but it's not always clear what deserves to be capitalized and what doesn't. Here are two types of writing you should always examine closely when uppercasing your words:
Proper nouns. If it's an official name of a person, city, company, product, book, publication, country, continent, government job title, or school (we're likely missing some on this list), capitalize it. These words refer to specific people, places, or things, and should be capitalized to reflect it.
Title case. Whenever you're titling a new story, book, article, or even a new section of an article, you'll need capitalizations to distinguish it. This means email subject lines, blog post headlines, and even report titles should be capitalized. Check out the Associated Press Stylebook to learn a popular way of doing so.
4. Avoid using exclamation points.
Often, we rely on exclamation points too heavily as a crutch.
"Don't ask punctuation to do a word's job," warns Beth Dunn , chief writer and editor on HubSpot's product team. "It dilutes your message." Instead, she suggests working on making our words convey more precisely what you want to say. When in doubt about whether to use an exclamation point, consult this flowchart .
5. Always think about your audience.
You can be casual with your coworkers and peers, but when communicating with management or clients, it's a good idea to write using more formal grammar.
Keep in mind that "formal" doesn't necessarily mean stilted or old-fashioned. Rather, it asks that you use contractions sparingly ("it is" instead of "it's"), pick your greeting words carefully ("hello" and "hi" are more formal than "hey"), and choose your humor wisely.
It's much harder to convey tone in the form of words than it is in person -- the types of formality described above are how you can compensate for this and ensure your audience doesn't feel disrespected.
6. Cut the filler phrases and buzzwords.
Wordy phrases such as "due to the fact that" should be swapped out for their simpler, more straightforward synonyms. (In this case, "because" gets the job done.)
Some buzzwords may be trendy, but that doesn't necessarily mean they're effective in communicating ideas clearly. Remove them from your business communication unless you're sure that everyone understands exactly what "synergy" means.
7. Sign up for a free writing course online.
You'd be surprised what you can learn from a free online writing course. Massively open online courses (MOOCs) are only multiplying, and you can find free courses offered by Coursera , Udemy , and edX , as well as universities such as Harvard, Stanford, and MIT.
8. Use writing templates.
Templates can save you some serious time and effort. If you have to send out similar letters or memos on a regular basis, create a template with customizable fields. You can always personalize your communication with a sentence or two.
Here are 78 free content creation templates for ebooks, press releases, SlideShares, infographics, and more to help you get started.
9. Make sure you address people correctly.
Avoid accidentally insulting someone by triple-checking names, gender, personal pronouns, and titles.
Dustin Wax of Lifehack writes , "If you're not positive about the spelling of someone's name, their job title (and what it means), or their gender, either a) check with someone who does know (like their assistant), or b) in the case of gender, use gender-neutral language."
10. Study commonly misused words and phrases.
And never get them wrong.
It is "peek," "peak," or "pique"? Which one is correct: "first-come, first-served" or "first-come, first-serve"? There are a lot of commonly misused words and phrases out there that you should know.
For example, what's the difference between "that" and "which"? In short, "that" introduces essential information, meaning the stuff that would turn your sentence into nonsense if you took it out. It does not get a comma. On the other hand, "which" introduces non-essential information and is preceded by a comma. (For an in-depth explanation, read this post from Grammar Girl .)
When in doubt, do a quick Google search. It's worth it.
11. Drop the word 'very' from your vocabulary.
Florence King once wrote , "'Very' is the most useless word in the English language and can always come out. More than useless, it is treacherous because it invariably weakens what it is intended to strengthen."
You'd be amazed at the difference removing the word "very" makes in your writing. Here are a few examples:
The software was built by a very passionate group of engineers.
I'm very excited to get started on our next project.
The data that the marketing team received was very indicative of the website traffic from last month.
In all three sentences above, "very" dilutes the strength of the word that comes after it. Now read each sentence without "very." Don't they sound so much better?
If you want your writing to speak volumes to your audience, don't add "very" -- add a better adjective. Once you attach "very" to it, you're giving the adjective a grade that it doesn't need.
12. Read your writing out loud.
Before you send anything important, read through it out loud quickly. It may seem a little strange, but reading your writing out loud is one of the most effective ways to catch typos, grammar errors, and awkward phrasing.
13. Ask for feedback from your peers.
This is perhaps the most important tip of all for becoming a better writer. If you read your own writing enough times, it suddenly becomes just a wall of words, playing in your head with no real meaning. The best way to find out how your writing will hit the ears of your readers is to have someone else read it.
Getting your peers and colleagues to provide you with feedback on your writing gives you a window into how other people -- who all have different experiences and ways of interpreting things -- perceive your ideas. For example, a paragraph you thought was crystal clear might totally confuse your direct coworker. The more often you take this criticism, the more capable you'll be to reinforce your voice and identify with your audience.
These self-paced, self-study tips will help you improve your writing and communication skills in no time.
Don't forget to share this post!
Related articles.
How to Write a Memo [Template & Examples]
9 Simple Ways to Write a Good Introduction Sentence
Comma Rules for Clear Writing (with Examples)
How to Write an Introduction: A Simplified Guide
How to Become a (Better) Editor: 13 Editorial Tips
How Long Should Blog Posts Be in 2021? [New Data]
How to Improve Your Writing Skills and Escape Content Mediocrity (Infographic)
How The Flesch Reading Ease Test Can Help You Write Clear and Concise Copy
HubSpot's Guide to Becoming a Better Writer
Outline your company's marketing strategy in one simple, coherent plan.
PRO Courses Guides New Tech Help Pro Expert Videos About wikiHow Pro Upgrade Sign In
EDIT Edit this Article
EXPLORE Tech Help Pro About Us Random Article Quizzes Request a New Article Community Dashboard This Or That Game Popular Categories Arts and Entertainment Artwork Books Movies Computers and Electronics Computers Phone Skills Technology Hacks Health Men's Health Mental Health Women's Health Relationships Dating Love Relationship Issues Hobbies and Crafts Crafts Drawing Games Education & Communication Communication Skills Personal Development Studying Personal Care and Style Fashion Hair Care Personal Hygiene Youth Personal Care School Stuff Dating All Categories Arts and Entertainment Finance and Business Home and Garden Relationship Quizzes Cars & Other Vehicles Food and Entertaining Personal Care and Style Sports and Fitness Computers and Electronics Health Pets and Animals Travel Education & Communication Hobbies and Crafts Philosophy and Religion Work World Family Life Holidays and Traditions Relationships Youth
Browse Articles
Learn Something New
Quizzes Hot
This Or That Game New
Train Your Brain
Explore More
Support wikiHow
About wikiHow
Log in / Sign up
Education and Communications
Writing Techniques
Improving Your Writing
How to Be a Good Writer
Last Updated: November 1, 2022 Fact Checked
This article was co-authored by Christopher Taylor, PhD . Christopher Taylor is an Adjunct Assistant Professor of English at Austin Community College in Texas. He received his PhD in English Literature and Medieval Studies from the University of Texas at Austin in 2014. There are 18 references cited in this article, which can be found at the bottom of the page. This article has been fact-checked, ensuring the accuracy of any cited facts and confirming the authority of its sources. This article has been viewed 1,180,084 times.
Want to become a good writer? Just like any other skill, writing takes time and practice to improve. You'll need to write often, keeping a daily writing habit. Writers are infamous for their self-doubt, whether they're world-renowned or just getting started. With persistence and hard work, you can become a good writer!
Writing Help
Writing Great Sentences and Paragraphs
"Existentialism became powerful because, unlike earlier, more theoretical philosophies, it is grounded and practical."
"Who knows how long the US would have had to fight in the Pacific without the bomb."
"Tired of aimless wandering, Dave sat on a dusty boulder to rest. He opened his canteen, but there were only a few drops left. Tired and thirsty, his mind drifted to his past."
Christopher Taylor, Adjunct Assistant Professor of English, tells us: "You can improve your writing skills by reading a lot, reviewing grammar rules, and practicing your craft. Most importantly, aim to write simple clear sentences that make your point directly. "
I felt tired → "My arms and muscles trembled, and my eyelids fluttered shut no matter how hard I tried to stay awake."
Gina is a nice woman. → "Gina was the kind of woman who baked you a plate of cookies (hot, gooey, smelling like home), just because you said you had a rough day."
To him, the city was terrible. → "He couldn't stand the city - the endless lights, the clatter of cars and pavement, the way all eyes turned downward when you looked at them as if you were the ugliest man in Manhattan and not just another stranger."
"In many ways he was like America itself, big and strong, full of good intentions, a roll of fat jiggling at his belly, slow of foot but always plodding along, always there when you needed him, a believer in the virtues of simplicity and directness and hard labor" ( The Things They Carried, Tim O'Brien).
"Like the waters of the river, like the motorists on the highway, and like the yellow trains streaking down the Santa Fe tracks, drama, in the shape of exceptional happenings, had never stopped there" ( In Cold Blood, Truman Capote).
"Many years later, as he faced the firing squad, Colonel Aureliano Buendia was to remember that distant afternoon when his father took him to discover ice" ( One-Hundred Years of Solitude, Gabriel Garcia Marquez).
"For poems are like rainbows; they escape you quickly" ( The Big Sea, Langston Hughes).
"Jaime was really sorry, and ran quickly over to his friend's house just to apologize."
"What's up?" She asked, happily. "Nothing much," he answered tiredly. She picked her face absently and said, "I wanted to talk about something." "I don't have time," he responded curtly.
Ernest Hemingway was the master of economy. It is hard to find an extra paragraph or scene in any of his short stories or books.
Great journalism is a good way to see how each smaller part pushes the story forward. Read your favorite newspaper, but stop after every paragraph -- what did it accomplish?
Though not strictly a paragraph, Shakespearean monologues are a masterclass in growth and power in a short span. Listen to Hamlet's famous first monologue -- note how different he is in beginning and end.
Practicing Your Writing
When you're a beginner writer, it's best to establish a set time to write each day so you can get in the habit. As you become accustomed to writing every day, you might vary your writing schedule according to your needs.
If you can't find room in your schedule, try getting up early or going to bed late, even if you can only spare fifteen minutes.
It's wise to set writing goals early when starting a new piece and try your best to stick to them.
Look online, in bookstores, or in libraries for collections of writing prompts. These are designed to give you a starting point to work from, and are often ridiculous to spark your imagination and get you started.
If your writing projects or your narrators all sound similar, try a different style. Imitate another author, or combine the styles of two authors.
If most of your writing is for a blog, or for one long project, take a break from it. Think of a topic that could never fit into your usual writing project, and write about it. (For a followup challenge, rewrite the piece so it could fit into your project.)
Look for online communities such as Scribophile or WritersCafe, or search for a more niche community on a specific type of writing.
Check your local library and community centers for information on local writing clubs.
You could even practice writing on a wiki, such as wikiHow or Wikipedia. This lets you help people as you practice, and might be one of the largest communal writing projects you ever undertake.
Scrapping a beloved passage and starting again can be incredibly tough, so much so that writers have been phrasing this advice as "murder your darlings" for over a century. [8] X Research source
Learning Vital Skills
As you read, pay attention to how the writer constructs their sentences and paragraphs, particularly in sections you really like. Additionally, observe how they craft their opening line, as well as the openings and closings of each chapter.
If you're not sure what to read, ask for recommendations from friends, or visit a library and pick a couple books from each section.
Dictionary definitions often don't provide an intuitive sense of how to use a word. Search for the word online and read it in context to get a better understanding.
Learn how to write without informal grammar if you are not used to formal, written English.
If you have a question about grammar, refer to a grammar book, such as The American Heritage Book of English Usage or Strunk and White's The Elements of Style .
You can learn how to do this by reading good examples by established writers. Pay attention to how they use the specific register, format, and purpose of that type of writing so you can do it yourself.
Completing a Writing Project, from Start to Finish
You may prefer to keep your ideas in a digital file, such as a Word document or Google Doc. This makes it easier to develop your ideas or insert them into other documents. If you use Google Docs, you can also access your work from several devices.
You may use this notebook or file to collect unfamiliar words as well.
There are many types of organizational software for writers, such as Scrivener or TheSage. You could also use a simple Word document or Google Docs. With Google Docs, you can access your writing from any device.
It's fine to deviate from your plan, but if you abandon it entirely, stop and consider the reasons behind the chance. Build a new plan to guide you through the altered work, and keep you thinking consciously about how you want to get through it.
In the case of fiction writing, you may be able to dive in to the first draft before you start your research.
Give yourself time between writing and editing, if at all possible. It is better to wait a good length of time, but even a short break can give you some of the necessary distance and detachment to edit well.
Expert Q&A
Video . By using this service, some information may be shared with YouTube.
Sometimes your first drafts are fantastic. There is a common myth that your first drafts are terrible. This may be true because you have made spelling and grammar mistakes, but may not be true with regards to your written content. Thanks Helpful 12 Not Helpful 0
Prepare yourself to receive rejection letters from publishers. Instead of being hard on yourself as a result, take them as constructive suggestions on what you can do better. Thanks Helpful 11 Not Helpful 0
If you have a good idea, give it away for free. Giving away your free ideas is what great writers do. If you only give away your mediocre or copied ideas, then you are just like every other writer on the planet. Give away your best ideas and you will become a great writer. Thanks Helpful 9 Not Helpful 0
You Might Also Like
↑ https://writingcenter.uagc.edu/writing-clearly-concisely
↑ https://www.grammarly.com/blog/specificity-in-writing/
↑ https://writingcenter.unc.edu/tips-and-tools/transitions/
↑ https://www.grammarly.com/blog/how-to-improve-writing-skills/
↑ https://writingcenter.unc.edu/tips-and-tools/getting-feedback/
↑ http://www.irishtimes.com/culture/books/kill-your-darlings-the-importance-of-editing-1.1877120
↑ http://www.slate.com/blogs/browbeat/2013/10/18/_kill_your_darlings_writing_advice_what_writer_really_said_to_murder_your.html
↑ https://greatergood.berkeley.edu/article/item/how_nature_makes_you_kinder_happier_more_creative
↑ http://www.theguardian.com/books/booksblog/2010/mar/02/best-advice-writers-read
↑ https://grammar.yourdictionary.com/for-students-and-parents/how-to-increase-your-vocabulary.html
↑ https://osuwritingcenter.okstate.edu/blog/2020/12/4/5-tips-to-improve-your-grammar
↑ https://www.plainlanguage.gov/guidelines/audience/
↑ https://www.plainlanguage.gov/guidelines/words/avoid-jargon/
↑ https://writingcenter.unc.edu/tips-and-tools/brainstorming/
↑ https://www.bbc.co.uk/teach/skillswise/planning-your-writing/z46nqp3
↑ https://writingcenter.unc.edu/tips-and-tools/editing-and-proofreading/
http://www.wordstream.com/blog/ws/2014/08/07/improve-writing-skills
http://www.writingforward.com/better-writing/writing-habits
About This Article
The best way to be a better writer is to practice writing every day. Set aside a time each day for writing, even if it's only 15 minutes. Set writing goals for each session, and stick to it. For instance, your goal might be to write 1 page a day every day for a year. If you can't think of anything to write, describe something that's in the room with you, or look up writing prompts online for ideas. After you've been writing for a few months, challenge yourself to tackle a new writing style or genre to help you improve even more. For tips from our writing reviewer on improving your grammar, read on! Did this summary help you? Yes No
Reader Success Stories
Did this article help you?
Paula Browning
Oct 11, 2018
Nishant Mishra
Apr 1, 2017
Rebecca Golden
May 8, 2020
Sep 29, 2017
Featured Articles
Trending Articles
Watch Articles
Terms of Use
Privacy Policy
Do Not Sell or Share My Info
Not Selling Info
Get all the best how-tos!
Sign up for wikiHow's weekly email newsletter
SUGGESTED TOPICS
The Magazine
Newsletters
Managing Yourself
Managing Teams
Work-life Balance
The Big Idea
Data & Visuals
Reading Lists
Case Selections
HBR Learning
Topic Feeds
Account Settings
Email Preferences
How to Become a Better Writer: Our Favorite Reads
Writing is skill that will serve you for the rest of your life.
Where your work meets your life. See more from Ascend here .
I'm obsessed with writing . Not my own writing. Other people's.
PC Paige Cohen (they/them) is a senior editor at Ascend.
Partner Center
🎉 Our next novel writing master class starts in – ! Claim your spot →
Looking to publish? Meet your dream editor on Reedsy.
Find the perfect editor for your next book
1 million authors trust the professionals on Reedsy, come meet them.
Posted on Feb 11, 2021
How to Become a Better Writer: 20 Hacks and Tips
✍️ This post was written by Kleopatra Olympiou, a writer from Cyprus and holder of an MA in Creative Writing from Durham University.
Practically speaking, writing is just about putting one word after another. But as anyone who's struggled with the question of how to become a better writer will tell you, there are sometimes entire worlds of frustration compressed in the seconds between setting each word down. If that sounds familiar, or you're simply trying to improve your craft without the existential writerly despair, we've got 20 essential tips to share with you.
In this post, we'll be sharing writing advice for everyone, but you can head to our more specific guides on starting from scratch, writing novels, nonfiction, and children's books if that's what you're after:
How to Start Creative Writing: 7 Ways to Fast-Track Your Writing
How to Write a Novel: Writing an Amazing Book in 15 Steps
How to Write a Nonfiction Book in 6 Steps  
How to Write a Children's Book in 7 Surprisingly Simple Steps  
1. Start by spending more time writing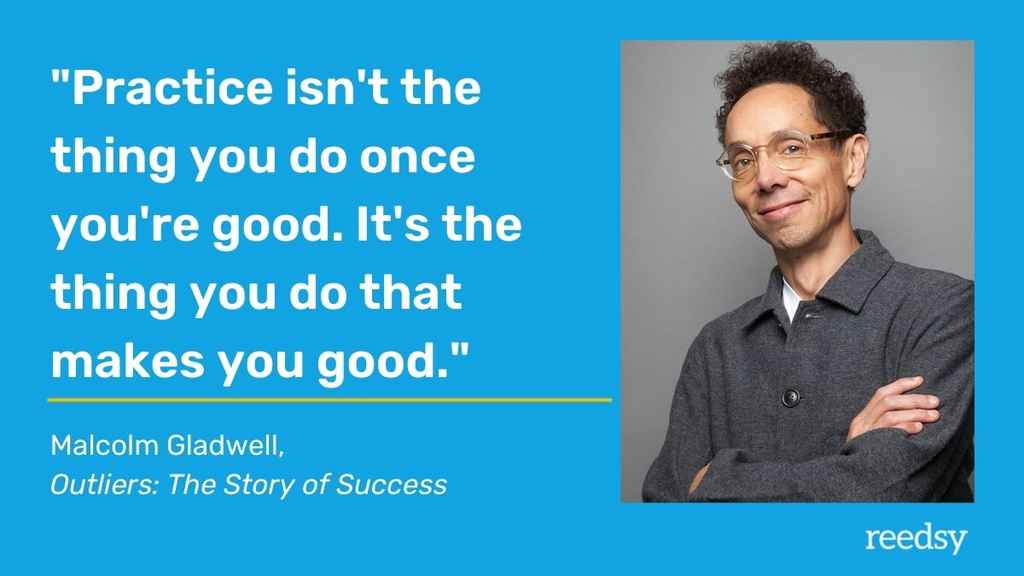 You'll get to know your own writing habits better, e.g. the time of day when you're most productive, or the location where you're most inspired to write;
You'll develop writerly discipline (an essential skill if you ever hope to write a book or another long form project); 💪
You'll work out what you really like to write, whether that's literary fiction or epic fantasy;
You'll stick around long enough for new ideas to occur to you (especially helpful if you're a pantser, not a plotter ).
2. Practice reading books by other authors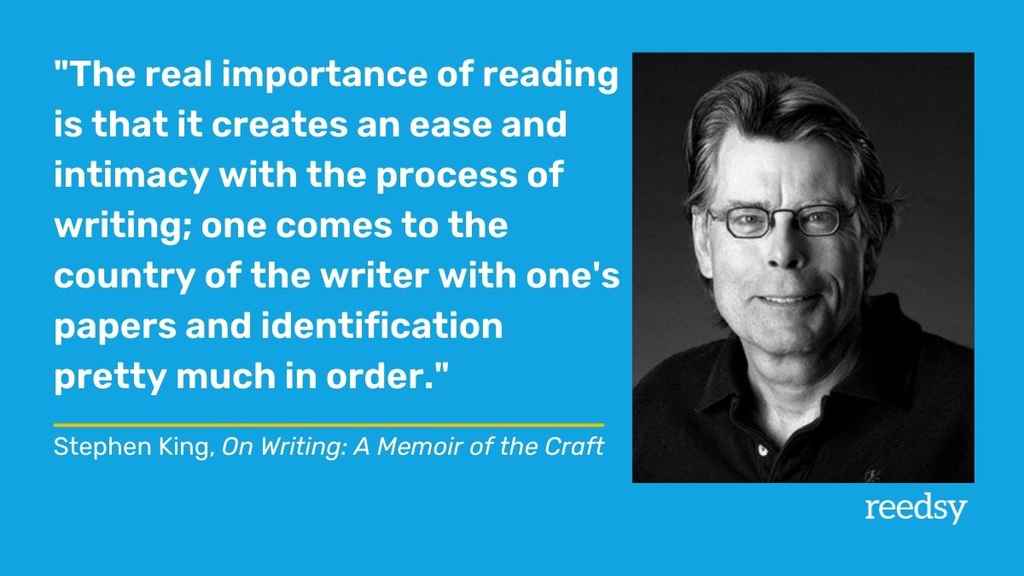 On the level of vocabulary, sentence structure, and rhythm, the "ease and intimacy" King talks about occurs subliminally, beneath the surface of your consciousness, quietly sharpening your perceptive skills. On the level of plot or structure, you actively discover the creative strategies of other writers. Now aware of what others are doing with their words, you become a native to that "country of the writer". 
Ultimately, the more wonderful things you feed your brain, the richer the pool of knowledge your creativity will be able to draw from.
📚 If you need recommendations, we've compiled reading lists for every taste here:
25 Creative Writing Examples to Inspire You Today
The 115 Best Books of All Time
The 60 Best Nonfiction Books of the 21st Century
The 125 Best Children's Books of All Time
The 30 Best Memoirs of the Last Century
The Best Short Stories and Collections Everyone Should Read
3. Pick up writing skills from other texts
Okay, enough with the subconscious magical learning — you also need to put in serious, active effort. That means taking apart passages that impress or move you and dissecting another writer's methodology. 
This will be most helpful if you focus on texts in your genre or form: read respected newspapers or magazines if you're hoping to submit to such publications, poetic collections if you long to publish poetry , academic papers by reputable academics if you're a budding scholar.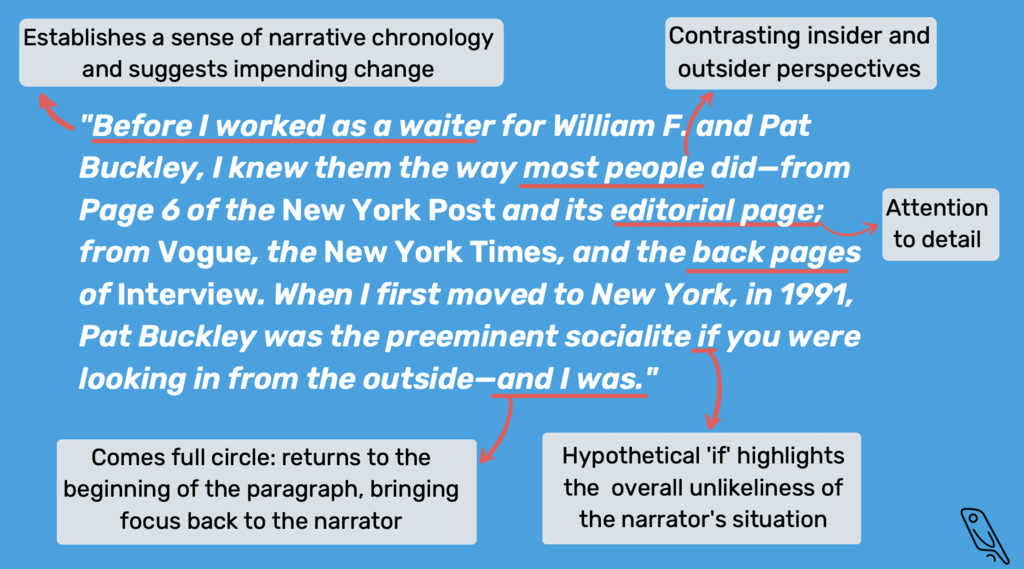 Read each sentence carefully, asking yourself how you would have gone about writing it. Notice the differences between each version: look closely at how the other writer avoids repetition and regulates sentence length, and become aware of all the words that could've gone into the sentence, but were trimmed out. If you remember the lessons you draw from this exercise, you'll be on your way to becoming a better writer. 
If you struggle to write consistently, sign up for our How to Write a Novel course to finish a novel in just 3 months.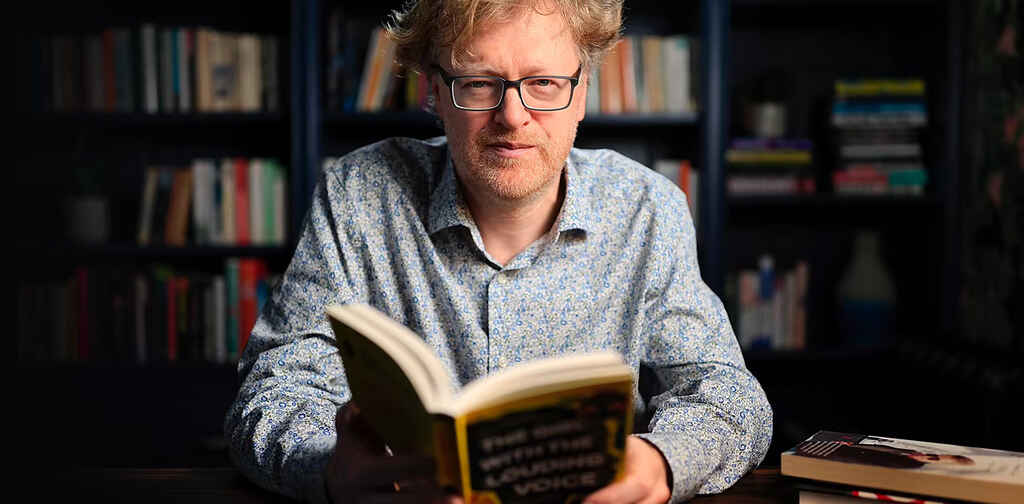 NEW REEDSY COURSE
How to Write a Novel
Enroll in our course and become an author in three months.
4. Study examples of writing theory
Time for some homework: aside from picking up other writers' tricks by reading their work, you can also study up on basic writing theories . Learning about story structure and the different models that dramatists and fiction writers rely on, like Freytag's pyramid or the classic three-act structure , is valuable for any aspiring writer. These models are guides to centuries of storytelling tradition: demonstrations of how you might apply a structure onto a story.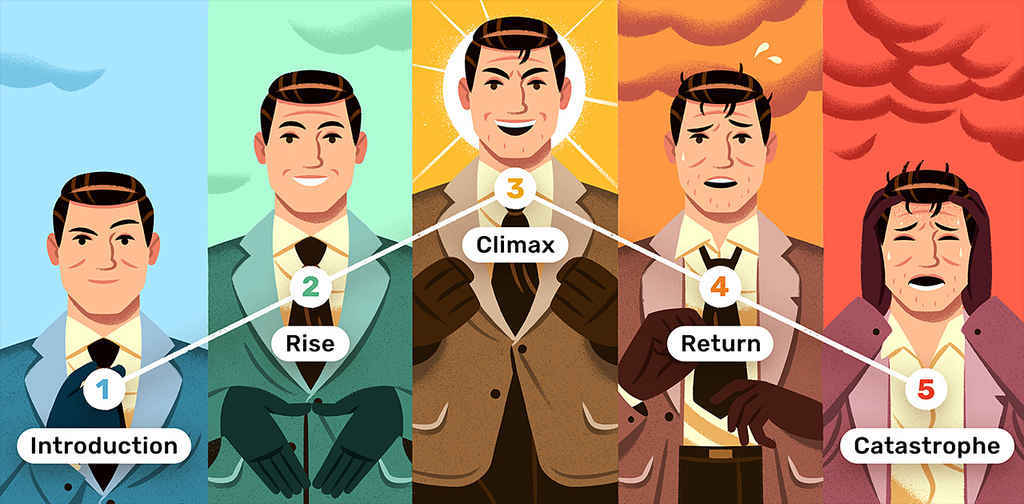 When it comes to expressing yourself, brushing up on your literary and rhetorical devices is also helpful. After all, as much as people like to pretend writing is a mystical art, divinely bestowed upon one by magical inspiration, a lot of it comes down to active effort on the writer's part.
Head to these guides to literary and rhetorical devices if you're ready for school:
💡 45+ Literary Devices and Terms Every Writer Should Know
💡 30+ Rhetorical Devices Everyone Must Know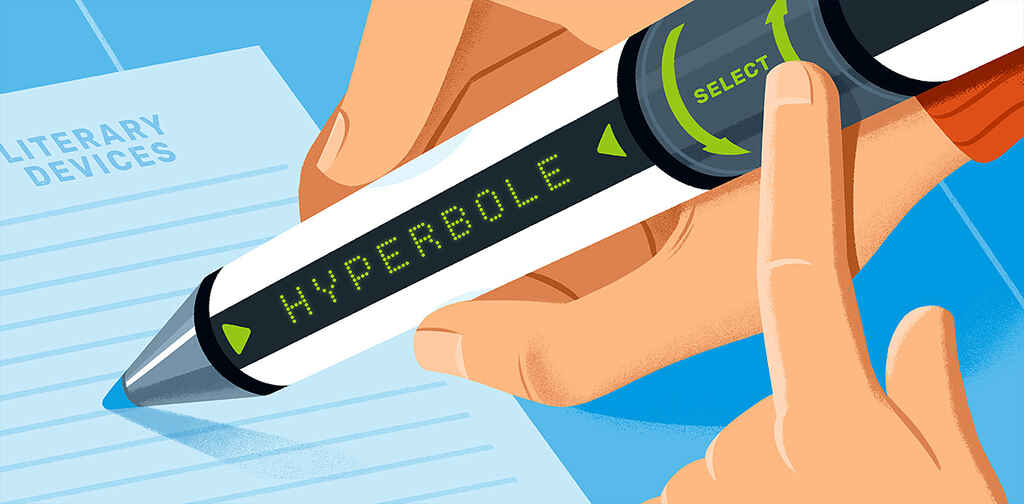 FREE RESOURCE
Literary Devices Cheatsheet
Master these 40+ devices to level up your writing skills.
5. Create your own voice
Some people's advice for learning how to write is to stick to templates. These can be wonderful if you're writing something meant to be plain, like a legal document or a freelance proposal . (If this is the case, all you need to do to become a better writer is be accurate, precise, and grammatically correct.) For everything else, by all means inform yourself about things like story structure, but never adhere to templates to the point where your personality is extinguished.
If you've got a sense of humor, interests, opinions, or possess literally any other quality unique to human beings (as opposed to bots), you can channel that personality into your writing, and lift mundane subjects up with the buoyancy of your voice.
💡 Need an example? Check out this post on the best reading chairs written by Savannah, one of Reedsy's writers. You might not have a passion for chairs, but you'll stay for the engaging tone of her writing voice. 
6. Experiment with your writing style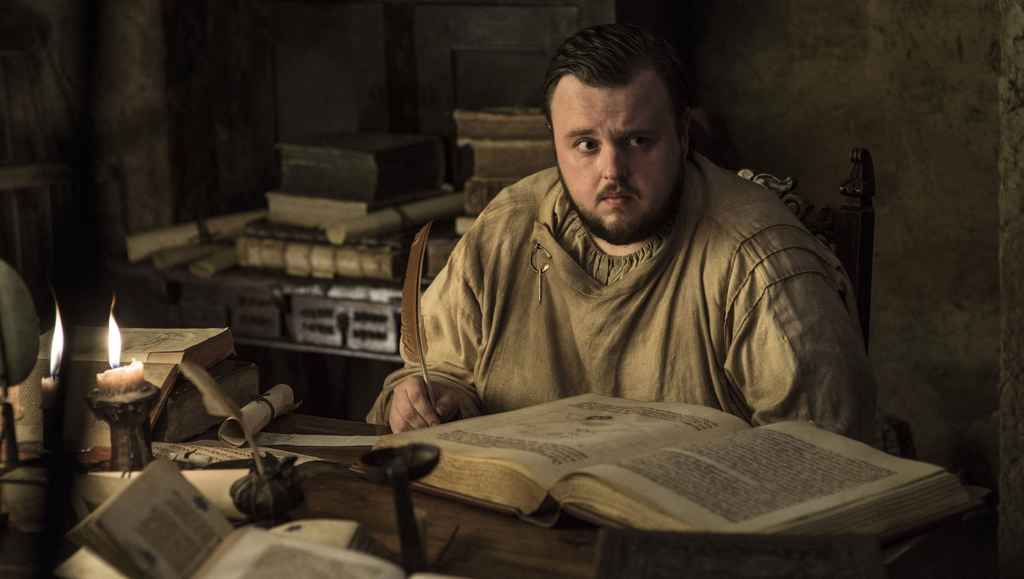 Hit a plateau? If you don't feel like you're improving, it's time to switch things up. Try writing something completely different to cleanse your palate with the literary equivalent of pickled ginger in a sushi restaurant. Experimentation seems to be working for George R.R. Martin, who has for decades been writing short stories , novellas and even reference books between instalments of his novel series A Song of Ice and Fire — evidently, switching between different forms has helped this author of epic fantasy stay inspired and motivated. 
We've got over 1,000 creative writing prompts you can browse for inspiration, as well as an interactive plot generator if you need someone to establish plot parameters for you. We know writers struggle to set themselves deadlines, so you could even join our weekly writing contest — we're happy to provide you with some external pressure, and $250 if you manage to win!
7. Outline your book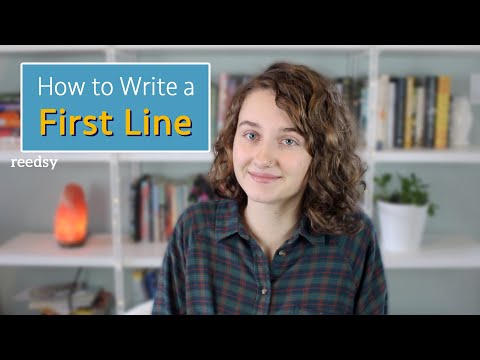 Openings and endings don't just matter in fiction. Inherent in all good writing is story: a narrative with a full-fledged arc that must start and end in places that make sense and add value to the entire text.
Writing students commonly struggle with slow or delayed story openings — where the writer takes too long to clear their throat. They can fill two or three paragraphs, several pages, or even an entire chapter before they get to something interesting. 
To sharpen your beginning, try deleting parts of it to get a feel of your work without them. You may find a later passage is more gripping to your reader — you'll then know you've found your true opening.
Endings are similarly crucial. As editor and former publisher Jasmin Kirkbride points out, "Every subplot and all the different strands of your main plot should reach satisfying, clear conclusions. If they are meant to be left ambiguously, ensure your reader knows this, and create something out of that uncertainty."
Tell us about your book, and we'll give you a writing playlist
It'll only take a minute!
8. Write with a clear vocabulary
As you edit your work , you'll be thinking of what you intended to say at the time of writing. For that reason, you'll need to maintain a level of mental alertness that enables you to evaluate whether or not what you ended up writing actually does convey what you wanted to say. This is particularly important if you're writing nonfiction.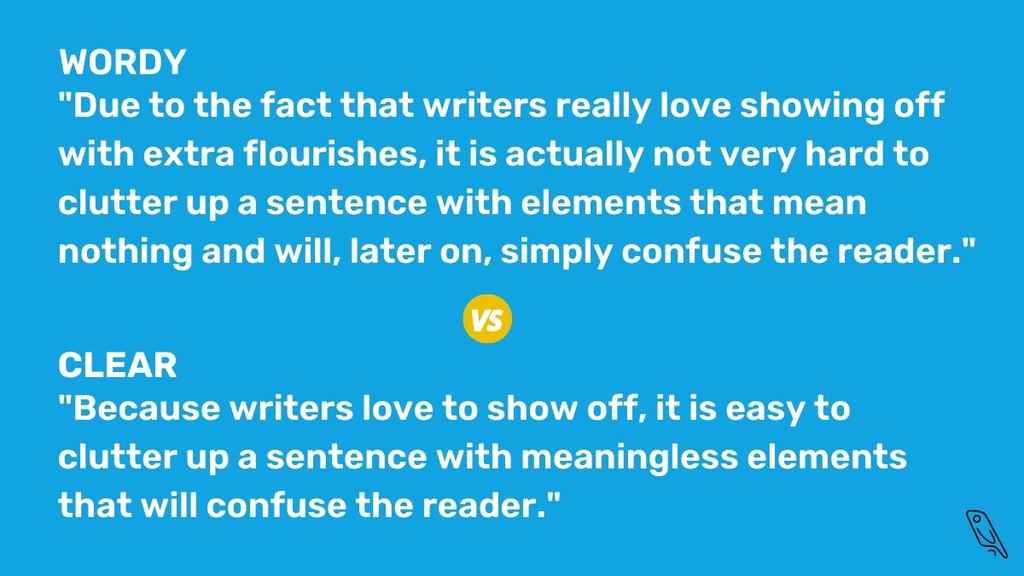 9. Self-edit for errors in your prose
While we're discussing lazy, unmemorable writing, this is a reminder that fillers are another literary 'bad habit' to actively resist. Cluttering up your prose, these short words sneakily crawl into your writing and distract your reader from the essence of your point. 
In her free Reedsy course on self-editing, Lisa Lepki identifies the most common words in the English language as the culprits of literary clutter. Lisa advises writers to avoid "meandering around [their sentences'] meaning", and offers this sentence as a wordy example:
"Andy went over to the far end of the playground to see if there was a rake that he could use to tidy up all of the leaves that had fallen down in the night."
Lisa offers this distilled alternative:
"Mountains of leaves had fallen overnight, so Andy checked the playground for a rake. "
Sign up to take the rest of this free course here:
Free course: How to self-edit like a pro
Rid your manuscript of the most common writing mistakes with this 10-day online course. Get started now.
10. Cut the repetitive sentences
One practical way to become a better writer is by consciously analyzing your writing to identify repetitive patterns. This is hard to do during the drafting process, especially if you write your first draft quickly , but it's mercifully simple in retrospect. So dig out some past writing samples ( creative nonfiction , poems, short stories — anything will do), grab some coloring pencils or highlighters, and mark every instance of repetitive language.
Study your words on multiple levels:
The lexical level, i.e. specific verbs, adverbs or adjectives you might be repeating (are your characters constantly grinning?);
The sentence structure level, like if all your examples come in threes;
The narrative structure level, like if you unwittingly but consistently lapse into new flashbacks.
The point of this exercise is to identify your personal linguistic reflexes — known in linguistics as your "idiolect". In terms of language use, it's your fingerprint, and familiarizing yourself with it can help you identify repetition and edit it out of your writing.
💡 If you want to learn more about idiolects, check out this post by one of Reedsy's writers.
11. Avoid clichéd language  
Clichés are every writer's stumbling block, ever an uphill battle — though the battle has its ups and its downs, and what matters most is not the destination, but the friends we made along the way. You get our point, hopefully: clichés are lazy, overly familiar, platitudinous, and often boring. Every time you use a cliché, you're wasting an opportunity to be original and authentic. 
Primarily, our issue with clichés is no moral qualm about authenticity. It's the simple fact that they completely drain your writing of its ability to be memorable. Lifeless, it falls to the ground, faceless and forgotten.
Which contemporary author are you?
Find out which of today's greats is your writerly match. Takes one minute!
12. Understand the ideas behind your work
You've already taken the first step toward seeing the bigger picture by honing your opening and ending. Now it's time to look at all the extraneous stuff outside your text: in other words, situate your writing within a wider framework of similar work.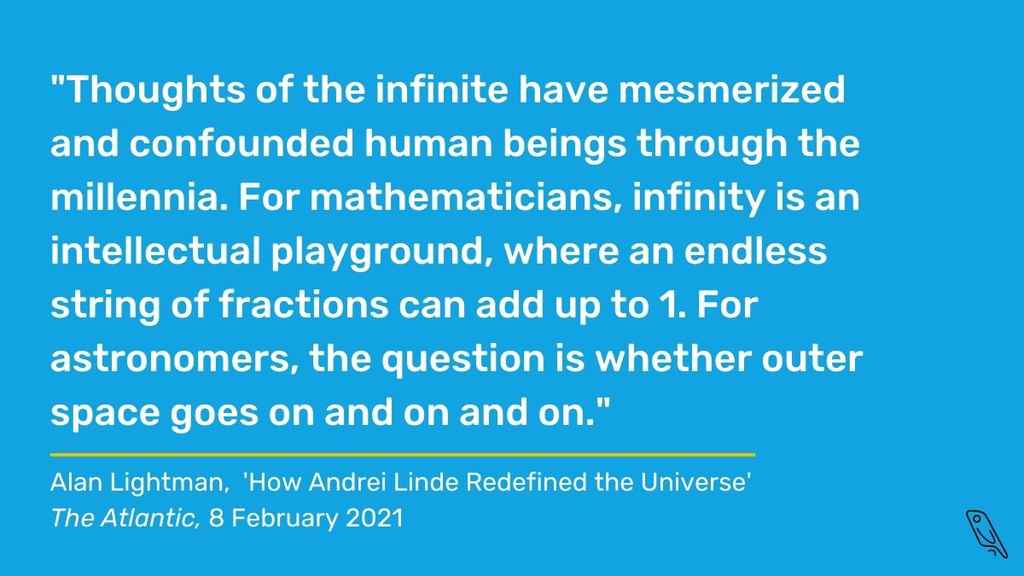 13. Respect your reader's attention 
Don't lose sight of the fact that there's a person on the other end of the line. Be a compassionate writer by imagining yourself as the reader: is that fourth paragraph detailing the history of a secondary character's nomadic tribe really necessary? It's certainly great world-building , but if it puts your reader to sleep, it's got to go. 
Similarly, do not manipulate your reader. Pointless plot twists or clickbait will erode your readers' trust, and hollow hot takes will impress no one. Stick to substance, and skip the paratextual circus act.
14. Get feedback from an editor
Nobody writes flawlessly. Most published writing undergoes significant editing both by its author and professional editors. For example, Raymond Carver's classic short story collection What We Talk About When We Talk About Love is known to have been extensively shaped by Carver's editor, Gordon Lish. 
No matter what you're writing, give your work time to cool before stepping back into it with the fresh eyes of an editor. Assess the clarity of your meaning, expressions, overall structure, your tone, and the mood of the piece, and compare these to the vision you had when you were writing.
Any writing intended for publication should also be professionally edited — and lucky for you, you can hire some of the most experienced fiction or nonfiction editors in the publishing world, right here on Reedsy.
Give your book the help it deserves
The best editors are on Reedsy. Sign up for free and meet them.
Learn how Reedsy can help you craft a beautiful book.
15. Be open to constructive criticism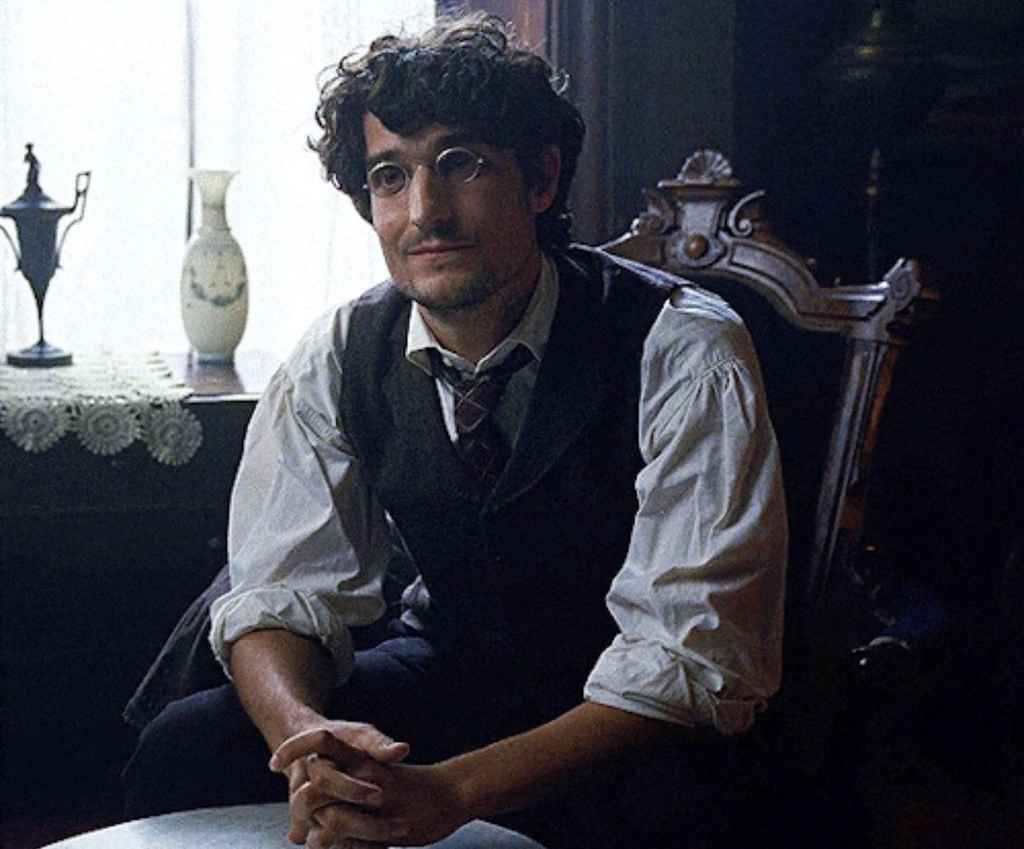 Becoming a writer means releasing your work into the world, and with that comes both praise and criticism. But neither will help you become a better writer if you shut all feedback out. Though some of the criticism you'll receive may not be helpful, some of it will be, and you'll struggle to improve your writing if you refuse to see that. Open your heart up to constructive criticism, and you'll see your writing flourish.
16. Invest in your career with a writing course
While we're on the topic of learning: there's plenty of classes and courses you can take, if you'd rather study in a more structured way. If you're serious about becoming a better writer, whether that's an author, journalist, ghostwriter , or freelancer , a class can give you access to the wisdom of more experienced professionals — and a real-life class also means meeting mentors and kindred spirits. 
You can check out writing courses online — we've got a bunch of completely free courses you can take: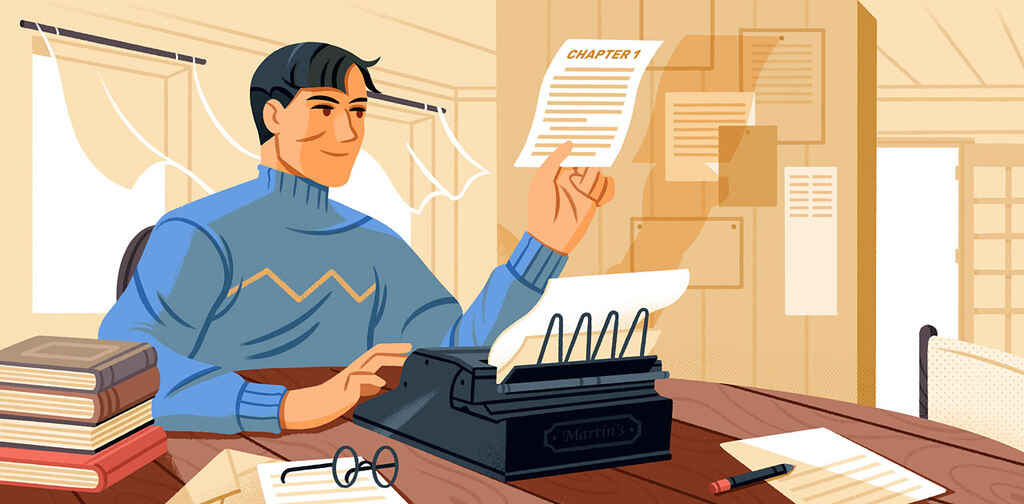 FREE COURSE
Author and ghostwriter Tom Bromley will guide you from page 1 to the finish line.
👩‍🎓 How to Write a Business Book —  taught by business coach Alison Jones
👩‍🎓 The Non-Sexy Business of Non-Fiction — taught by author coach Azul Terronez
Still hungry? Consider pursuing a writing degree. These aren't just for people looking for creative writing classes — MFAs also focus on nonfiction, so if that's what you see yourself writing, there are plenty of options. Only you know which program and school would be the best fit for you, and the Internet will be your friend as you work the answer out.
17. Keep company with other writers
Everything's better with company. Whether your choice is to join a local writing group, critique circle , or an online Facebook group, having friends who are writers means you'll have someone to bounce ideas off, someone to support you if you feel insecure about your writing, someone to inspire you to work harder, and someone to offer you advice and opinions about your project. All important aspects of improving your skills! ✊
18. Write content consistently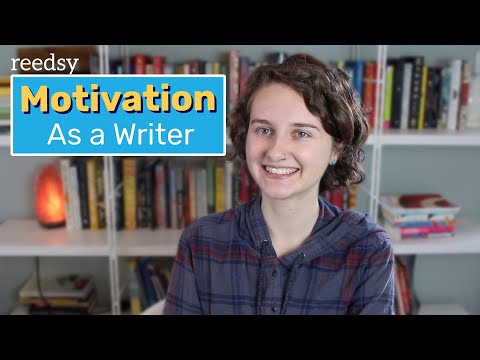 Writing takes a lot of determination and discipline, especially when you're working on a longer work like a book or a series . Sometimes things won't work out, and you'll be frustrated, impatient, demotivated, and temporarily hopeless. All of this is fine, and an entirely normal part of the process. When you get to this stage, be gentle with yourself, but do not give up. 
Writers are often the most stubborn of people: so go ahead and keep writing in spite of yourself, in spite of your insecurities or personal failures, and in spite of what anyone else might think. If that doesn't earn you the 'badge' of a writer, we don't know what does.
19. Don't give up on your words
Your ideas will be exciting, but they won't always be masterpieces. Some you can fix with a zealous edit. Others, not so much. Accept this as a reality and let them float down the river of oblivion. 
We know this sounds contradictory to our last bit of advice, but trust your intuition to decide whether it's worth persevering with a particular project. For example, there's no point in trying to resurrect the passion you had for a project you started long ago, if the inspiration has long since left you. There is also little point in pursuing something you began simply because you felt it was what you were supposed to be writing. If it doesn't speak to you anymore and you see no way to revive the spark, cut your losses and move on. 
20. Embrace failure to become a better writer
Finally, just as you'll have to handle criticism, you'll also undoubtedly face rejection and failure. Whether you're rejected by literary agents , fail to get a publishing deal, or have your stories, pitches, or poems rejected by literary publications, you must remember that failure is an inescapable and inevitable fact of life, and does not determine your worth as a writer.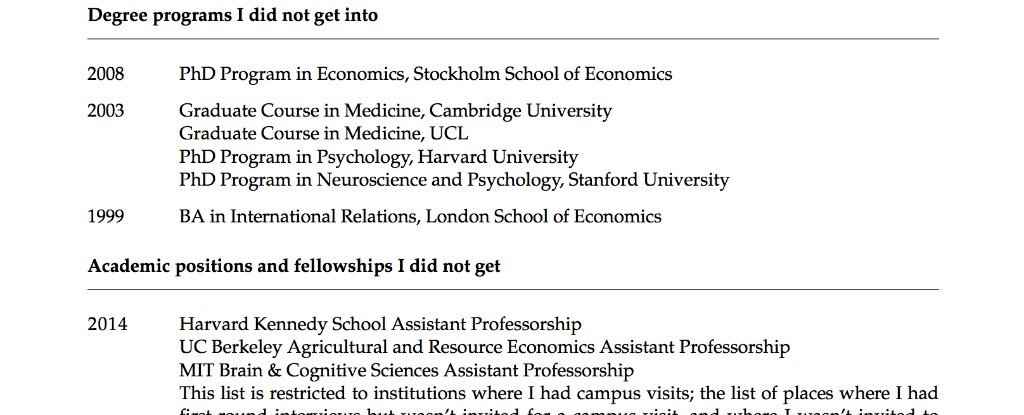 Be assured that others fail, too, even if they only fail in private. One of our favorite reminders of how common failure is is the famous CV of failures published by Princeton professor Johannes Haushofer , where he lists every program, award, and position he was rejected from, as a reminder that everyone experiences failure. And if you need a writer-specific example of success despite failure, remember that Douglas Stuart's novel Shuggie Bain , winner of the 2020 Booker Prize, was rejected 32 times before it received a publisher's offer.
You don't need anybody to officially ordain you as a writer — you're a writer if you believe you're a writer and write anyway. 
We hope these tips help you figure out how to become a better writer. Your quest is noble, and we believe in you!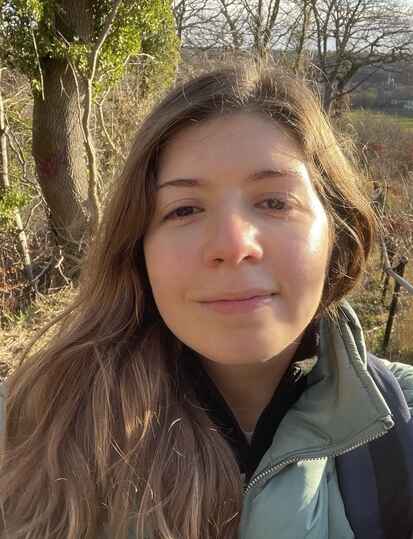 Continue reading
Recommended posts from the Reedsy Blog
What is Pathos? Definition and Examples in Literature
Pathos is a literary device that uses language to evoke an emotional response, typically to connect readers with the characters in a story.
How to Start a Children's Book: Coming Up with Your Big Idea
If you've ever dreamed of writing a children's book but aren't sure where to start, check out this post to learn more about how you can create the perfect story for kids.
How to Become a Travel Writer in 5 Steps: A Guide for Travel Bugs
If you want to get paid to share your adventures, learn how to become a travel writer with these five tips.
How to Write a Biography: A 7-Step Guide [+Template]
Portraying someone's life on paper in a comprehensive and engaging way requires solid preparation. Here are 7 steps you can follow.
When to Use Semicolons: 4 Rules and Examples
Confused about when to use a semicolon and how it's different from other punctuations? Here's a breakdown, with plenty of examples.
Alright vs All Right: What is the Difference? [+ Examples]
Wondering what the difference is between alright and all right? Or which spelling is correct? This posts breaks it down using plenty of examples.
Join a community of over 1 million authors
Reedsy is more than just a blog. Become a member today to discover how we can help you publish a beautiful book.
1 million authors trust the professionals on Reedsy, come meet them.
Enter your email or get started with a social account: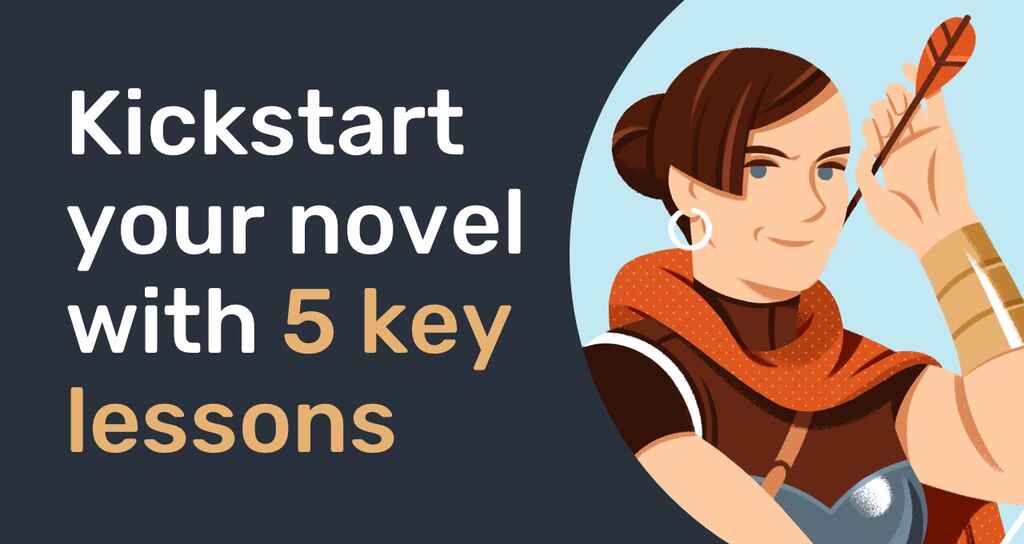 Try our novel writing master class — 100% free
Sign up for a week of video lessons and exercises.
22 lessons from Stephen King on how to be a great writer
Renowned author Stephen King has written over 50 books that have captivated millions of people around the world.
In his memoir , "On Writing," King shares valuable insights into how to be a better writer. And he doesn't sugarcoat it. He writes, "I can't lie and say there are no bad writers. Sorry, but there are lots of bad writers."
Don't want to be one of them? Here are 22 great pieces of advice from King's book on how to be an amazing writer.
This is an update of an article written by Maggie Zhang.
1. Stop watching television. Instead, read as much as possible.
If you're just starting out as a writer, your television should be the first thing to go. It's "poisonous to creativity," h e says. Writers need to look into themselves and turn toward the life of the imagination.
To do so, they should read as much as they can. King takes a book with him everywhere he goes, and even reads during meals. "If you want to be a writer, you must do two things above all others: read a lot and write a lot," he says. Read widely, and constantly work to refine and redefine your own work as you do so.
2. Prepare for more failure and criticism than you think you can deal with.
King compares writing fiction to crossing the Atlantic Ocean in a bathtub, because in both, "there's plenty of opportunity for self-doubt." Not only will you doubt yourself, but other people will doubt you, too. "If you write (or paint or dance or sculpt or sing, I suppose), someone will try to make you feel lousy about it, that's all," writes King.
Oftentimes, you have to continue writing even when you don't feel like it. "Stopping a piece of work just because it's hard, either emotionally or imaginatively, is a bad idea," he writes. And when you fail, King suggests that you remain positive. "Optimism is a perfectly legitimate response to failure."
3. Don't waste time trying to please people.
According to King, rudeness should be the least of your concerns. "If you intend to write as truthfully as you can, your days as a member of polite society are numbered anyway," he writes. King used to be ashamed of what he wrote, especially after receiving angry letters accusing him of being bigoted, homophobic, murderous, and even psychopathic.
By the age of 40, he realized that every decent writer has been accused of being a waste of talent. King has definitely come to terms with it. He writes, "If you disapprove, I can only shrug my shoulders. It's what I have." You can't please all of your readers all the time, so King advises that you stop worrying.
4. Write primarily for yourself.
You should write because it brings you happiness and fulfillment. As King says, "I did it for the pure joy of the thing. And if you can do it for joy, you can do it forever."
Writer Kurt Vonnegut provides a similar insight : "Find a subject you care about and which you in your heart feel others should care about," he says. "It is this genuine caring, not your games with language, which will be the most compelling and seductive element in your style."
5. Tackle the things that are hardest to write.
"The most important things are the hardest things to say," writes King. "They are the things you get ashamed of because words diminish your feelings." Most great pieces of writing are preceded with hours of thought. In King's mind, "Writing is refined thinking."
When tackling difficult issues, make sure you dig deeply. King says, "Stories are found things, like fossils in the ground ... Stories are relics, part of an undiscovered pre-existing world." Writers should be like archaeologists, excavating for as much of the story as they can find.
6. When writing, disconnect from the rest of the world.
Writing should be a fully intimate activity. Put your desk in the corner of the room, and eliminate all possible distractions, from phones to open windows. K ing advises, "Write with the door closed; rewrite with the door open."
You should maintain total privacy between you and your work. Writing a first draft is "completely raw, the sort of thing I feel free to do with the door shut — it's the story undressed, standing up in nothing but its socks and undershorts."
7. Don't be pretentious.
"One of the really bad things you can do to your writing is to dress up the vocabulary, looking for long words because you're maybe a little bit ashamed of your short ones," says King. He compares this mistake to dressing up a household pet in evening clothes — both the pet and the owner are embarrassed, because it's completely excessive.
As iconic businessman David Ogilvy writes in a memo to his employees , "Never use jargon words like reconceptualize, demassification, attitudinally, judgmentally. They are hallmarks of a pretentious ass." Furthermore, don't use symbols unless necessary. "Symbolism exists to adorn and enrich, not to create an artificial sense of profundity," writes King.
8. Avoid adverbs and long paragraphs.
As King emphasizes several times in his memoir, "the adverb is not your friend." In fact, he believes that "the road to hell is paved with adverbs" and compares them to dandelions that ruin your lawn. Adverbs are worst after "he said" and "she said" — those phrases are best left unadorned.
You should also pay attention to your paragraphs, so that they flow with the turns and rhythms of your story. "Paragraphs are almost always as important for how they look as for what they say," says King.
9. Don't get overly caught up in grammar.
According to King, writing is primarily about seduction, not precision. "Language does not always have to wear a tie and lace-up shoes," writes King. "The object of fiction isn't grammatical correctness but to make the reader welcome and then tell a story." You should strive to make the reader forget that he or she is reading a story at all.
10. Master the art of description.
"Description begins in the writer's imagination, but should finish in the reader's," writes King. The important part isn't writing enough, but limiting how much you say. Visualize what you want your reader to experience, and then translate what you see in your mind into words on the page. You need to describe things " in a way that will cause your reader to prickle with recognition," he says.
The key to good description is clarity, both in observation and in writing. Use fresh images and simple vocabulary to avoid exhausting your reader. "In many cases when a reader puts a story aside because it 'got boring,' the boredom arose because the writer grew enchanted with his powers of description and lost sight of his priority, which is to keep the ball rolling," notes King.
11. Don't give too much background information.
"What you need to remember is that there's a difference between lecturing about what you know and using it to enrich the story," writes King. "The latter is good. The former is not." Make sure you only include details that move your story forward and that persuade your reader to continue reading.
If you need to do research, make sure it doesn't overshadow the story. Research belongs "as far in the background and the back story as you can get it," says King. You may be entranced by what you're learning, but your readers are going to care a lot more about your characters and your story.
12. Tell stories about what people actually do.
"Bad writing is more than a matter of shit syntax and faulty observation; bad writing usually arises from a stubborn refusal to tell stories about what people actually do — to face the fact, let us say, that murderers sometimes help old ladies cross the street," writes King. The people in your stories are what readers care about the most, so make sure you acknowledge all the dimensions your characters may have.
13. Take risks; don't play it safe.
First and foremost, stop using the passive voice. It's the biggest indicator of fear. "I'm convinced that fear is at the root of most bad writing," King says. Writers should throw back their shoulders, stick out their chins, and put their writing in charge.
"Try any goddamn thing you like, no matter how boringly normal or outrageous. If it works, fine. If it doesn't, toss it," King says.
14. Realize that you don't need drugs to be a good writer.
"The idea that the creative endeavor and mind-altering substances are entwined is one of the great pop-intellectual myths of our time," says King. In his eyes, substance-abusing writers are just substance-abusers. "Any claims that the drugs and alcohol are necessary to dull a finer sensibility are just the usual self-serving bullshit."
15. Don't try to steal someone else's voice.
As King says, "You can't aim a book like a cruise missile." When you try to mimic another writer's style for any reason other than practice, you'll produce nothing but "pale imitations." This is because you can never try to replicate the way someone feels and experiences truth, especially not through a surface-level glance at vocabulary and plot.
16. Understand that writing is a form of telepathy.
"All the arts depend upon telepathy to some degree, but I believe that writing is the purest distillation," says King. An important element of writing is transference. Your job isn't to write words on the page, but rather to transfer the ideas inside your head into the heads of your readers.
"Words are just the medium through which the transfer happens," says King. In his advice on writing , Vonnegut also recommends that writers "use the time of a total stranger in such a way that he or she will not feel the time was wasted."
17. Take your writing seriously.
"You can approach the act of writing with nervousness, excitement, hopefulness, or despair," says King. "Come to it any way but lightly." I f you don't want to take your writing seriously, he suggests that you close the book and do something else.
As writer Susan Sontag says , "The story must strike a nerve — in me. My heart should start pounding when I hear the first line in my head. I start trembling at the risk."
18. Write every single day.
"Once I start work on a project, I don't stop, and I don't slow down unless I absolutely have to," says King. "If I don't write every day, the characters begin to stale off in my mind ... I begin to lose my hold on the story's plot and pace."
If you fail to write consistently, the excitement for your idea may begin to fade. When the work starts to feel like work, King describes the moment as "the smooch of death." His best advice is to just take it "one word at a time."
19. Finish your first draft in three months.
King likes to write 10 pages a day. Over a three-month span, that amounts to around 180,000 words. "The first draft of a book — even a long one — should take no more than three months, the length of a season," he says. If you spend too long on your piece, King believes the story begins to take on an odd foreign feel.
20. When you're finished writing, take a long step back.
King suggests six weeks of "recuperation time" after you're done writing, so you can have a clear mind to spot any glaring holes in the plot or character development. He asserts that a writer's original perception of a character could be just as faulty as the reader's.
King compares the writing and revision process to nature. "When you write a book, you spend day after day scanning and identifying the trees," he writes. "When you're done, you have to step back and look at the forest." When you do find your mistakes, he says that "you are forbidden to feel depressed about them or to beat up on yourself. Screw-ups happen to the best of us."
21. Have the guts to cut.
When revising, writers often have a difficult time letting go of words they spent so much time writing. But, as King advises, "Kill your darlings, kill your darlings, even when it breaks your egocentric little scribbler's heart, kill your darlings."
Although revision is one of the most difficult parts of writing, you need to leave out the boring parts in order to move the story along. In his advice on writing , Vonnegut suggests, "If a sentence, no matter how excellent, does not illuminate your subject in some new and useful way, scratch it out."
22. Stay married, be healthy, and live a good life.
King attributes his success to two things: his physical health and his marriage. "The combination of a healthy body and a stable relationship with a self-reliant woman who takes zero shit from me or anyone else has made the continuity of my working life possible," he writes.
It's important to have a strong balance in your life, so writing doesn't consume all of it. In writer and painter Henry Miller's 11 commandments of writing , he advises, "Keep human! See people, go places, drink if you feel like it."